When I was in school, my mother got almost weekly notes from my teachers about how much I talked in class. I spent hours sitting quietly in the back of the room, or with my head on my desk, in an effort to stop my constant chatting with my classmates.
My poor Mama would shake her head at me and say, "Nobody is going to hire you to just sit around and talk to your friends all day."
Well, guess what, Mom? You're wrong!
I'm so thrilled to announce that in the upcoming months, I'll be partnering up with the amazing Heather Renshaw (the blogger behind Real Catholic Mom, founder of Catholic Women Rejoice, founder of Called to Love Catholic Women's Conference,  Catholic speaker, host of Ladies' Live Hour in Mobile, AL, contributing write at  Blessed is She) and the phenomenal Bonnie Engstrom (who blogs at A Knotted Life, founder of the Sheenazing Awards , founder of the Behold Conference, and awesome speaker). Together we'll be teaming up on the radio to talk about real life with a sense of humor and a Catholic twist.
You guys, I'm going to be on your radio!!!!!!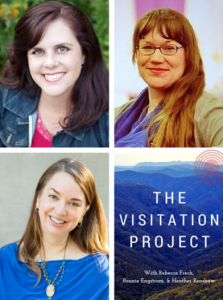 So what #WhatisTVP? Here's what I'm allowed to tell you:
It's coming soon to air waves near you
It features three Catholic moms with big mouths, big opinions, and great laughs
Our website is still being built, but we'll announce it when we can
Launch date/time will be announced in April
Like and follow our FB Community Page here, our Twitter here, and Insta here for the latest news and updates

Be sure to join up with us on Social Media, because we're giving away a very special prize NEXT WEEK!
I know, that's not a ton of details, but it's all I'm allowed to say. That's it. Nothing else. Zip. Nada. Noodles. Nothing.
So, #WhatisTVP? Stay tuned and find out! I have a feeling we're all in for a wild ride.