Last June, a dear friend of mine raised a good sized amount of money to allow us to buy a very good secondhand wheelchair and pay her medical bills while we waited on the doctors and insurance companies to figure out that Ella really, really couldn't walk. I researched it as best as I could, and was delighted to find one of the top brands for sale in our area with seat dimensions that were just about right. It's served her really well since we bought it in July.
By November, we had learned that the back was too high for her (it was made for a boy incomplete quadriplegia and limited trunk control). The foot plate wasn't quite right for her needs, and the wheels were better suited for someone with only partial hand movements. We weren't worried though, because we had met our out of pocket max and order a new one and it would be FULLY COVERED! (Those are magic words to a handicapped kid's mom.) She was measured, and the new chair was ordered and then it was DENIED. We didn't really fault the insurance company, because not a single doctor had ever bothered to send in the diagnostic codes for "can't walk."
The new year began, and we resigned ourselves to paying a co-pay (a large co-pay with a comma in it…ugh) for her new wheels. We got an approval letter within weeks for the frame, brakes, and seat cushion we'd ordered. (Wheelchairs are customized so each piece must be approved.) Then the next day we got the DENIAL for the wheels and the seat back. We swore a little bit, I won't lie, and I might have cried in frustration. The medical rep who was helping us assured me that this happens all the time, and we just needed to appeal. This was a slam dunk on appeal. Because who in their right mind pays for a wheel chair frame and not the wheels?
This weekend we learned that the wheels and back had been DENIED on appeal. There's one more appeal we can make, in person, and it can take as long as six months. That will mean that the entire process of ordering this chair will have taken eleven months just for the insurance to get a clue. I'm sure she'll have to be remeasured by then.
We totaled up the ins company's cost for the already-approved components, and were thrilled to find a different company that makes not only regular chairs but also WCMX chairs for a much lower out of pocket cost. (If they paid retail, it would save the insurance company a couple thousand dollars of the cost of the things they've already agreed to pay for.) She met with one of the guys from Box Wheelchairs, and he came up with a daily/WCMX hybrid that would exactly meet her needs. We submitted the paperwork for it, and said a little prayer. Wouldn't Blue Cross and Blue Shield want to save a little money? We felt like we had made an offer they couldn't refuse…but they did.  The part that makes it a hybrid makes it a "sport chair," and they DENIED it on the grounds that they don't cover sports equipment.
We were trying to figure out our next move when Ella came to us last night and said that the locks on her current chair are malfunctioning. They're engaging whenever they fell like it, usually when she's going fast, which is most of the time. I'm sitting here this morning, denial letters in hand, scouring the BCBS website and our ins documents,  cussing, and trying to figure out what's next.
I gave up swearing for Lent, which means my Swear Jar is filling up quickly. That gave me an idea for a fundraiser to help cover our next move (whatever that might be.) We've set up a "virtual swear jar" for anyone else who's frustrated with this whole stupid $%#* process.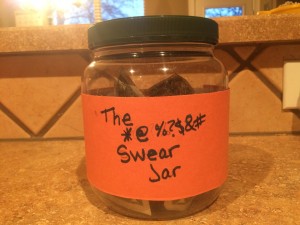 Once you've gotten that off your chest (and hopefully added to the Swear Jar,) why not let Blue Cross and Blue Shield of Texas know that paying for a wheelchair frame but denying the wheels is ridiculous. You can find their contact information here. (If you decide to call them, our last name is pronounced Freck.)
You can also tweet them @BCBSTX and be sure to use the hashtag #Ellaneedswheels
They also have a Facebook page, and I'm sure they'd love to hear from you!
Thank you to everyone for your love and support.
**You can reach the Swear Jar by clicking on the picture of the jar itself. Thanks!