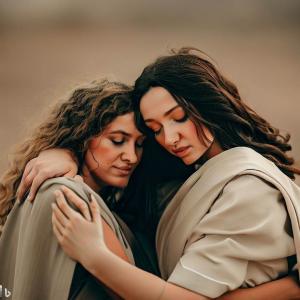 This week, we are reading the story of Ruth in synagogues around the world.  Ruth reminds us that converts should be loved and that the Torah was given to all who wished to receive it. As a convert, I am grateful for such a message. However, what is often overlooked in the reading of Ruth is the resemblance between Ruth's words and our modern wedding vows. Indeed, modern marriage vows are in The Bible.
Ruth's Words Echo Our Modern Marriage Vows
Ruth says to her mother-in-law in Ruth 1:16-17, "16 "Do not urge me to leave you or to turn from following you. For wherever you go, I will go, and wherever you live, I will live; your people will be my people, and your God will be my God.  17 Where you die, I will die, and there I will be buried. May the LORD punish me, and ever so severely, if anything but death separates you and me."
History of our Modern Marriage Vows
The Women's Bible Commentary describes this as "Sounding more like a lover than a daughter-in-law." I agree. Ruth's words to Naomi sound like our modern-day wedding vows "In sickness and in health, till death do us part." The earliest known record of these vows is in The Book of Common Prayer, written in 1549 in the Midevil Church in England. I cannot prove that the author of this book took his inspiration from Ruth, but it seems likely. This verse in Ruth more closely resembles our vows than any other verse in the Bible.
Woman to Woman: What is Marriage?
That means our modern marriage vows are likely based on words spoken from one woman to another. While one could argue this has no significance, because their relationship was that of a mother and daughter-in-law,  verse Ruth 1:14 tells us otherwise. "14 At this they wept aloud again. Then Orpah kissed her mother-in-law goodbye, but Ruth clung to her."
The Hebrew word used for clung is dabaq. Dabaq is the same word used when Adam cleaves to Eve in Genesis 2:24. This verse is the first mention of marriage in the Bible, reading: "24 Therefore shall a man leave his father and his mother, and shall cleave unto his wife: and they shall be one flesh." Therefore, we have reason to believe Ruth 1:14, which uses the same word, is about marriage. This leaves little doubt that Ruth's words were meant to bind herself, as though in marriage to Naomi. Therefore, our modern marriage vows are in the Bible. The beauty and relevance of these vows between two women can not be surpassed. Especially, in a world where two women marrying are often met with religious hate.
Be Like Ruth
Ruth's devotion and loyalty to Naomi and the G-d of Abraham have often been seen as the prime example of human love. As such, her words today are quoted in most marriage ceremonies.  Therefore, we must learn to accept that marriage is not always between a man and a woman.  One might cling to (dabaq) any person they love and feel devoted to. That love should be honored and celebrated. For, there is no greater love than that one devote their own life and ideologies to another life.  For this reason, Fiddler On The Roof changed the Sabbath Prayer to say, "May you be like Ruth and like Esther."
I wish that for you as we receive the Torah together. May you find a love like Ruth's. May you find loyalty and devotion from another. Also, may you give it. "May you be like Ruth."
Please visit our Publications Page.
Sources:
Faith Under the Rainbow: Reclaiming the Truth about Homosexuality and the Bible: Keene, Rebecca: 9798771005515: Amazon.com: Books
Traditional Wedding Vows 101: The History, What They Mean, & Examples (weddingwire.com)
"real moving-picture survivor-subscriber" (tumblr.com) 
justus.anglican.org/resources/bcp/marriage.pdf
Author's Note:
I will be having gallbladder surgery tomorrow. This may be the only article this week, depending on how fast I recover. All prayers for recovery are appreciated.