There were many brave men and women who brought civil rights to where they are today, and their stories also happen to be interesting, engaging, and entertaining enough for big budget Hollywood interpretations. Thurgood Marshall, the first African-American Supreme Court justice, has been profiled before in a television film, but this week's new release, Marshall (Open Road Pictures), directed by Reginald Hudlin (Boomerang, The Ladies Man), zeroes in on one of his pivotal cases that led to the NAACP legal defense fund.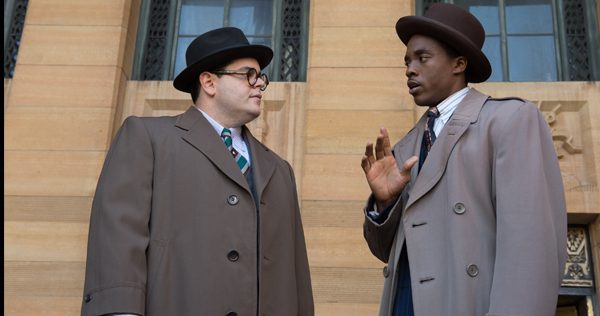 Chadwick Boseman, soon to burn up the screen as the Marvel superhero Black Panther, portrays the young NAACP attorney, joined by Josh Gad (Frozen, Beauty and the Beast) as insurance lawyer Sam Friedman. With the law preventing Marshall acting as lead defense for the black chauffer Joseph Spell (Sterling K. Brown of This Is Us), accused of rape and attempted murder against a white female socialite (Kate Hudson), Friedman serves as his reluctant at-first spokesman. Aaron speaking for Moses may come to mind, and the two lawyers even reference the biblical heroes during a discussion.
The legal partners struggle against black and Jewish prejudices in their journey to discover the truth about what really happened, sometimes mentally and sometimes physically. At the same time, there are plenty of mysteries and discoveries to keep the legal drama moving forward. While Marshall is the film's subject and very capably portrayed by Boseman, Friedman's journey from cowardice to courage is the film's showpiece. As he is dragged into the fight, he begins to take ownership, whether damaging his reputation or not. Brown, fresh off an Emmy win for Best Actor in a Dramatic Series, transforms into the fearful defendant. Also appearing in the film are Dan Stevens (Downton Abbey) as prosecutor Lorin Willis and good ole' James Cromwell (The Green Mile, The Sum of All Fears) as, who else, The Judge.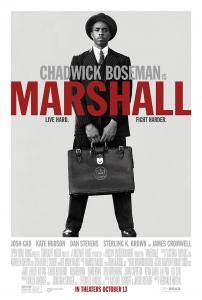 Marshall is a feel-good, inspirational story about the heroes of history standing up for those who need help. "If you want freedom," Marshall says, "you're gonna' have to fight for it. But you don't have to fight alone." The film is a snapshot of the life of the legendary Supreme Court justice, not a biopic per se, but still a good 'prequel' of his more attention-grabbing cases, such as "Brown V. Board of Education." It is rated PG-13 for mature thematic content, sexuality, violence and some strong language