When approaching the Greatest Story Ever Told, how would someone balance the reverence of the sacred text and still offer something new enough to draw a new crowd? For Simon Moore and Carlos Kotkin, writers of the new Sony Animation/AFFIRM Films release The Star, arriving in theaters Friday, focusing on lovable, talking animals surrounding the holy family helps bring a new perspective on the journey to Bethlehem and the birth of Jesus Christ.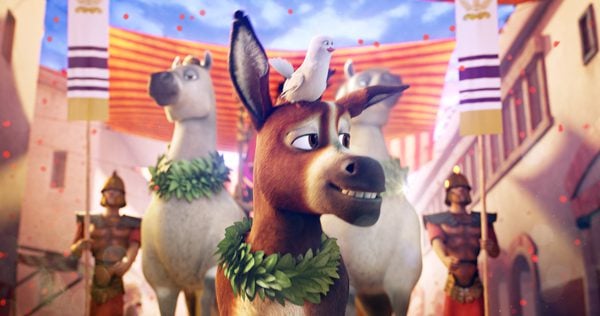 Bo (Steven Yeun), an ambitious young donkey that falls into the arms of Mary (Gina Rodriguez) and Joseph (Zachary Levi), struggles with his purpose, hoping for a grander future than hard labor or even family service. He and additional animal pals Dave the dove (Keegan-Michael Key) and Ruth the sheep (Aidy Bryant) help them steer clear of a soldier sent by Herod and his two bloodthirsty dogs, Thaddeus (Ving Rhames) and Rufus (Gabriel Iglesias).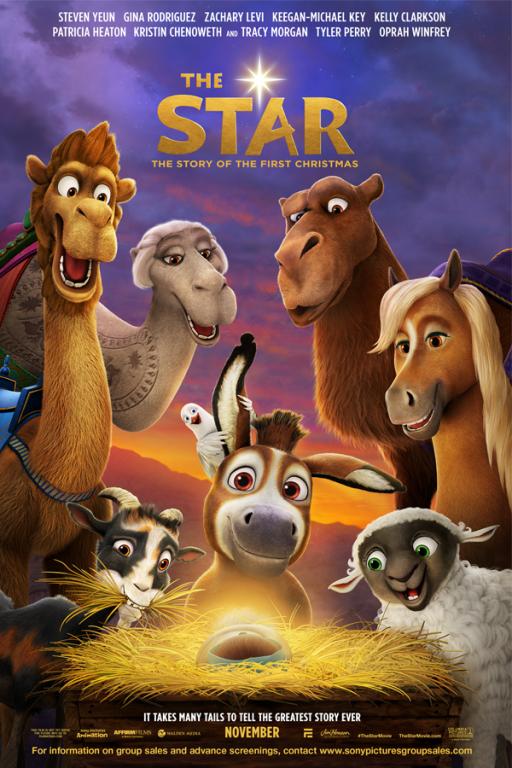 As if that cast wasn't all-star enough, Bo, Dave, and Ruth encounter more animals in the stable as well as three camels, voiced by Oprah Winfrey, Tyler Perry, and Tracy Morgan, owned by the Wise Men. Additional voices include Kelly Clarkson, Patricia Heaton, Anthony Anderson, Kristin Chenoweth, Kris Kristofferson, Christopher Plummer, Delilah, and Mariah Carey.
A film populated with talking animals, it features plenty of comedic and light-hearted moments, such as Dave's distracting dance moves and the engaging banter between the three camels. At the same time, with the birth of Christ drawing near and unfolding before the characters' eyes, there are scenes that are extremely touching, especially when accompanied by songs from a soundtrack of classic and modern Christmas songs.
Timothy Reckart, an Academy Award-nominated short animation film director, makes his full-length directorial debut with The Star, which was executive produced by DeVon Franklin (Miracles From Heaven), and Brian Henson, and Lisa Henson (The Jim Henson Company).
Kids are sure to love The Star, especially because of the diverse voice cast and lively, engaging and funny characters. Adults will cherish it for those reasons as well as its many teachable moments and inspiring faith elements. The Star will no doubt be embraced by the faithful, but its impressive animation and voice talent will help it reach far beyond churchgoing audiences.
The Star opens Friday, November 17. For more information and resources, including Bible studies and outreach kits, click here.