If you're yearning to see super-powered beings demonstrating true heroism, Avengers: Infinity War, releasing Friday from Marvel Studios/Walt Disney Pictures, is the blockbuster you've been waiting for. It's a refreshing return to the classic, morally unambiguous ideals of the silver age.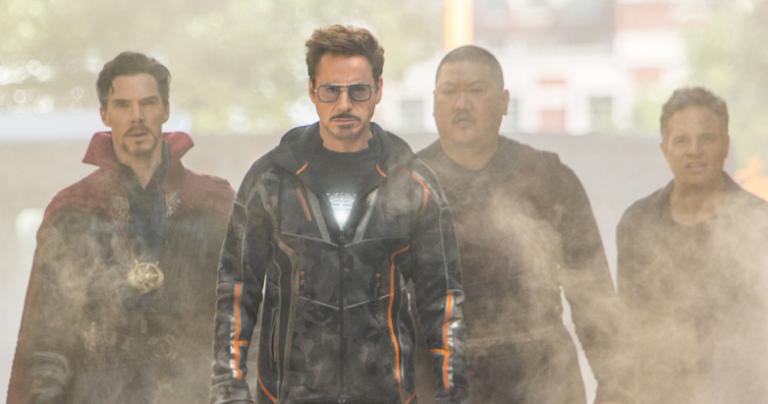 Since the creators dreamed up superheroes, the common thread, woven into the fabric of their literary DNA, was the selfless act of defending the defenseless. Ole' Spidey even learned early on that, "With great power comes great responsibility." Your power is not yours alone. It belongs to those who need it.
Somewhere, however, that heroic purpose often gave way to clannish ego-centered supernatural battles, or attempts at rectifying messes their own clumsy abilities created. Avengers: Infinity War, however, finds a war coming to earth, and the ones who can do something about it don't run; they rally and fight.
Like the epic comic book crossover events it's lifted from, there are many moving parts and countless characters in play, so much so that writing a non-spoiler-filled review is a feat unto itself. Still, as anyone who has seen the previews can surmise, the action is literally non-stop and plays against dozens of settings. Somehow the dozens of fan-favorite characters manage to get enough of a spotlight to satisfy the viewers.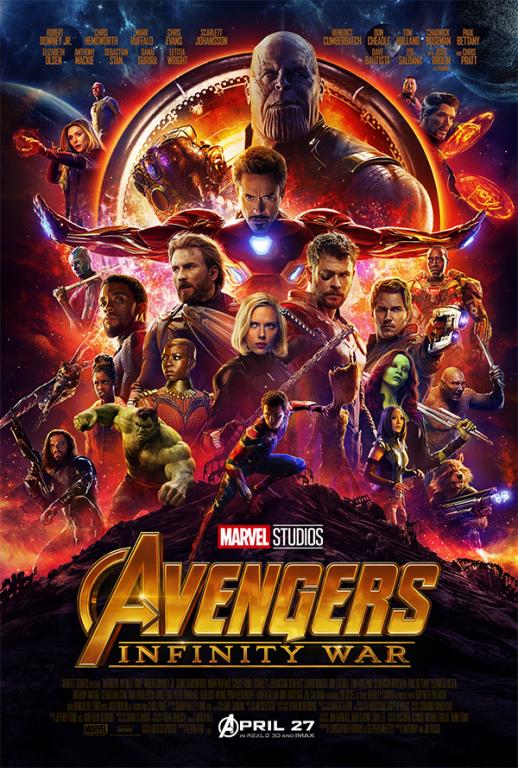 Heroes in this film do not wrestle with their destinies. They don't brood or debate or agonize over putting themselves in harm's way; they run into danger like stepping into their true calling. It is inspiring and beautiful. At one point, Tony Stark, feeling the weight of responsibility, chides Peter Parker for stepping into this fray, but Peter, though still a teenager in high school, is fully aware of the stakes. He's ready and willing to go down fighting, telling Stark to be a neighborhood Spider-Man he has to make sure the neighborhood is still standing.
Anthony and Joe Russo, who delivered the smash
Captain America: Civil War
, have created a pitch-perfect, wildly-satisfying film. Writers Christopher Markus and Stephen McFeely somehow managed to capture the voice and spirit of so many heroes, including well-placed comedic banter between newly-paired heroes such as Star Lord and Thor, and Dr. Strange and Iron Man. Even Thanos (Josh Brolin) is fleshed out more than one might expect.
Through 18 films, every step forward in the Marvel Cinematic Universe has been building to this, since Iron Man first took flight in 2008, bringing along with it the hopes and dreams of millions of fans. Avengers: Infinity War delivers on the hype. It is everything superhero fans were hoping it would be, and more. You'll want to see it again.
Infinity War is rated PG-13 and stars Robert Downey Jr., as Tony Stark/Iron Man, Chris Hemsworth as Thor, Mark Ruffalo as Bruce Banner/The Hulk, Chris Evans as Steve Rogers/Captain America, Scarlett Johansson as Natasha Romanoff/Black Widow, Don Cheadle as Colonel James Rhodes/War Machine, Benedict Cumberbatch as Doctor Strange, Tom Holland as Peter Parker/Spider-Man, Chadwick Boseman as T'Challa/Black Panther, Zoe Saldana as Gamora, Karen Gillan as Nebula, Tom Hiddleston as Loki, Paul Bettany as Vision, Elizabeth Olsen as Wanda Maximoff/Scarlet Witch, Anthony Mackie as Sam Wilson/Falcon, Sebastian Stan as Bucky Barnes/Winter Soldier, Idris Elba as Heimdall, Danai Gurira as Okoye, Benedict Wong as Wong, Pom Klementieff as Mantis, Dave Bautista as Drax, featuring Vin Diesel as Groot, Bradley Cooper as Rocket, with Gwyneth Paltrow as Pepper Potts, with Benicio Del Toro as The Collector, with Josh Brolin as Thanos, and Chris Pratt as Peter Quill/Star-Lord.