An outspoken atheist podcaster gets the surprise of his life when God sends him a Facebook friend request on the new CBS dramedy God Friended Me, premiering Sunday night. Miles Finer (Brandon Micheal Hall) receives the divine social media requests, which also brings him in contact with people who need his help. Violett Beane, Joe Morton, Suraj Sharma and Javicia Leslie also star.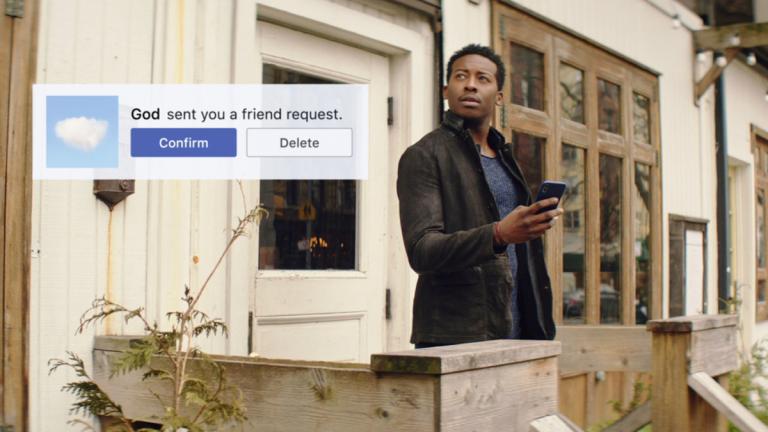 For Hall, a pastor's son who recently made waves as the star of The Mayor, the story is a chance for people of different backgrounds to come together and learn each other's stories.
"What I really want is people to spark up a conversation," he recently explained during a press call with journalists. "I want people to be able to sit down at a table with someone with a completely different viewpoint and still be able to respect each other's point of view. That's the problem, that we're not talking to each other. We're in a world where everyone is so connected, but we're not talking to each other."
Hall grew up watching religious dramas like Seventh Heaven and Touched By An Angel at his grandmother's house, says, "You just felt more grounded after you watched them." Even though he hopes God Friended Me fits in nicely with those predecessors, he says it aims to be more realistic and less supernatural.
"There are elements of hope, positivity, upliftedness, that's definitely all tied in," he said. "But the basics of this show is to make it as real as possible."
The young actor said the new role is one he's most comfortable with, even though he's stretched his understanding of other faiths and nonbelievers in researching the role. God Friended Me is the latest successful production in his young career that he credits to "the grace of God."
"I was taught by an amazing mom who told me to humble myself," he said. "The roles are a product of that and everything that comes with it. Just keep pressing the right buttons and keeping my head down and focus."