GRAMMY Award-winner Amy Grant brings her own signature Christmas sound to the airwaves with Amy Grant's Tennessee Christmas Presented by Hallmark Channel on Monday, Dec. 3. Taped before an intimate studio audience outside of Nashville, the special also features Grant's frequent collaborator and Christmas tour colleague Michael W. Smith, country singer Kellie Pickler, and Grant's husband, fellow GRAMMY winner Vince Gill. Along with songs from her various Christmas releases, including "Tennessee Christmas," "Breath of Heaven (Mary's Song)," "To Be Together" and "Grown Up Christmas List," the one-hour program will also spotlight notable charities and organizations, including Song for Veterans, Scott Hamilton Cares Foundation, Appalachian Relief Fund, World Relief and Barefoot Republic.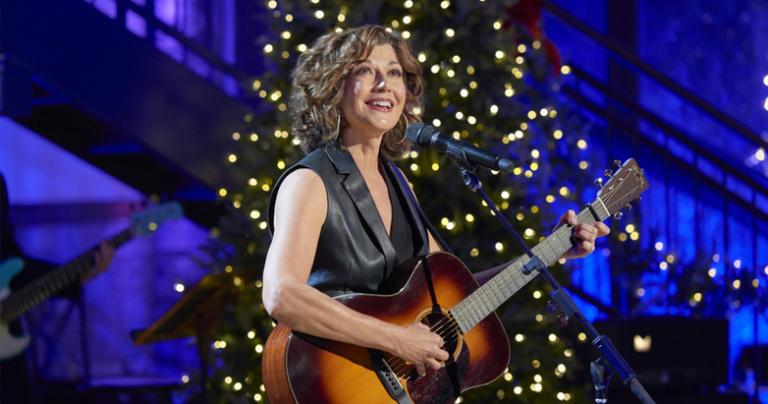 My wife and I were privileged to be a part of the audience, which was a special memory we will never forget. The location, a lodge at the Greystone Quarry event center, was superbly decorated by one of Grant's sponsors, Balsam Hill Christmas trees. Through a random series of events, we were seated on big cushions on the floor in front of the band and singers. With the fire going behind them, Christmas trees lit, and a casual but professional atmosphere, it felt at times we were sitting in a living room together sharing music and memories. We've seen these artists from far-off sections in packed arenas, so this up close and personal moment was quite amazing. Grant joked about Gill's tradition of cooking Christmas breakfast, which has ceased after a slight knife accident and him seeing his "guitar playing days" flashing before his eyes.
Two years ago, on the eve of her most recent Christmas release, I had a long conversation with Grant about Tennessee Christmas and the song "To Be Together," featured during the special:
"I guess I was just trying to make a record that reflected what Christmas felt like at our house. Because it is a lot of making lists or 'Have we made cookies yet?' 'When can we find the time that all the relatives can come over?' There are times of stillness and mindfulness of 'Joy to the World' but there's also a lot of  the one time that everybody celebrates this sense of anticipation of sharing love. I call it 'The great trickle down effect.' God set a very high bar by sending his Son and the rest of us are going 'Well, I want to love the ones in my circle'."
Tennessee Christmas Presented by Hallmark Channel airs Monday, Dec. 3 at 6 pm EST on the Hallmark Channel. If you happen to catch a glimpse of a good looking entertainment writer, I'm sitting on the rug on the right. 🙂 See a preview of the night here.