In the new Netflix thrilled Bird Box, Academy Award-winner Sandra Bullock stars as a mother navigating with her children through an unspeakable supernatural threat that's wiped out most of humanity.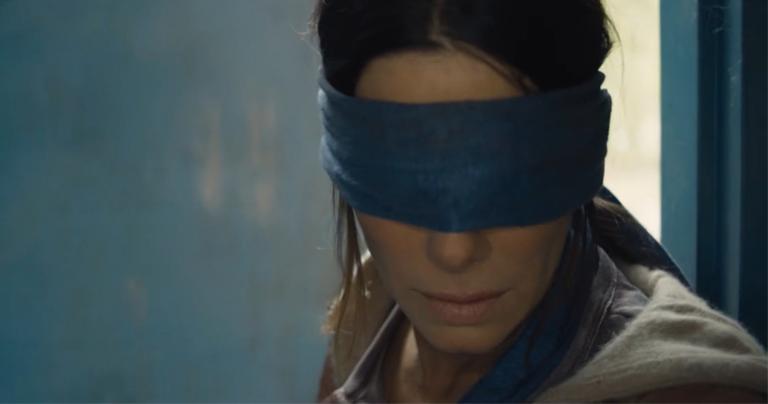 Told through three timelines, Bird Box, unwraps the story of the darkest hour of earth, when an invisible threat uses vision to drives its victims to the point of suicide. Malorie (Bullock), already fearfully expecting her first child as the world deteriorates, finds protection and comfort with a small group of survivors, which include the kind hero Tom (Trevante Rhodes), Charlie (Lil Rel Howery), Sheryl (Jacki Weaver), fellow expectant mother Olympia (Danielle MacDonald), and loose cannon Douglas (John Malkovich).
The film, adapted for the screen by Eric Heisserer from a novel by Josh Malerman, explores various themes of human interaction in the wake of survival, including parental, romantic, and communal. Malorie's journey is the most noteworthy, taking her from an insecure recluse to forceful hero, compassionate comforter, and confident protector. As in the claustrophobic space thriller Gravity, Bullock once again invites viewers in to her fear and anguish, ramping up the suspense to a fever pitch. Wrestling with an impossible decision during a trip down the river, her face reflects every conflicting, guilt-ridden parental emotion. She and Tom in particular continually put themselves in the line of fire to save the children, named Boy and Girl, as well as others who seek refuge in their community.
When every decision is life or death, how would that affect a person's sense of benevolence and generosity? When help is needed, literally knocking on the door, does fear or virtue win out? These are interesting questions explored in other apocalyptic disaster stories such as The Walking Dead or The War of the Worlds, not always with a warm solution. This film thankfully is slightly less pessimistic regarding human nature and survival instincts.
Named for a black cardboard container carrying birds that alert the to the enemy's presence, Bird Box will draw comparisons to the other recent breakout family thriller A Quiet Place. The two share several similarities, most of all the concept of surviving an invisible threat with small children in tow. Bird Box, however, diverges enough to stand on its own, offering a unique end-of-the-world scenario rarely explored. For much of the film, survivors have to blindfold themselves to avoid falling under the enemy's spell. They scavenge, brave raging river rapids, and even drive a car without relying on their strongest sense of vision.
With a strong ensemble cast led by Bullock and a unique, nail-biting scenario, Bird Box is one of the strongest thrillers of the year. Directed by Academy Award-winning filmmaker Susanne Bier, it will be available for streaming on December 21 on Netflix. Although it has a strong pro-family message, it is not intended for family audiences and is rated R for violence, bloody images, language and brief sexuality.