In the new film A Dog's Way Home, actress and activist Ashley Judd stars as Terri, a single mother and veteran suffering from PTSD who receives comfort from Bella, a mixed breed dog adopted by her son. Through a series of random events, Bella, voiced by Bryce Dallas Howard, is separated from her new family and her adventures home provide a centerpiece of the film.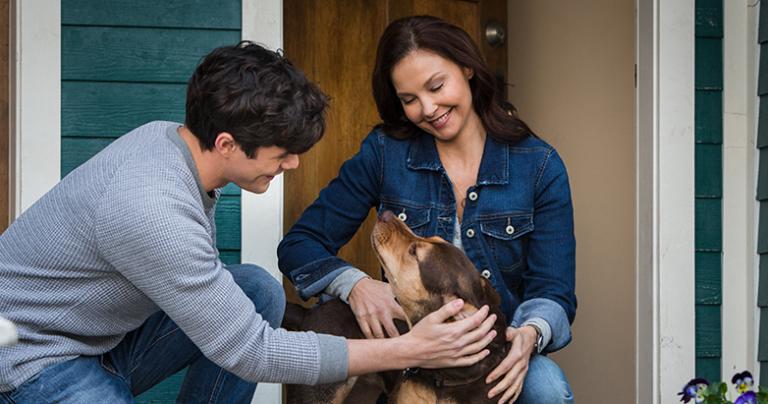 According to the Tennessee native, the two "clever" dogs who played Bella were "absolutely delightful" and provided a boost for her confidence.
"My little self-esteem was just riding high because there's a dog that seemed to like me so well," she said. "That's part of the value and love that dogs give, that unconditional regard and acceptance. No matter who we are, what we do, what we don't do, they just love us, a lot like God does."
Judd, whose film career spans 25 years and includes such breakouts as Double Jeopardy, A Time to Kill, Kiss the Girls, and Where the Heart Is, said family films, in particular, allow her the opportunity to interact with younger generations.
"It feels really good to be a part of something where the younger generations come up to me and say, 'Oh my gosh, are you the mom in Tooth Fairy? Dolphin Tale? and now A Dog's Way Home," she said.
The film isn't Judd's first experience exploring the horrors of Post Traumatic Stress Disorder. She previously directed the short film "Segment Maggie" starring Jennifer Hudson, as part of Call Me Crazy: A Five Film, which aired on Lifetime in 2013. She was also informed by the advocacy efforts of her mother, country music superstar Naomi Judd.
"My mom is deeply involved in ways of helping combat veterans can live back home in America with their dogs that they served with," she said. "She lobbied in Congress to allow the dogs to come home, just as the humans come home. And she continues to work on the Hero Dog award making sure dogs who do amazing things get recognized for their achievements."
In addition to PTSD and wounded veterans, the film also touches on homelessness, sadness, and friendship. She credits the additional emotional layers to the film's director, who she previously worked with on the Dolphin Tale films.
"Charles Martin Smith has a very skilled and emotionally nuanced way of bringing in very important social themes and making them personal, touching and heartfelt," she said. "I loved working with him on the two Dolphin Tale movies, which of course families love. I think everyone will get a real heartfelt truth with A Dog's Way Home."
A Dog's Way Home, also starring Jonah Hauer-King, Alexandra Shipp, Barry Watson, and Edward James Olmos, released today from Columbia Pictures.