In Dora and the Lost City of Gold, the cheerful children's cartoon character comes to life in a Jumanji-type adventure decidedly directed toward her biggest preteen fans.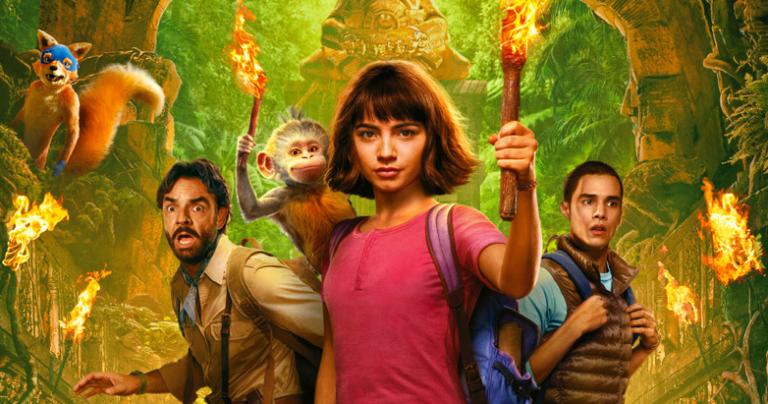 The film opens with a nod to the character's sense of adventure and imagination, incorporating her talking backpack and monkey sidekick Boots (Danny Trejo). Her parents, played by Eva Longoria and Michael Peña, are bringing her up in the jungle to follow an adventurous family tradition. Soon, teenage Dora, sweetly interpreted by Isabela Moner, is sent to stay with her cousin, Diego (Jeff Wahlberg), in the big city.
The first half of the story focuses on Dora's fish-out-of-water high school adventure, encountering more common adversaries—mean-spirited bullies and snobby classmates. The more streetwise Diego has learned to adapt and is embarrassed by Dora's sunny disposition and naivete. As the story unfolds, however, Dora's kindness begins to warm those around her, even the class 'mean girl' Sammy (Madeleine Madden).
Dora soon ventures back to the jungle to try to find her parents to protect them from dangerous treasure seekers trying to find the lost city of gold. In the process, she befriends Alejandro (Eugenio Derbez), a mysterious associate of her parents who guides her on her journey. The grand adventure continues to unfold, giving the bright young teen a chance to further endear herself to her colleagues and the audience.
The film, directed by James Bobin, is refreshing in that it doesn't attempt to belittle the hero's optimism or kindness, but instead holds them as virtues worth emulating. It humorously contrasts her cheerful attitude with the ups and downs of adolescence, but thankfully, joy wins over cynicism. Kudos are also in order for keeping the family-friendly character appropriate for the millions of kids who'll be following her new adventure. It's rated PG for "impolite humor," which is actually pretty cute in itself.
Dora and the Lost City of Gold releases from Paramount Pictures, Paramount Players and Nickelodeon Movies on August 9.