In the new female-led mob drama "The Kitchen," releasing from New Line/Warner Brothers, Melissa McCarthy, Tiffany Haddish and Elisabeth Moss take charge of the organized crime business when their gangster husbands are sent to prison. Think "GoodFellas" with a #MeToo attitude.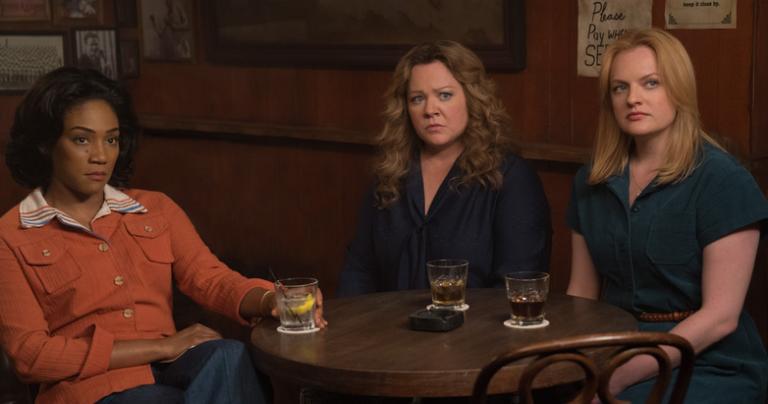 Struggling to make ends meet after their breadwinners are incarcerated and getting little assistance from the family (including Margo Martindale as the matriarch Helen O'Carroll), the women decide to pick up where their husbands left off. Assisting them in their ascension in Hell's Kitchen is Gabriel O'Malley (Domnhall Gleeson), a quiet but effective hired gun, and Alfonso Coretti (Bill Camp), a Brooklyn crime boss. Soon, they find themselves lording over their own empire, determined to stay ahead of those they crossed along the way.
The film, lifted from a DC/Vertigo comic series written and directed by Andrea Berloff, features stylish trappings from its seventies-era backdrop, including vintage automobiles and clothing as well as a compilation of classic rock songs. Haddish, known mostly for comedic roles, is a strong and capable lead while Moss transforms from sheepish punching bag to bloodthirsty avenger. McCarthy, who I typically adore, doesn't quite disappear into the role or exude the toughness the role demands. Even during some of the more complex and morally questionable decisions, she remains a little too . . . likable.
Gleeson subtly fleshes out the boyish assassin and is one of the film's finest performances. He's simple-minded, precise, consistent, and, at times, surprisingly funny. Martindale's presence teases another notable highlight, but unfortunately, she's underused. The same is true of Common, who plays an FBI agent responsible for the husbands' arrests.
To its credit, "The Kitchen" explores soul-searching among its main characters, but ultimately leans in favor of their own selfish ambitions. SLIGHT SPOILERS FOLLOW: One character proclaims that her decisions were never about her family, but for her alone. She claims to not have a priority to protect her children, and yet we've just witnessed a scene where she did. She also bemoans having to show gratitude to her husband, family, and even God throughout her life, but this is something she built for herself without their help. That monologue, delivered on a church pew of all places, is her self-congratulatory moment of empowerment, but it's soon evident she relies heavily on family members and her business associate to stay in business.
Like many people, I enjoy a good gangster movie, especially one where, even among the rampant criminal activity, there's some type of unspoken code of conduct or "honor among thieves." In their thirst for power and overturning the system, these three women seem to recklessly throw any thought of those rules out the window, making it a little more difficult to accept how neatly it all comes together in the end.
"The Kitchen," rated R for violence, language throughout and some sexual content, provides a period-accurate escape with several notable standouts. Because of inconsistencies and some unrealistic outcomes, however, it ultimately fails to aspire to the mob-drama greatness of earlier classic films.