Marvin Winans was one of four distinctive voices featured in the groundbreaking gospel group The Winans, which arrived onto the music scene in 1981. The quartet won numerous GRAMMY, Stellar and Gospel Music Dove Awards and released multiple hit songs such as "Tomorrow," "Ain't No Need to Worry" and "It's Time."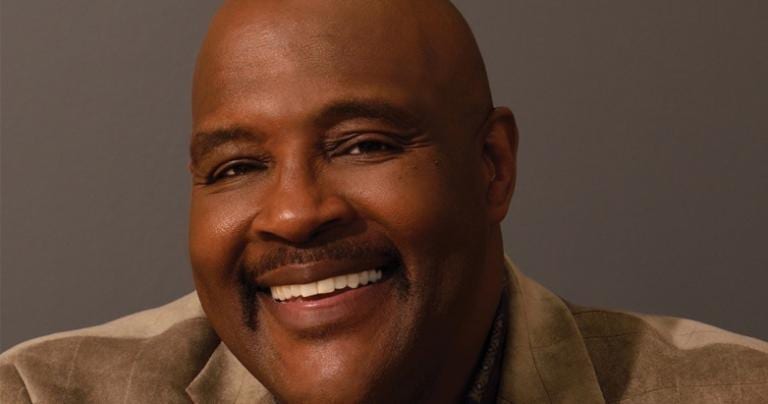 Now focused on shepherding his Perfecting Church congregation, the singer-turned-pastor holds fond memories of performing with his three brothers, his twin Carvin, Michael, and Ronald. The siblings grew up together and attended school together, developing a lifelong bond that extended into music.
"The comfort and the trust that you have without knowing it, when you stand on stage with three brothers behind you are with you, that is important," he said. "One of the reasons I never sought to have a solo career is because I would end up asking them to sing anyway, so what was the point?"
Ronald passed in 2005, effectively closing that chapter of the legendary ensemble: "When Ronald left us, that was the end of that group," he said. Since then, Marvin has released solo projects and spearheaded worship releases featuring the music from Perfecting Church.
On October 11, the church, which began in 1989 with eight people in his basement and has grown a congregation of more than 4,500, will celebrate 30 years with a Thirty-Year Celebration and Gala at Detroit's Henry Ford Theater.
"When I signed up it was for a lifetime," Winans said. "I never had a desire to go anywhere else."
Special guests that include two of his famous siblings, BeBe and CeCe Winans, and activist Bryan Stevenson. Stevenson, the author of Just Mercy and executive director of the Equal Justice Initiative, has appeared on NBC Nightly News with Lester Holt, MSNBC, National Geographic, and OWN.
"He has a ministry to those on death row slated to be executed, getting them off, especially those that were innocent," he said. "It is a job and quite frightening to think people, especially a disproportionate amount of African American men, that are on death row and completely innocent."
As a minister, in addition to his home church, Winans preached one of the most viewed funerals in history, the late Whitney Houston's, who the family considered to be an adopted sister. More than 10 million viewed the service, which was held in Houston's home church in New Jersey and featured the group's song, "Tomorrow" with its fitting lyric: "Tomorrow is not promised."
"When she passed, the next day, (her mother) Cissy called and said, 'You're preaching the funeral, that's the way Nip (Whitney) would have wanted it," he said. "That showed the closeness and the family tie that we had."
A special memory of "Nip," a nickname for family and friends, was when she was filming the blockbuster The Bodyguard and invited the entire Winans clan to dinner at a house rented by the studio. Houston asked Winans if they could speak privately in a nearby room with a piano.
"I thought I was going to try to get her to sing some songs," he said. "She said she was in love with Bobby Brown. I said, 'Nip, are you serious? Come on.' Then she started to tear up. I said, 'I'm sorry, I'm so sorry. If that's who you love, then that's okay'."
Houston told Winans she wanted "a real wedding" and for him to perform the ceremony. He told her, "I don't do weddings without counseling," and the couple agreed.
Counseling and performing weddings continue to be part of Winans' favorite duties as pastors, now seeing multiple generations progress through their spiritual journeys at his church.
"To have people get saved, delivered, filled with the Spirit, get married and have children, and have those children graduate from college, it's just incredible to watch the chain of life continue," he said. "It's been a wonderful journey."
For more information on the Perfecting Church 30 Year Celebration and Gala being held on Oct. 11, visit the church website.
Watch Marvin perform with brothers Carvin and Michael, and singer Tamia here: