A down-and-out music professor joins forces with a struggling small church choir in the new NBC comedy "Perfect Harmony," premiering Sept. 26. Bradley Whitford, fresh off his Emmy win for "The Handmaid's Tale" stars as Arthur, who visits the small town to bury his wife, drown his sorrows, and possibly end his life. He asks for a sign to continue living, and that turns out to be the echoes of off-key voices from a nearby choir. Being the smug maestro that he is, he can't help but bestow his expertise on the small-town singers.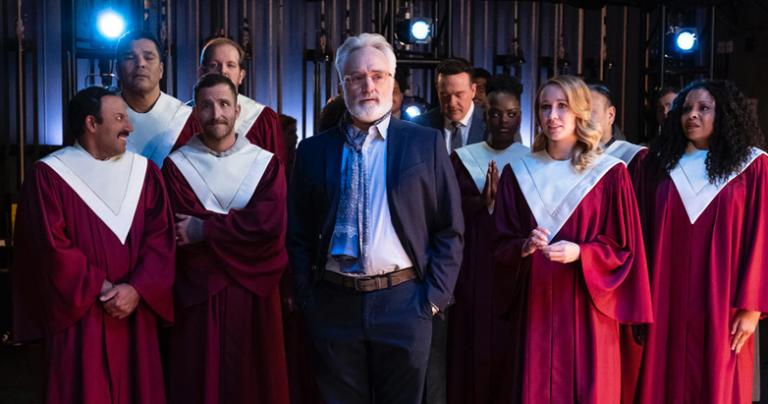 Anna Camp ("Pitch Perfect") is Ginny, the sweet-as-sugar choir director, leading a diverse group of members ripe for comedic tension. Arthur's cynicism and Ginny's optimism are frequently at friendly odds, and thankfully, the writers lean toward the latter, winning over the old curmudgeon, along with the audience.
While it may not be the most original concept—think "Sister Act" meets "Doc Hollywood" with a dash of "Glee"—this combination is frequently charming and entertaining, thanks to one-liners from writer Lesley Wake Webster and the delivery from Whitford and Camp in particular. Messages of faith are light and breezy, as music performances such as "Amazing Grace" and Handel's "Hallelujah" or lead-ins to punchlines: "Life is short," Arthur says. "Let's use this precious time God has given us to make some beautiful music . . . that's going to blow the toupee off that pompous windbag's head." That windbag, by the way, is the town's self-inflated megachurch pastor (John Carroll Lynch).
Even though it's doesn't dive deep into matters of religion, the fact that the show is centered around a loving congregation is a good thing. Churches, as many of us know, are full of interesting, funny, good-hearted, and talented souls. The pilot included a few moments of adult language from the disgruntled music professor and one intentionally-bleeped-out F-bomb from a choir member. What direction it takes from here on out, whether into more family-friendly territory or further pushing the bounds of irreverence, is anyone's guess.
"Perfect Harmony," produced by 20th Century Fox Television and Small Dog Picture Company and executive produced by Whitford, Webster, Jason Winer, Adam Anders, and Jon Radler, will premiere on NBC on Sept. 26.