The trailer for Elevation Pictures' 'The Grizzlies' offers a first look at the inspirational drama ahead of its March 20 theatrical release. The true story centers on a struggling young Eskimo population in a small Canadian town that encounters an idealistic, naive young teacher hoping to make a difference. He champions the sport of lacrosse, hoping to give the young people purpose and structure.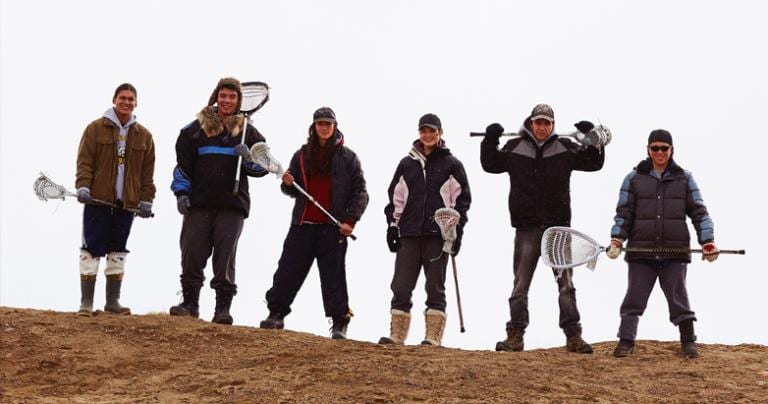 One of the best qualities of a film is the ability to offer a window into a part of the world that most have never seen. To that end, it appears that 'The Grizzlies' succeeds, presenting the defeats and victories of a lesser-known part of the world. The film is directed by Miranda de Pencier and stars Ben Schnetzer, Booboo Stewart, Will Sasso, Tantoo Cardinal, Emerald MacDonald, Paul Nutarariaq, Ricky Marty-Pahtaykan and Anna Lambe. The film has received various awards at independent film festivals, including the Audience Choice Award at both the Palm Springs festival and the Calgary Film Festival.
The official synopsis follows:
'The Grizzlies" is based on the inspiring true story of a group of Inuit (Eskimo/Indigenous/Native) students in a small Arctic town suffering from one of the highest teen suicide rates in the world. The classmates are initially resistant when a naive and culturally ignorant white teacher introduces them to lacrosse—but gradually, as they begin to connect with each other as teammates, the students' find inspiration to make profound shifts in their lives. Together as "The Grizzlies", the players learn to lead each other, gain the support of a deeply divided town, and look to compete in the National Lacrosse Championships. The students' ultimately discover that success doesn't lie in the outcome of a lacrosse game, but instead in their awakened spirits and the awareness that even in the toughest of circumstances there is always the possibility of transformation and hope.
Watch the trailer below: