A heroic St. Bernard/Farm Collie-mix experiences pain, victories, community, and friendship in the big-screen adaptation of Jack London's classic novel, "Call of the Wild," starring Harrison Ford. The film, releasing from 20th Century Pictures this Friday, touches on the stories of several characters involved in the Yukon gold rush of the 1890s through the eyes of its big-hearted four-legged protagonist.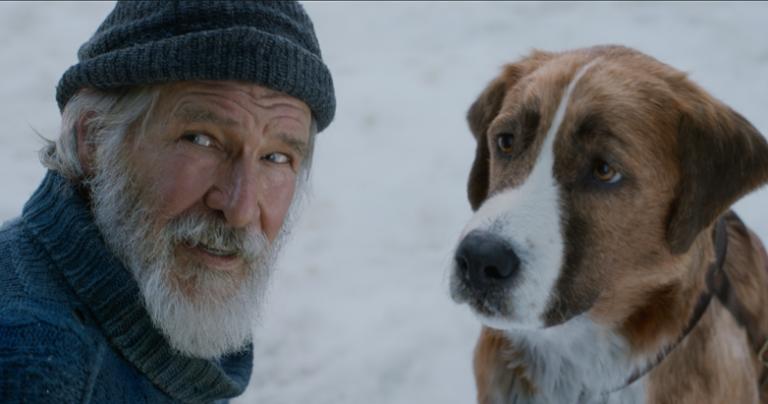 Ford, serving as narrator, stars as John Thornton who finds an unlikely companion in Buck, as both are reeling from their own pain. Jack steps in to save Buck from abuse on more than occasion and in turn, the dog provides healing and company from a man who's closed himself off to the world. But John isn't the only human touched. Buck also the postman Perrault (Omar Sy) in his mission to deliver the mail to a remote part of the world. Dan Stevens (Downton Abbey) also stars as the film's main villain, Hal, driven mad by a lust for wealth in the mountains of the Yukon.
Although he is a computer-generated image, Buck is infused with many of the mannerisms of a real dog, much like the recent "The Lion King" remake. While that film faced criticism being too lifelike and not letting the animals have enough personality, "Call of the Wild" leans the other way, to frequent comic delight. In the previews, it didn't seem it would work, but within moments, viewers are invested enough in the story to care for the dog as if he were real. It's a film that really could only work this well with the technology that's currently available.
As his human co-star, Ford delivers a noteworthy performance. As a broken man hanging on to the memory of his late son, who also wanted to explore the world, in every scene he appears, he enhances the film. His haggard look with a beard in various stages and warm but gruff delivery also fits the part well.
"Call of the Wild" was built for family viewing and as such, features little in the way of profanity, although the characters, including the dogs, are abused and put in harm's way a few times. Still, the story carries some inspired nuggets such as the value of community, kindness, and emotional healing. Assigning an emotional value to his mission, Perrault tells his wife that their adventure is more important than just delivering pieces of paper to the remote town; "We deliver hope. We deliver love." Viewers also see that connection through the eyes of Jack, who uses it as the last point of contact with his estranged wife.
"Call of the Wild," directed by Chris Sanders ("The Croods") and releasing Friday, February 22 from 20th Century Pictures/Disney, is rated PG.