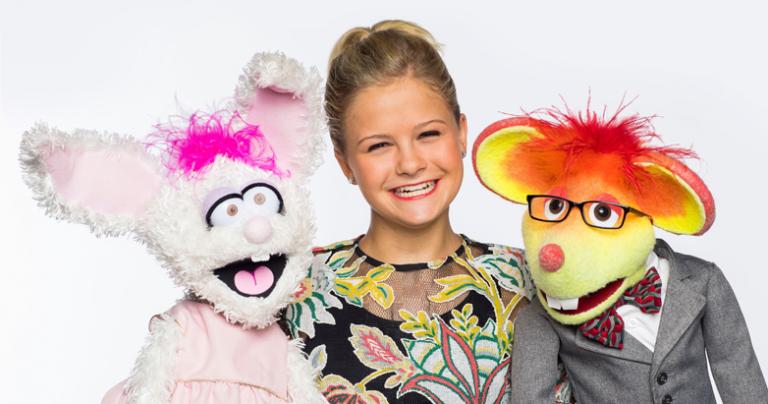 Three years ago, at the age of 12, ventriloquist/singer/comedian Darci Lynne walked away with the top prize on NBC's "America's Got Talent" competition. Two year later, she returned for "The Champions" and was runner-up, further cementing her talent and popularity. Since then, she's toured the country, had her own prime-time Christmas special and made appearances on "The Grand Ole Opry," "Christmas in Rockefeller Center," Disney's "Fancy Nancy," and many others.
On Friday, March 6, the Oklahoma teen will appear at the Florida Strawberry Festival in Plant City. She recently spoke to Reel Faith's about the festival, how life has changed since winning AGT and staying grounded after becoming a household name.
Can you talk me through a little bit of what happened since winning AGT? How did life change?
Definitely, my life changed that day. It was crazy. I got to do so many things that I'd never gotten to do. So many opportunities came my way. It really just boosted my career and I got noticed in public. It was crazy. I've been on tour for almost three years now and it's been super amazing. I had my own Christmas special on NBC. I guest-starring on Nickelodeon and went on the Food Network. I've gotten to do so many things. I've so many opportunities and it's been amazing. And there are even some more exciting things to come. Can't talk about them yet though.
Do you do a lot of festivals?
I think I've done one festival, the festival. Mostly I do fairs, but I think they're pretty similar. But I'm excited to come back to Florida, I've been there, but excited to come back.
When you play it a fair or a festival, I think it broadens the audience for an artist. They're not necessarily there to hear just you, but people who are there for the festival, and it exposes your talent beyond your base.
Yeah, I think that's cool, especially when I do fairs, it's not just my fans who buy tickets. People who see the promos and the billboards are like 'Oh my gosh, I'm very curious to see this girl' and I think that's cool. I'm excited to maybe even gain a few fans, people who admire what I do.
Darci, who was your inspiration?
When I very first started, what inspired me to teach myself ventriloquism was I met a girl who did ventriloquism, she was 18 at the time, she's older now, but she was super sweet and gave me tips and pointers. I was just I was mesmerized by what she was doing. I had never seen anything like it in my life. So, I went home and I taught myself on my bathroom mirror and I just practiced and once I got into it and learned even more about ventriloquism. I came to know about Terry Fator and Jeff Dunham, I would sit for hours and watch their YouTube videos. Just watching them inspired me a lot and gave me inspiration for practicing. watched them and I learned how they do it. Terry Fator and Jeff Dunham are big inspirations for me. And then finally, Gary Owen, I'm not sure if you know who that is, but he is a local ventriloquist who lives where I live. And he took me on and taught me all that he knows who he was an inspiration. And he's been doing it for like 30 plus years. So yeah, there were a lot of people who, who inspired me.
And you have not only are you a great ventriloquist, I know you've got a great singing voice too.
Oh, thank you so much. Yeah, I've been singing since I was six.
Do you still sing, or do you do mostly ventriloquism now?
I am still singing. In my show, I get to sing by myself for four songs. I have four solo songs in my show. So that's really fun. I do, "Feeling Good," "Sucker" by the Jonas Brothers and "Fly Me to the Moon and "We Are Family" at the end.
Obviously, as a young girl who's in the public eye, you're a role model. How do you feel about that?
When I started ventriloquism, I never realized how it would impact people around the world. I've received so many videos and messages about how little girls and little boys were learning ventriloquism and teaching themselves because I had been doing it. And I just think that's really cool to be able to be in the spotlight and have a platform and be able to explain to young kids that it's okay to do something new and to reach for your dream and do what you want to do and shine. And that it's totally possible for you to do that, and you're totally capable to do it. So, I think it's really cool that I get to be this person and be able to inspire other people to be who they are and be themselves.
What do you say keeps you grounded?
This business can be really toxic and crazy. I didn't move to LA after I won. We decided to just stay in our home, our home city, and I still went to school, and my family has been like my rock. They have been a huge part of helping me stay me and not changing for the world. And my friends as well, even though I do online school now, I still get to see my friends and still get to feel normal. And I think that's what's really helped me.