As its title suggests, "The Way Back," the new film starring Ben Affleck and directed by Gavin O'Connor ("The Accountant," "Warrior") throws a badly-needed lifeline its main character. Initially, especially in trailers, it seems to refer to a basketball team turning around its losing streak, but it's actually a gritty, personal story of grace, hope, and second chances.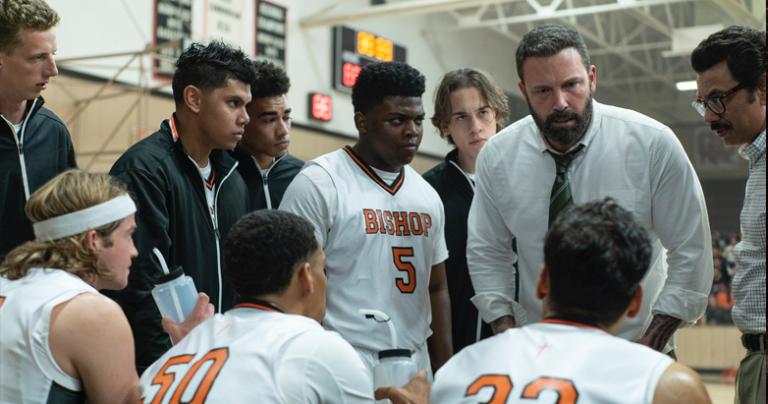 Jack Cunningham (Affleck) is a burned-out former player who returns to coach at his Catholic high school at the invitation of its principal. As the film opens, he's a shell of a man, wrecked by personal tragedy and marred by addiction. He's chosen for the job because of his legacy; his name is proudly displayed in a banner on the wall. But there are other forces at work, opening Jack up to promise and purpose. As he steps in to help the team turn their losing streak around, he continues to struggle with his own alcohol addiction, but this time with a new reason to attempt to overcome it.
Not unlike his brother Casey's Oscar-winning turn in "Manchester By the Sea," Affleck gives a standout performance, carrying the weight of both pain and guilt through the story. As Jack, he gives a relatable, human face to a figure whose choices wrecked the lives of others. His journey back is harrowing and messy. Michaela Watkins and Janina Gavankar also ground the story as two women who've been wrecked by Jack's decisions while struggling to trust him again.
The basketball narrative and Jack's players provide relief and levity from the darkness. The players, who each bring out a different side of Jack, include Kenny (Will Ropp), Brandon (Brandon Wilson), Marcus (Melvin Gregg) and Chubbs (Charles Lott, Jr.).
Although the story is inspirational, "The Way Back" is unflinching in its depiction of its protagonist and is rated R mostly for his profanity on and off the court. Church leaders, including his assistant coach Ben (Al Madrigal) ask Jack for less and at one point he says, "I'm working at it," but it never really holds back. It's a plot device in a convincing story of forgiveness and grace, but without its inclusion, the story might have appealed to broader audiences who embraced similar sports dramas such as "Friday Night Lights" and "Remember the Titans."
"The Way Back," directed by Gavin O'Connor and starring Ben Affleck, will release to theaters on Friday, March 6 from Warner Bros. Pictures.
Below, watch Ben Affleck discuss his faith during an interview with writer DeWayne Hamby.