A young professional woman balances her dreams while grounded in reality in the new Focus Features release, "The High Note," starring Dakota Johnson and Tracee Ellis Ross. Maggie (Johnson), an assistant to Grace Davis (Ross), a legendary music superstar provides a peek into the gritty drama behind the glitz of the music industry. Although she's optimistic and content in her role, she also hopes to establish herself in her own right as a producer. As opportunities arise, she makes calculated moves and experiences ups and downs on the road to her own dreams.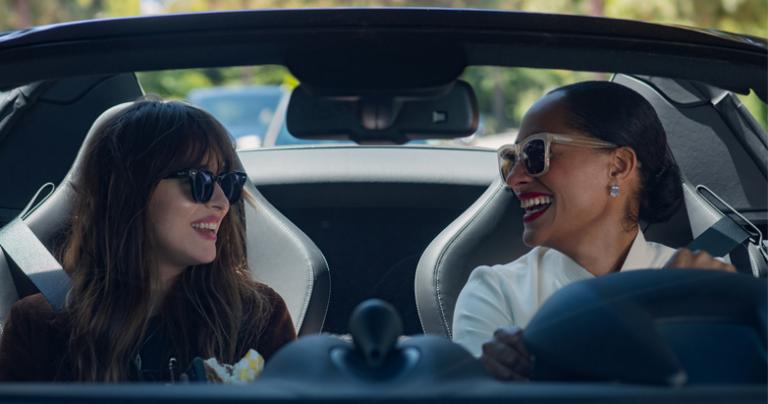 Ross and Johnson are a great duo, not quite as intense as the assistant relationships explored in similar films "The Devil Wears Prada" or "The Bodyguard" that viewers will be reminded of. Ice Cube is also a great addition as Jack, Davis's laser-focused no-nonsense manager as well as Kelvin Harrison, Jr., Maggie's love interest/musical discovery. Bill Pullman, Zoe Chao, and Eddie Izzard also appear.
Personally, I'm a sucker for music industry stories and I enjoyed "The High Note" mostly for that reason. I was at first reluctant to embrace Ross, who seems to channel her mother Diana's diva persona, wondering why an established singer couldn't have been chosen for the role. Ross, however, won me over, adding subtle depth to what could have been a cookie-cutter character. She's cutthroat at times and vulnerable at others, pretty much what I'd expect of an aging musical icon. She'll make you believe in Grace Davis.
In one moment, Ross delivers one of the film's best lines. Faced with phoning-it-in with recycled songs or pushing ahead with a new project, she says, "When there are no more surprises, then who I am doing it for?"
The film's biggest takeaway is the push to chase your dreams, but there are also lessons on forgiveness, taking risks, kindness, and reconciliation. All in all, "The High Note" is a very sweet, fun, and heartwarming story. It's less cutthroat and more feel-good than "The Devil Wears Prada" but will no doubt draw some comparisons. Johnson and Ross give standout performances and truly make their characters come to life.
"The High Note," directed by Nisha Ganatra, releases to home video on Friday, May 29 from Focus Features.