The new animated musical comedy series "Central Park" is the latest creation from Emmy Award-winning "Bob's Burgers" producer Loren Bouchard along with Josh Gad ("Frozen") and Emmy Award winner Nora Smith ("Bob's Burgers"). Gad also serves as the series narrator, Birdie, starring with his "Frozen" co-star Kristen Bell, Daveed Diggs, Tituss Burgess, Kathryn Hahn, Leslie Odom Jr., and Stanley Tucci.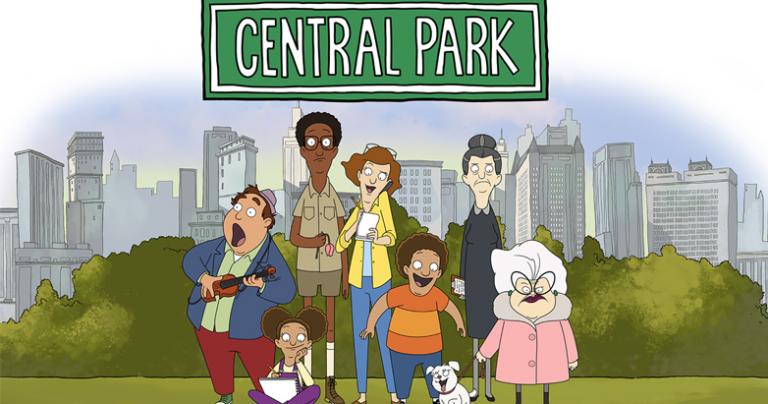 The show centers on the Tillermans, a family living in Central Park, that includes Owen (Odom), the park manager, his wife Paige (Hahn), and children Molly (Bell) and Cole. At the same time, hotel heiress Bitsy Brandenham (Tucci) is determined to turn the beloved park into condos and chain restaurants. Focusing on each of the characters, every episode features a variety of songs and comedic elements.
In a recent press interview with faith-based media, which included "Reel Faith," Gad and Bell explained why they feel the show will appeal to all members of the family, why the music is so important to the show, and what the real Central Park means to them.
What was the motivation for making it appeal to adults but not alienating kids?
Josh Gad: That was the motivation. I wanted a show that I could celebrate with my kids, something akin to "Bob's Burgers," which my co-creator Loren Bouchard and Nora Smith also created. I wanted it to be a show that celebrated life, that celebrated passion, that celebrated perseverance in the face of adversity, a show that celebrates all those things that make us so human. And we didn't feel the need to rely on crass humor. There's the occasional poop joke, I'm not going to lie. But we felt like we wanted something that could really be the essence of co-viewing at a time there are fairly limited options, where there is something you love but maybe your kids don't, or your kids love something and maybe you don't. We wanted something for everyone to love. I hope we accomplished that. I can tell you in my household there has definitely been a sense of excitement for the past two years as my kids have been watching these episodes.
Kristen Bell: I signed on to this project knowing nothing about it. I signed on because Josh said, "Hey, do you want to do a cartoon with me?" I said, "Yes." He said, "Okay, bye." Then later, I get told what the plot is and that he hired all our friends. Listen, I have a five and a seven-year-old. And we love hanging out. But we are not often agreeing on TV. And there are a lot of great shows that they love, but if I watch another "Paw Patrol," I will pull my hair out. It's not that I think it's a bad show. It's a wonderful show. I just can't, I've seen Rider do it all. "The chase is on the case." I get it. I need a little something more to keep my interest. And it is hard to find things because even going back to watching 80s movies, like watching "Back to the Future," things that we think would be super appropriate, even if they think it's appropriate, there might be something in there that spooked my child. It is harder than you think to create a show that is true co-viewing. I sat down and I trust Josh's comedic and show running integrity implicitly. I sat down and watched with my kids. I was incredibly engaged. My kids have been singing the songs. There's nothing I'm nervous about. It is the essence of co-viewing and it makes me so happy at a time when a lot of us are still at home, we are able to have this joyful snuggle party in the evenings.
The show celebrates the underdog, such as "Weirdos Make the Best Superheroes." Why was it important to celebrate some of these characters who are not normally celebrated?
Kristen Bell: I want to start off with one comment about Molly and the superhero song. One reason I love playing Molly is a lot of people write adolescence on television, in cartoons or live-action, and you can fall into a lot of clichés. You can fall into a lot of places where they're just rebellious or they hate their parents or all these things that are not necessarily realistic. They're dramatic but they're not realistic and Molly is an awkward adolescent, as they all are, but they have somehow in "Central Park" shown us this big beautiful brain that she has and this lightning world inside her head where she can only draw about. In that world, she has confidence and power and I'm very grateful to play her.
Josh Gad: I think that's 100% right and you know you hit the nail on the head about the underdog thing. I think so many people right now feel like an underdog and I don't know that there's anything that celebrates the underdog as much as we've tried to with this show. And it's not just Molly. It's Owen. It's Paige, it's Cole.. even Birdie, everybody except for Bitsy, who literally and metaphorically looks down on the world. We love that. We love leaning into that. I think this family shows you how important the power of perseverance is and also being a family unit. The thing that I love about the show is the love that this show gives me back, the love that this family has for each other. I find it so inspirational at a time when we could all use a little light in our lives.
Can you tell me about a bit about how you find the people to do the music? It's unusual that you would use different composers.
Josh Gad: It was always my inspiration for this. Some might (say) I'm an unhealthy devotee of the musical form. I got my start on Broadway and then went on to do a lot of musical films including "Beauty and the Beast" and of course the "Frozen" films with the brilliant Kristen Bell. But I wanted to bring that love of the musical form to television in a way that I hadn't necessarily seen it done before. I didn't want it to be pastiche, I didn't want it to send up musicals. I didn't want it to be a show with music. I wanted it to be a show where the characters had no choice but to break out in a song, to express themselves emotionally, to create a tapestry of songs that would interconnect thematically from episode to episode and seasonally as well and maybe even series-wide. And that was a very ambitious task and when I first pitched Loren the idea of doing four songs a show, I thought he was going to kill me. And then I managed to sort of beat him down and I knew that that responsibility could not fall on the shoulders of anyone or even two composers. We started off with the most incredibly gifted composers that I knew of and Kristen knew of but not many people did, Kate Anderson and her partner Elyssa Samsel, who wrote the "Olaf Frozen Adventure" that Kristen and I did a few years back. Their music was extraordinary. We started with them and then we brought in this incredible composer that Loren knew named Brent Knopf and from there we built out this amazing list of guest composers who were willing to come in and write for people like Kristen and Titus and Leslie Odom, Jr and Stanley Tucci. We've been really blessed. It's been an extraordinary collaboration.
What relationship do you have to Central Park? There seemed to be a love to the park as well.
Josh Gad: I can recall a very vivid memory of being in the spring of 1999. I was going into my final semester in high school and I had applied to Carnegie Melon where I would meet my costar Leslie Odom Jr. who was my classmate. I left my audition in New York City and I put everything on that audition. That was going to be my lifeline. If I got into school, I was set and if I didn't, I was ruined, in my mind. And I left the audition and my mom said, "What do you want to do?" and I said, "I'd love to take a stroll through Central Park." And we walked into the park and, I kid you not, it started sprinkling snow as I took a step into the border, left the border of the concrete jungle into the border of this natural wonderland. It really made me feel like everything was going to be okay. The thing that I'm obsessed about Central Park is that it's the great equalizer. You can be the richest person in the world or the poorest person in the world, but when you're in that park, you're on an equal playing field. The park shouldn't exist. It should not exist. And yet here it is, in the midst of steel and you're taken to this place where anything is possible. That to me felt like the magic that we wanted to bring to this series.
Kristen Bell: That's such a beautiful way to say it, Josh. I went to NYU so I went to school in the city and I remember growing up in Detroit and in Michigan, where there's, as you get on the outskirts, there's a ton of land and backyards that are overgrown and you could run around. I was missing that a bit in the concrete jungle, yet I was incredibly thrilled to be 18 years old and studying musical theater. There's something very, very special about this paradox that is Central Park in that it shouldn't exist there and it is an equalizer but you're able to fulfill sort of both parts of your personality or at least I was, where I was like 'Ready to be a working woman and live in an apartment in a walk-up on floor four!' And yet I sort of yearned for a little bit more Michigan and I could go to the park and that could happen. To me, it's a celebration, which our show is as well because there are two different lands right next to each other, co-existing and I dare you to find a person in New York City who can't make an argument that you need them both.