Colton Dixon, who first gained attention as a finalist on "American Idol," has spent years as a solo artist in the Christian music industry, but a personal "rebranding" and a new deal with Atlantic Records is poised to wider his reach even further. Dixon's self-titled EP will release May 15, and his lead single "Miracles" made waves at Christian radio after its release in January.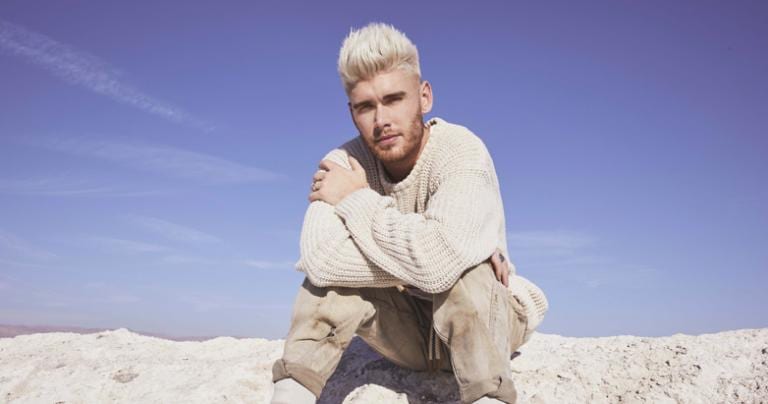 Dixon, who is expecting identical twin girls with his wife Annie in the fall, recently spoke to "Reel Faith" about what this new season means, how the new record came about, and what he's learned in the process.
When you approached the new album, did you have a theme in mind? What is your process?
I normally have a theme or a title or something I'm working with pretty much throughout the whole project. However, for this project, it's kind of like a fresh start for me. So, we decided to go with a self-titled, which means that there's not necessarily a single theme or thread other than these songs are a reflection of me and who I am and this rebranding of who I am. It was a really long time in the making. I haven't had new music out for three years. So, it's been a long time, but we've really been able to dive in and write some great songs. And we're excited for people to hear them.
What do you mean when you say "rebranding"?
The "American Idol" deal ended for me almost three years ago now, which meant the label went away as well. Things were up in the air for me for a little bit. But we signed with Atlantic Records. So, coming from a Christian music label now with Atlantic, there are a lot more resources, naturally, so we're trying to expand our reach further than just the Christian market. We'll still write faith-based music and music that has hope and life in it, but it just might look and sound a little different than what my fans are used to. Fans who have heard a new single would say it's familiar but it's definitely new and fresh. That's the idea behind the whole project. We have an opportunity to reach some more people and we're going to do everything we can do to do that.
With your "American Idol" deal, what you were assigned was more faith-based. In my mind, I would have assumed it would be the opposite.
When I came off "Idol," there were of course deals available. I grew up in church and loved Christian music and believed in it, so that was something that I wanted to do. So I did that for seven or eight years. Then the Atlantic thing came about and to be honest at first, I was like 'This doesn't make any sense.' I was kind of thinking this seems backward. But my wife and I both felt like it was right, that we should do it. I'm so glad that we did. There are just more resources and opportunities to get into the room with certain people than we did before.
I feel like the advent of reality shows and competitions gave a platform for more Christians to be on television. Up until reality television, scripted shows didn't show a lot of faith-based people. When you open the doors to everyday Americans, more times than not, you're going to have someone of faith.
I just think that's very interesting. I never thought of it like that. You're right. The culture out west, especially if you rewind 10-15 years ago. I feel like faith has started to infiltrate out west, which is really cool to see. But it wasn't the culture. It wasn't the norm. But you're right, reality shows, it would bring your average Joe to Hollywood and more often than not, he believed in something.
I also feel like it gave Christians an extra advantage to get discovered. Before these shows, bands and singers got discovered by singing in clubs and bars. Church people didn't do that.
That is so true. You're right. You're going to sing at church and you're probably not hitting the club circuit.
How have you changed in the past five years?
I would like to say that I've matured a lot. The biggest thing that has changed for me that been a really good change is that I used to show up to "work" and my perspective was that all these people showed up for me. That's really dangerous. That's where pride can seep in and all these things. But then it changed even in the last couple of years to think "These people are not here for me. I'm here for them." Whenever you come with that servant heart, you also realize "If I don't come prepared, I'm doing all of these people a disservice." I make sure that one, I have something that's worth saying, that I'm prepared. Two, I think that perspective shift is really healthy. Whenever I would think they were here for me, I would get so frustrated when the crowd didn't seem into it or people would be sitting down or whatever it was. Now that I realize I'm here for them, you know what, regardless of what they're doing, I'm going to do my very best to make sure that they leave different than when they came in. That has been amazing. Such a great change and shift for me and for my team. Other than obviously becoming a dad, that's probably one of the bigger shifts. Everyone tells me, "Man, your life is never going to be the same…but it's good." We're pumped. It's going to be a good season.