High-powered political strategists invade a small town in the new Jon Stewart film, "Irresistible," starring Steve Carell, Chris Cooper, Mackenzie Davis, and Rose Byrne.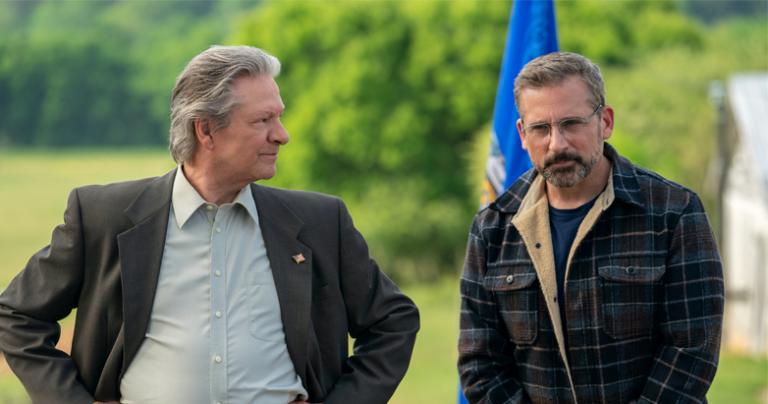 Cooper plays retired Marine colonel Jack Hastings, who comes to the attention of Democratic National Committee strategist Gary Zimmer (Carell) as a potential new candidate to win over America's heartland. Zimmer heads to Deerlaken, Wisconsin, followed by his political nemesis Faith Brewster (Byrne). Along the way, Zimmer befriends Hasting's daughter Diana (Davis), who becomes a critical part of the campaign.
Carell, primarily known for comedic roles with some noteworthy serious detours, is the marquee name in the film which doesn't quite live up to its lofty title. There is plenty of decidedly R-rated comic banter centered on fish-out-of-water elements of DC elites in the country. This concept was better explored in "Swing Vote," "Sweet Home Alabama" or "Doc Hollywood." Stewart, however, seeks to use the comedy to make a bipartisan point about the skewed political system, and it succeeds in that respect. If viewers are not paying good enough attention, he even includes real interviews on the political system during the closing credits.
"Irresistible" seems more intent on making a statement than offering anything other than a one-dimensional take on many of its characters. As Zimmer travels to Wisconsin to convince the seemingly-reluctant Hastings to run for mayor, the persuasion seems to happen at lightning speed. Zimmer and Brewster's love-hate relationship also feels contrived and overflowing with cynicism. Ultimately, it's a story that looks appealing, offers a few funny moments, but doesn't truly connect as a piece of entertainment as much as a discussion starter. More than anything, it seemed to be overshadowed by its premise and the potential of its cast.
"Irresistible," written and directed by John Stewart, premieres on home video and in select theaters on June 26. It is rated R for language including sexual references.