Releasing today, "Selfie Dad," starring comedians Michael Jr. and Chonda Pierce, is the story of a family man who gains unexpected fame through comedic home improvement videos. The faith-based film was written and directed by Brad Silverman ("Grace Unplugged") and pivoted to home release after the Covid-19 outbreak shifted initial plans for a theatrical release.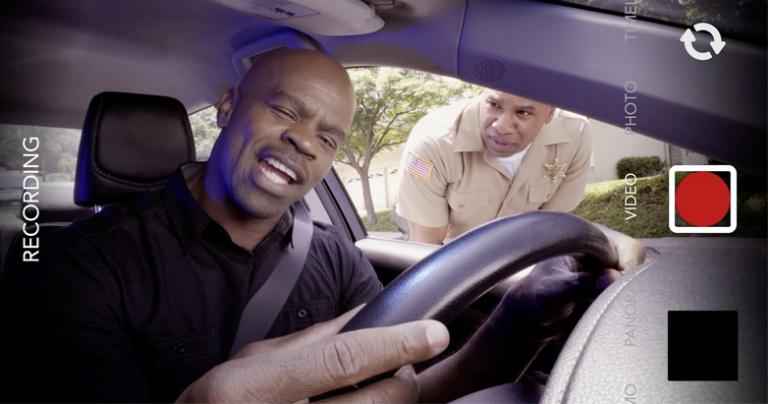 Michael Jr., a popular stand-up comedian who has appeared in "War Room," "The Tonight Show," "The Late, Late Show," "Oprah," "Jimmy Kimmel Live," "Comedy Central," and "TedX Talks," displays comedic timing while also exploring more serious themes of success, family, and faith. He recently spoke to "Reel Faith" about how he became involved in the film and the tricky part about marketing a film as a comedy or drama.
The movie is not biographical? Or is it?
It's a story Brad Silverman came up with. There are some similarities. I mean, the guy is, you know, tall and good looking. So, we got those similarities.
(laughs) I've interviewed a bunch of comedians in my life and at least half the time, they feel like they're not going to say anything funny in the interview. So, it's always refreshing to me when they actually have a sense of humor once they come off the stage.
That is hilarious. Same thing in the green room.
It's hard to kind of put your finger on the film, because when I first heard about it, I thought it was just going to be just a flat-out comedy. And I saw the trailer and it was more serious. And to me, the movie is kind of in between the two.
Yes, exactly. So, we don't even tell people necessarily there's a comedy. We want people to go there and know it's gonna' be a family film and then the comedy is a bonus on top of it because I feel like the story is so strong. And then I could just get to add the funny like on top of it. But if you go there thinking "This is a comedy" then you're probably be let down. It's not a comedy by any means.
I'm sure you know this because you're in comedy and I've had some background, too. There's such a high bar for comedy. Some of the comedians I've talked to say that when they get up on stage, the audience like, "Okay, make me laugh."
Absolutely. You're 100% right. Because what happens is if you're funny by the water cooler at work, you're hysterical, because everybody got work to do and you're there to get some water. Nobody's there to get some funny, but when you go to a comedy club, they've paid money to actually experience some funny, so their arms may be folded. The pressure is on to make the thing happen, and if you can't make that happen, it's rough. True standup will let you know if you're actually funny or not because everybody is expectant. So, yeah, you're 100% right. I mean, that's a very good notice on your part, so you can you got a background in comedy. And that's why I told him this film. I was like, "Hey, guys, I think the film is it has some great moments in it. I think it will make you laugh. It's a great family film, but we didn't write it as a comedy. We didn't plan for it to be a comedy. It just happens to have me in it.
The movie was originally a theatrical release and now going straight to digital because of the virus outbreak. Could that be a blessing?
Yeah. I'm excited man. I was looking forward to going to theaters for sure. It'd be great to be on the big screen again. I was in movie "War Room," but I didn't play a big role. But once this one made the turn, I was all in, I'm like, "Yo, let's run real hard at this thing in a big way." And if you think about it, the chances of a lot more people seeing this is, I mean, it's pretty significant. I'm excited about that. And when you laugh, your heart is open. Like, you know, by default, your heart is opened up a little more. And I feel like this movie makes a deposit that could really help people, no matter where they are in life. So, if we can reach more people, and actually make a deposit. There's this thing I refer to as the "after laugh." An "after laugh" is what happens with the information that comes after you're done laughing. What happens is it goes into your heart and it can be revealed in your walk. Like literally, it'll show up in your life. So, you have to be super sensitive about what you're letting in your eye in your ear gates and whatnot because it's gonna show up in your life. Do you ever have a song show up out of nowhere? You haven't heard the song and you start singing and humming it? That's because that thing was already put into your heart. And it's showing up somewhere in your life. The same thing happens when you watch a movie. And that's why I think "Selfie Dad" is a really good one because the stuff is going to go into your heart is in a position to help you as opposed to hurt you or put you in a mindset where you think it's okay to put somebody else in a bad position.
Tell me a little bit about your background, how you got started, and kind of your history before you started appearing in movies.
I travel the world doing stand-up comedy. Comedy for me is it's only a vehicle. It's not the destination. What we're doing now is we're really called to comedically inspire people to walk in purpose. We're all about helping people understand what it is they're supposed to accomplish. And we just use comedy to do so really, for that exact reason that I just mentioned to you, because we know that it opens the heart. So, let's go ahead and make a really good deposit. In July, we're going to be launching a course, called "Funny How Life Works" and the course is a bunch of funny videos and funny content. But along with the videos is a lesson that you get to go through, because you just laughed, and now you're gonna' learn this. And it's gonna be easier to apply. So, it's called Funny How Life Works. It's like 24 videos 24 lessons, and we're really excited about it. If anybody wants more information on that it will be on a MichaelJr.com and they can just get on the list and they'll know about as soon as we launch it.
"Selfie Dad," produced by Kappa Studios, also stars James Denton, Jamie Grace, Karen Abercrombie, and Shelby Simmon, and releases today through digital outlets.