Sight and Sound Theaters will unveil its newest musical, 'Queen Esther,' this weekend through a new streaming platform, Sight & Sound TV. Recorded live at the company's massive theater in Lancaster, Pennsylvania, the musical was scheduled to premiere on March 20 just as the nationwide coronavirus shutdown occurred. More than 200 shows were canceled with more than 400,000 ticket holders unable to see it.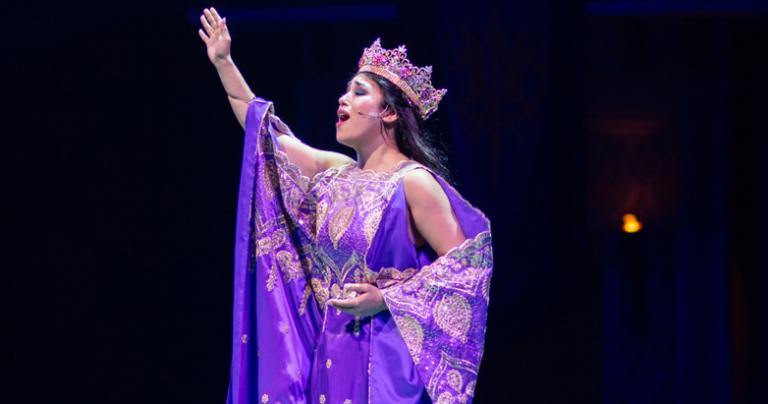 On the eve of the premiere, 'Esther' writers/producers Dan Deal and Kristen Brewer explained why the time was right to spotlight the biblical heroine and the massive stage that set it apart from the company's previous productions.
The time seems right to focus on a biblical heroine. How did that come about?
Dan: Esther's been on the radar for Sight and Sound for many, many years then and our audiences have been asking us to do it for many years. We decided on it four years ago and started working on it. So, I think it was just always in the plan to do it. And somehow in the God's sovereignty and his timing. It's just the perfect time for it.
How do you feel audiences will respond to it?
Kristen: It was a surreal moment and so thankful to hear responses when people were following the story. And you can tell people were being blessed by the story and impacted by the story and that and that was all we could have hoped for.
Dan: The story is such a deep, beautiful story. And we just felt that over the years of working on it, and we wanted to be good stewards of presenting it in a way that the audience could experience that so we were so grateful to the Lord and to the all the teams for all the work so that the story and the message of the story would come through to the surface. So it's really rewarding and humbling and a joy to get to watch it and experience it with other people.
How do you when you approach a story that so many people feel like they already know? How do you bring in a new perspective or flavor?
Kristen: The unique thing about putting Bible stories on stage is that it takes things from head knowledge to heart knowledge. So, it helps you understand something better than maybe you already know. But it just helps you have a deeper understanding and a deeper appreciation for how God was actually working in the context. It's one thing to read something and that is extremely powerful. It's a really neat tool to help people understand what actually is on the page sometimes when maybe reading it doesn't quite flesh it out for them.
This set is so intricate, more complex than with any previous show I've seen.
Dan: We're using more of the stage than we've ever used. It's bigger. And we felt like the story itself is so detailed when you read the read it in the Bible, the opening chapter just talks about all the detail in the palace and all the detail of all the different characters and we thought, 'Well, we need to represent that even in in the stage staging of it.' Also, it's the first time that we've had a story that takes place in one city, so we thought, 'What would it be like if we actually built a city on the stage?' It was a big challenge for the team and we're just thrilled the way it ended up because it's part of the storytelling seeing this young girl, this young, humble girl wrapped inside this elaborate, immense city. It really helps communicate what she was up against.
Why is it important to feature an inspirational challenge at the end of the show?
Dan: I think us being a theater, we're using this vehicle, this medium to tell the story of the Lord. I think it's good to remind the audience, we know that God's word doesn't return void. And we've just all sat in it for two and a half hours together and to remind them that it's an active thing, and allow that to permeate your heart and open your eyes to new aspects of who he is and how to walk through life as these characters walked through difficult situations, just always turning to him. So, it's just to help remind you, you can apply this to your life in many different ways.
And then take them from being spectators to actually yeah, part of that experience.
Kristen: It's the truth you are who you are, where you are, for such a time as this. God has a plan for your life.
"Queen Esther" premieres Friday, September 4 through the Sight & Sound TV streaming platform. More information can be found here.