GRAMMY-nominated singer-songwriter Jeremy Camp, whose life was profiled in the Kingdom/Lionsgate motion picture "I Still Believe," has teamed with his wife Adrienne on a new music EP, "The Worship Project," releasing today. The project, featuring six worship songs, was inspired by the coronavirus shutdown and a burden the couple had for encouraging people through the pandemic. Although Adrienne, who started in Christian music as the lead singer of the rock band The Benjamin Gate, has contributed background vocals on Jeremy's projects, "The Worship Project" marks the first time the two have collaborated fully on a music release.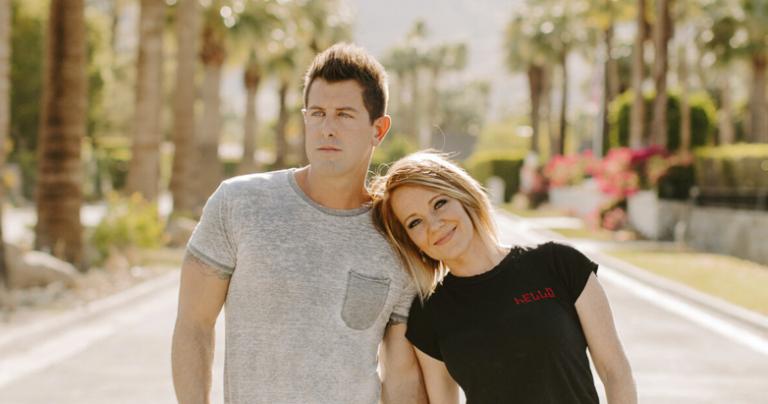 The Camps recently spoke to DeWayne Hamby about the project, their recent marriage book, and how the family has handled the shutdown.
How does it feel to have Adrian with you doing this project and doing these interviews?
Jeremy—It's interesting because it's very natural. We've always done music together in a sense, where she'll sing with me during worship, or during a show, we did on Christmas tour together. We've done this, so it's doesn't feel like it's out of the norm. But this is the first time we've done an album together where it's both shared 50/50, not just her singing background. It's like she leads and it's very special, for sure.
We spoke right before "I Still Believe" released and then the theaters shut down. So that had to be a rollercoaster of emotions.
Jeremy—Yeah, the weekend and then half of them shut down after the first weekend. Then the other half shut down the second weekend. We had about not quite a couple of weeks, but got a week. I think for me, the special thing about it is that it's gotten out there to a lot of people like they've told us the numbers on like, DVDs and video on demand and it's, it's astronomical. It's done really, really well. And I think that God has had a different plan.
Adrienne—Different than what we expected, but . . .
Jeremy—But then the impact I think, has been probably greater because of what's going on.
And God put it on your heart to do "The Worship Project" during the shutdown?
Adrienne—Yeah, it wasn't on our radar. Yeah. Right after the movie got shut down and our tour got canceled, basically, life got canceled. And Jeremy, on one morning, was feeling really just kind of down and just started playing his guitar. The Lord gave him a song. We put that song out on online, we just said, "You know, let's just sing this, it was encouraging to us." And at that point, we just wanted to be a voice of encouragement to others, like "We don't even know what to say right now. But if we could, just use music to encourage others." So that's kind of where it started. And then once we got back home from the tour, we started writing some songs together and piecing some other ideas that we had had and some friends of ours had had. Jeremy said, "I think we need to do a worship album together." And it just kind of took off from there.
Jeremy—I think everything that happened was God kept giving me songs and giving us songs. And it just kind of happened pretty natural. It wasn't manufactured. It wasn't a thing that we were like, "Let's just do that right now. We have nothing else to do." They were songs that were inspired, I believe, by the Holy Spirit. And I'm, I'm hoping that that's what gets across and encourages people.
Many of us had big plans for the shutdown, but I'm impressed that you carried through with what God laid on your heart.
Adrienne—I have to brag about Jeremy for a second because we got home and everything, every part of our life—we live and breathe in the public world—we can't do shows, can't go to churches, can't do all of these things. He called his producer and he set up a little home studio. It had been probably 15 years maybe since Jeremy had gotten behind the computer part of it, and he just decided, "I'm gonna' just put my heart and soul into learning this." That was sort of what also gave us the capacity to record it. And while we were at home in California, we recorded with our producer in Tennessee while Jeremy was sort of like engineering it, and our producer taking over his computer. It was just this like crazy fun setup.
Jeremy—He could hear us in his speakers through my setup. He could control my computer while we're singing. It was pretty incredible.
How has the shutdown been for the kids?
Adrienne—It's been fine. I think the simplicity of it has been great. It's the first time Jeremy's been home so long. That's been a lot of fun. We've just been enjoying time together as a family, and a slower pace of life. And then they've got friends around here as well. We've got family that we've seen. I think for them in the beginning, it was harder because everything was like on Zoom. And now as things are slowly opening up, they're allowed to see a few more friends. And the youth group is still meeting. So that part has gotten a lot better In the beginning, it was hard.
"The Worship Project" has many songs you wrote and some others. Can you talk a bit about the songs?
Jeremy—"Isn't the Name" was one of those songs we didn't write, but we felt like that was we sing it. But the rest came from us, like the first song, "Whatever May Come" was the first time I had written. And it was from what Adrienne was saying, me waking up one day being down and going upstairs and God giving me a song. I think that it kind of birthed in me this understanding that people were encouraged by it. I didn't try to write any more songs, but all of a sudden, another one would pop up and I'd write it and I'd be like, "Hey, let's sing it." "Death Has No Power" was really special because with all the fear happening and honestly the fear of death and all the unknown, it's that feeling of the scripture that says, "Oh, death, where is your sting?" It's going, "Jesus conquered death." If something were to happen, as believers, we know that we're going to be with Jesus forever in eternity. That's our hope. We have to rest on that and go "Death has no power over me, to live is Christ. So while I'm here I'm going to live for Christ, but to die is gain. I'm going to be with him." That was a song that came out very quickly. I had the chorus, and then all sudden I just sat down one day. I got inspired and the whole thing is came out—bridge, verse. "Father, I Thank You," that was another one that really hit you (Adrienne). I mean, me too, but in a special way. And you just started taking the reins on that one.
Adrienne—Yeah. In this season, there have been so many hard things and confusing things. And just the importance of keeping a perspective on the Lord. Instead of choosing to be negative or seeing all the bad things, we either drown in the misery and the confusion of everything or we can just choose to fix our eyes on Jesus. And what are the things we can be thankful for? Beginning at the work that He's done for us, He doesn't need to do any more work. I learn to rightly apply the things that God has already done in us and for us.
Adrienne, how does Jeremy compare to other producers you've worked with in the past? Is he kinder, sweeter?
Adrienne—Well, this didn't happen on "The Worship Project," but he was actually involved in producing one of my solo albums years ago, and we kind of butted heads a little bit. Honestly, this experience was really, really easy. And I think as Jeremy and I have grown together, I've really learned to trust him and trust his ideas. And he's really good. He envisions things almost in his head. And so sometimes if he doesn't, it's like a more simple version of what he's explaining. I've learned to trust him that the end product. I know that he's actually hearing it, even though it's just not there yet. Whereas in the beginning, maybe I like panic and be like, "Oh, I don't know," I don't think I like that. As we've grown together, I just learned to trust him, and give him the reins and let those things unfold. And then the end product I'm going, "Oh my gosh, I totally get what you're hearing here." This project was so much fun. I feel like it was just easy. There was an ease about it, a comfort level with us. And we weren't trying to overthink anything. We weren't trying to like break the box when it comes to anything creative. Our heart behind it was really to encourage people and to just hope that these songs would draw people closer to Jesus.
And you have a new book together as well. It's a marriage book, right?
Jeremy—Yes, it was inspired by the fact with the movie coming out, we knew people would probably just have more questions about our relationship. And with that, we've realized that man, we've got it all together. Just kidding. That's not why we did it. That's a joke. You realize that we've learned a lot and are married and married for almost 17 years, we've learned a lot. We felt like we've seen so many friends of ours that have gone through marriage difficulties and divorces that we were like, "Let's just share the things that God's taught us. We want to share our experiences, the difficulties that we've been through, and how we've let Christ be the center of everything that we've done. And when he's not, that's when the conflict happens." The whole book was us sharing our story of what God's taught us through Scripture, through fights that we've been through and the realities of marriage and difficulties and how to navigate through things. I honestly feel like people will read this and go, "Oh, okay, I'm not on an island by myself in our relationship. Other people go through these things, too." And then they're given a tool to actually apply those things to their lives.
I think so many people do feel like they're the only ones with a problem. So it's wonderful that you speak to that in that way.
Jeremy—We love it. That was another one that was a really fun project. We thought, "Oh, man, this might be relationship suicide trying to write a marriage book." But with all this stuff, "The Worship Project," the book, the movie, were things that we really did feel like God laid in our hearts.
What do you hope listeners will feel as they listen to "The Worship Project"?
Jeremy—Honestly, I really feel like that it's a byproduct of all that we're experiencing right now is pointing people to, like the song said, turning your eyes on Jesus. The analogy that we've heard so often, but I think it's it can be very much for everybody right now, is when Peter was walking down the water to go see Jesus, his eyes were fixed on him and all sudden, once he saw his circumstances, and the storms around him and the chaos that was surrounding him, he started sinking. That is the whole theme of the record, that a lot of people are taking their eyes off Jesus and this is pointing people back to say, "Set your eyes upon Jesus. He is the only thing that will walk you through this." Even as a church, like the song "Your way, Yahweh." It starts off saying, "Your church is beautiful, your church is broken, but you're holding us together in your arms." It is realizing that you see a lot of brokenness right now in people and a lot of polarizing things online. It's sad to watch how Christians are lambasting each other. It's very sad. There's division like crazy. This song is just addressing that and it says, "Purify our hearts, teach us how to walk in your ways, Yahweh, you know, more of who you are, tear down every wall in your way." It's saying, "God purify us because we were broken. There's a lot of broken, and you're the only one that can purify us."
Adrienne—As Christians, it's so important that we're not about our own agendas, but that we're about the Father's business, especially in that song. It says "Teach us how to walk into your ways, God." Our hope is that this would bring people back to where they focus on Jesus, not on the political issues, but really on who God is and who He wants us to be to the world around us.
"The Worship Project" released today on digital music outlets. Watch the video for "Whatever May Come" below.