In the new animated film, "Spirit Untamed," a trio of girls discover adventure and unlikely friendship while helping a wild horse on the wide-open frontier. Starring Isabel Merced ("Dora and the Lost City of Gold") as Lucky, Marsai Martin ("Little") as Pru, and McKenna Grace ("Captain Marvel") as Abigail, the three attempt to rescue Spirit from a horse wrangler.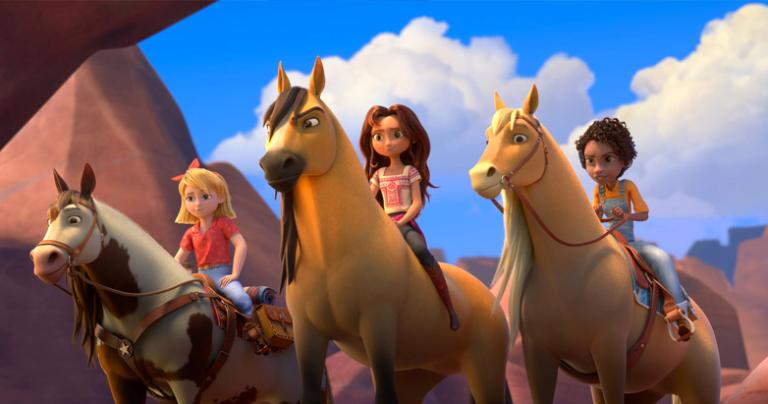 The film is the latest in the series about the horse Spirit, which also included the first film "Spirit: Stallion of Cimarron" and an Emmy-winning television series. The sequel, directed by Elaine Bogan, also features Julianne Moore and Jake Gyllenhaal, Andre Braugher, and Walton Goggins.
Merced, who played the adventurous and iconic Dora the Explorer, was drawn to the impulsive and fun-loving Lucky, not because she had grandiose ideas of heroism, but because she was down to earth and relatable.
"It's not like she's like doing this for the greater good of humanity," she said. "She just likes this horse. And I really admire that a lot, because I think it's inspirational for young kids everywhere."
The "Spirit" series has been a draw for young girls and the new film leans into that. Martin, who plays one of Lucky's new friends, appreciates how the film affirms friendship, especially among young girls.
"I love anything that's about female empowerment and the fight for just girls doing their thing and living their best life," she said. "And the family aspect of it, how important that is in this film. It was just all-around a positive and an amazing story for not just young girls, but for families."
Grace, who plays the character, Abigail who rounds out the trio, also resonated with the theme of friendship the film promotes and what young girls may glean from it.
"I hope that girls or boys or whoever watches this will think, 'I love their friendship, I want to be close with my friends I want to go out and adventure with them, and I feel like I need this type of positivity in my life. I don't deserve to be brought down. I deserve somebody who really loves me for who I am and loves me and is my friend and who really does care about me and wants to go on these adventures with me'."
Beyond the friendship element, the young actress explained how the story made her reflect on her own relationships.
"I also like to call like friends like my chosen family because you get to choose who you want to be friends with, who they are, and what they mean to you," she said. "And I think that that's really important."
"Spirit Untamed" releases Friday in theaters from Dreamworks/Universal.
Click below to watch the exclusive interview with Reel Faith writer DeWayne Hamby