For her first full-length animated feature film, Elaine Bogan ("Dreamworks Dragons," "Trollhunters: Tales of Arcadia") tackled "Spirit Untamed," the latest installment centered on the beloved wild horse releasing in theaters today. Although Spirit is the title character, the real story weaves through the life of Lucky (Isabela Merced), a young girl reconnecting with her family and the memories of her late mother. Adjusting to life under the watchful eye of her father Jim (Jake Gyllenhaal) and Aunt Cora (Julianne Moore), she finds friendship with two horseback riders, Abigail Stone (Mckenna Grace) and Pru Granger (Marsai Martin).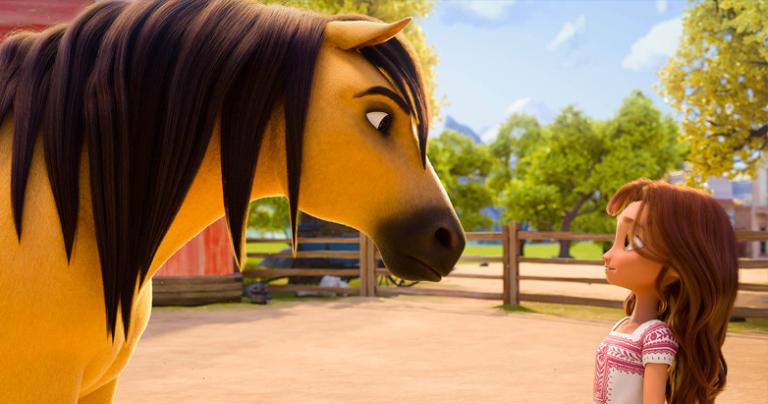 Bogan recently spoke to Reel Faith writer DeWayne Hamby about the personal connection she had to the story as well as the themes of friendship, diversity, and completing the film during the Covid-19 shutdown.
What were your thoughts coming into the project? What drew you to it?
The most important thing to me is that as a storyteller, I'm able to really deeply connect to, on a personal level, many parts of the story. That's because I really want to be able to tell something that feels authentic and honest and real. And there are so many parts to this story that I was able to draw from real-life experience. Not only have I been riding horses since I was eight or nine years old, there was also something very special about the story of Lucky and her two friends that I felt really excited about. This is a cast of young women all working together as a team as a sisterhood in order to achieve something impossible. Instead of all competing to get there first, they're all helping one another along the journey. And Lucky's story herself, she goes on this incredible adventure of self-discovery. And by way of connecting with this beautiful wild horse and reconnecting with her father and the memory and culture of her mother, she's able to realize who she truly is inside. And when she does that, she's capable of anything. That to me was a beautiful message.
One of the things that I've appreciated about animated and family movies is them exploring deeper topics. It's not just about entertainment, but there is a, an inspirational element to it. So it's not just we're not just presenting a story, but we're also hoping that kids will pick up something.
Absolutely. It was a very big goal of ours right up front, to hopefully build a world setting and a set of characters that felt like something we all experience and live in every day. And by that I mean we tried to create a cast of characters that were all different and unique in their own perspectives in their own cultural backgrounds. And just the diversity of the world we live in today was something we wanted to reflect. And that was because we wanted to invite an audience in and allow every single person in that audience to at least deeply connect to one person up on that screen in that story, because we really feel like to see it up there is to believe that you're capable of those things, too. I remember when I was a kid, I've been so heavily influenced and inspired particularly by all the animated movies I grew up watching, and it's been so exciting to potentially be even a small part of paying that back to a new audience today.
What were some of the ones that inspired you when you were a girl?
I loved growing up watching all the old 2D Disney films. I remember "101 Dalmatians" was one of my favorites and "Robin Hood," "The Lion King." I can probably sing all the songs to this day. I've watched them so many times over and over until my mom and dad couldn't take it anymore. But a lot to the messages in those movies to why I'm sitting in this chair directing way on today.
What did you do with the shutdown and everything that happened? How did it affect your production?
Not only was I up to the challenge of figuring out what it takes and what it means to direct my first feature film, halfway through, we were all sent home to do that from our living rooms. And as you know, animation is very much a very big collaborative process. I think there was something like between 400-500 people that worked on our film. And when you're not in that space together, making it all happen, it took an incredible sense of camaraderie and motivation to continue that collaboration or as we were working together separate, if that makes sense. But I think it was because everybody was so deeply connected to and felt on a personal level with the story, we were able to maintain that sense of just the motivation in order to make it all happen and get the story made.
"Spirit Untamed," directed by Elaine Bogan and starring Isabela Merced, Julianne Moore, Jake Gyllenhaal, Marsai Martin, Mckenna Grace, Walton Goggins, Andre Braugher, and Eiza González, releases today in theaters from Dreamworks Animation.
Watch the exclusive Reel Faith interview with Elaine Bogan below.