Nearly sixty years after making history as a member of the legendary rock group The Beatles, acclaimed songwriter and artist Sir Ringo Starr is still dedicated to his mission to spread "peace and love." His newest EP, "Let's Change the World," releasing Friday, fits that purpose, with four songs aimed to stir the hearts of its listeners and make a difference for the next generation.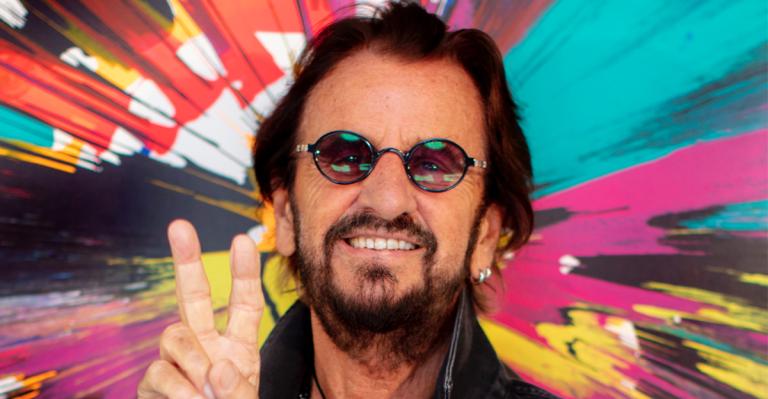 During a media junket supporting the EP, Starr explained what he hopes will resonate with listeners, shared his favorite memory of the late Rolling Stones drummer Charlie Watts, spoke of the progress of Peter Jackson's expanded Disney+ Beatles miniseries "Get Back," and explained the significance of using Bill Haley's classic "Rock Around the Clock" on the EP.
What would you like fans to take away from your new EP?
Joy and the expression "Change the World." We're changing it for the kids. It doesn't seem like it. There are those people meeting in New York right now. Half the world is on fire, half of its underwater and people are still wondering (what to do). "Well, we can't do that," and I think we have to do a lot. So, I'd like to change the world for the kids. I do wonder about politicians. Do they have kids? Do their kids have kids?
What do you think about the status of your "peace and love" movement?
When I started the "peace and love" moment for my birthday in 2008, on the streets of Chicago, we had like, 100 people, and now we actually have "peace and love" moments in 28 countries around the world. So slowly, but surely, we're like the pebble in the ocean. It's rippling out. And you can only do what you do. And that's what I do . . . peace and love.
You have cooperated with many musicians during your career. But what qualities and inputs do you appreciate most from Steve Lukather?
Well, his guitar playing, of course. And I like the way he cries at the sessions, that's very nice (laughs). He's a good friend, and we have fun. And of course, he's an incredible player. That's what I love about having them on the session and is very fast. There's no sort of torture going on. We get on with it. So that's why I love Steve Lukather.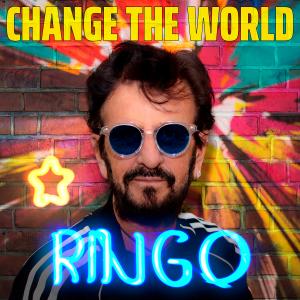 You include "Rock Around the Clock" on this project. How much has rock evolved from the 50s to now? Do you think the Beatles changed rock history?
I wouldn't say rock history. I think they changed music history. I mean, one of the biggest things The Beatles did was write the songs, and we'd all record them. Because in those days, you had the writer was like a separate gig. And then the band recorded it. And we had a moment with George Martin, where he would bring great songs. And we all said "No, no." Well, I said, "George, we want to do this." And they said, "We want to do ours." And that's how it happened. You know what I love to this day? The Beatles are still out there. The music still holds up. And we worked real hard. And, of course, we got some great songs.
Why did you choose to cover "Rock Around the Clock?"
Well, I was sitting here you know, I made an EP, I'm in the middle of it, and I love the EP because it's four tracks, and I do it in this room. You can see the back of it. And the drums are in the bedroom. It's a small studio. And I don't know. I was just thinking about tracks for the EP and I went through my head about memories. I had my seventh birthday in the hospital. I had my 14th birthday in the hospital. I was still there when my 15th birthday was coming up. And I didn't want to spend it in the hospital. So, my mother talked to the doctors. I had TB, and I'd been there over a year, so I was doing pretty good. They decided they'd let me out. And first of all, I went down to London with my stepdad and my mom to see his folks. And now we came back to Liverpool and then my grandad took me to the Isle of Man island of Britain. And it was incredible because I went to see "Rock Around the Clock," the movie. And it was full of like crazy British holidaymakers with "Kiss Me Quick" hats and a little out of their minds. And I'm sitting there, you know, I've been in the hospital, I don't know too much about what's going on lately. And they ripped up the cinema. I mean, they just threw the chairs, they ripped them out. And I was going, "Wow, this is great." So that moment is like writ in my head. I remember that moment like it was yesterday. So I said, "Well, I'm gonna' do "Rock Around the Clock." Because it's my EP, I can do whatever I like. I did a sort of an old school version, and then I thought, "No, put the sticks on." And then I rocked. And then I called Joe Walsh, and he rocked.
You were originally going to launch your latest tour in Canada two years ago. What are the tour plans as they stand now?
We didn't know what it was going to be like. In February, everybody was cool. In March, it was getting a bit rough. And we had to stop. We first talked a May and June tour. And I in my naiveté, I'm on the internet saying "Well, I'm sorry. I know you're all ready for me to come to these gigs. But don't worry, hold on to the tickets, because I'm going to do the exact same tour next year." And, of course, we didn't. Nothing this year. I'm not going out this year. But I've got the tour lined up for next year. They've sent me the itinerary already. But you know, it's impossible to say now if it's on. I'm saying in my heart it's on, but let's see where we are. Getting through the pandemic, it's not been easy. But what makes it easier for me is that I get a chance to make music here or send the files and hang out with other musicians like last year that would all be tested before we joined up together. This year, we've all had our jobs. So, we sort of hang out, not for a long time, like Nathan East comes over. It's been a very strange year, but when the tour dates come up, I feel myself saying, "Oh, God, I want to be on tour," and it's not gonna happen. That's just the truth of the whole deal. It's still dodgy. I mean Barbara and I were just over in England. We went over there to see our kids and the grandkids and everybody. But you know, walking up King's Road, we're the only ones with masks on. That's how it is. This year, I feel we can, because of the vaccination, actually move a little more than we did last year.
What is your vision for changing the world? What do you want listeners to take away from this EP?
I'd like them to be kind, considerate, understanding loving, and in peace. We live in America, but half of the world is starving, and half of the world doesn't have water. I mean, everybody knows I support water aid because I believe if you don't have anything, you should have water if you're on this planet. And because it's necessary. But they're drinking crap water that's polluted. A couple of years from now, it'll be hard to breathe because of the pollution in the air. Just be kind to your neighbor, to your friends, to the person next door. You know, let's try and understand what they're going through. Not only us. I'm not political, but you know, we sent those Haitian people back from Texas. What are they gonna do? They left there because there's no food. There's nothing for them. You know, thousands have died and then the storm. This is why governments have to take charge, not only of their own country but all these other countries that are really suffering. You know? Oh, you've got me on my high horse now (laughs).
Do you have any special remembrances about (Rolling Stones drummer) Charlie Watts?
Yeah, Charlie was a great guy a lot of fun. And he had a harder band than I do to keep together. I'd meet Charlie, we'd hang out. He's been up here. It's not like we lived together. We lived close in London, and we'd bump into each other on King's Road or wherever. We'd find ourselves at a dinner or a gig. But I had a party in the '70s. And I had a drum kit up in the attic. Charlie came, and so did John Bonham. So we've got three drummers just hanging out and Bonham got on the kit. But it's not like on stage and nailed down, so it was not steady. So, as he was playing, the bass drum was hopping away from, and you had Charlie Watts and Ringo holding the bass drum for him as he played. That would have been a great little video, a TikTok or a photo that would have gone worldwide. But in the 70s, I had parties, you'll never find any photos because I wouldn't let you take photos in my house. But I always think that would have been a great shot to have. We will miss Charlie. He was a beautiful human being, and he's like the quiet man.
Were there any surprises as the new Beatles documentary "Get Back" is being put together?
It's a little longer now. It all came about, because Apple, our company, Apple, found 56 hours of unused footage from the Michael Lindsay Hogg documentary. And we were blessed that Peter Jackson took it on. I was always moaning about the original, that there was no real joy in it. It was all based on this down little incident. Anyway, Peter would come into LA and he'd bring stuff to show me on his iPad. "We found this" and we're laughing, fooling around. And being musicians, I mean, you have to think that to "Get Back." From January 5th to the end of January, within a month, we made a record. And we'd done that roof gig on the roof, which was so great. And we played live again. There's a great piece in the thing for me, where Paul says, "Who wants to play live?" And you can hear me in the background going, "I do." (laughs) And we did. And you know, always we, The Beatles, we were going to Turkey, somewhere, or we're going off Everest, or you know, we'll be in a desert, or Hawaii, we'll go to the volcano. Or with "Sgt. Pepper's," "Let's just walk across the road." With this one, (we were just like) "Let's do it on the roof." And that's what we did. And it was great. The police played a huge part, not that they did anything, but they were moaning at us. And they look really silly in the film now. But we've got all this extra footage. So you know, surprise, surprise, we're still hanging out, Peter's doing it, he's locked up in New Zealand because of the pandemic. Now the documentary is six hours long. And it's going to come out in America over three nights through Thanksgiving. But it's got the start, the middle and the finish. The start is very slow. And then we get into it, and then we're at it, and then we're out. So, I mean, I love it. But I'm in it, of course. So six hours is never long enough (laughs). I think everyone will enjoy it, because you see this band work really hard, and went through emotional ups and downs to get to where we got every time. But that's just how it was, four guys in a room, you know, you're gonna have a few ups and downs. So that's all I can say about that, that Peter Jackson is our hero. He's done a great job. And it will be out a little long. The actual roofing gig is I think 43 minutes long. It's pretty cool. When it was like eight a half minutes. The end result is that I loved it.
"Change the World" by Ringo Starr, will release Friday on CD, cassette, and through digital outlets from UMe. The 10" vinyl version will release November 19. Peter Jackson's "Get Back" documentary will air on Disney+ in November.
Listen to the first single, "Let's Change the World," below:
DEWAYNE HAMBY is a communications specialist and longtime journalist covering faith-based music, entertainment, books, and the retail industry. He is the author of the book "Gratitude Adjustment." Connect with him on Facebook, Twitter, YouTube or InstaGram.