Jaden Michael ("Vampires Vs. The Bronx") plays a teenage Colin Kaepernick in the new Netflix series "Colin in Black and White," releasing this weekend. The series, produced by Ava DuVernay ("Selma," "When They See Us") and Kaepernick, spotlights the athlete-activist, tracing his steps as a young Black student being raised by white parents in a middle-class neighborhood.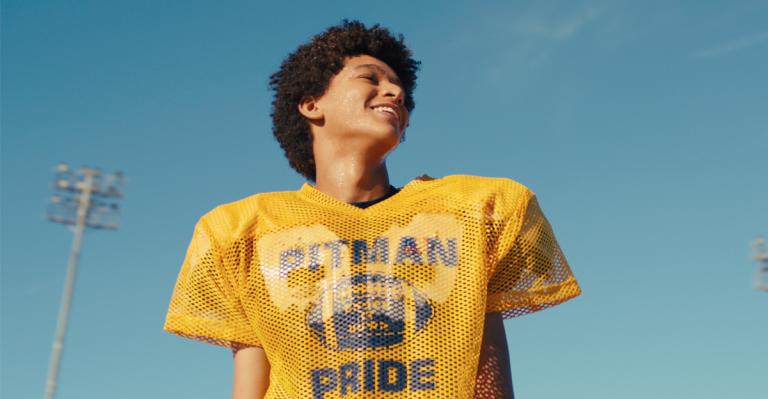 Michael, who grew up in the Hamilton Heights part of Manhattan, won the coveted starring role after a national search led by DuVernay and casting director Aisha Coley. In this exclusive interview, he talks about working with DuVernay and Kaepernick, and how he hopes the series will spark a conversation.
What was it like working with Ava?
It was great. I've always loved watching her work. I think she always makes beautiful projects that have a beautiful, underlying message. That's something that I always try to find in the projects I work on, more than just something for entertainment, but something that has a conversation to be had afterward. Ava's a genius. She really helped me feel comfortable and she built a beautiful aura and relationship amongst the crew and everyone on set. She made sure that a majority of the crew were people of color, and that helped facilitate a relationship between everyone on set where everyone felt like family, and everyone wanted to work together and do their best for Colin and Ava.
What was it like working with Colin?
Colin was sort of in the shadows almost, which was good. He gave a lot of notes and feedback as far as the physical training part of it, at least for me, making sure that I looked right and that my sports were stylized, the way he plays. But from an emotional perspective, or from an actor's perspective, he was very hands-off. And that was good because you know it really let me find Colin on my own almost. He did help. He provided a lot of archives of his childhood, and we spoke a few times about what it was like for him growing up. But other than that, a majority of the work I did was pretty much on my own.
I would imagine it's kind of intimidating to try to act and channel somebody's younger self when they're watching.
Yeah, right. Not only are they watching, but they could fire you (laughs). So, you know, it was daunting at first. And then I was a little scared to tackle such a polarizing issue. But I think that's the whole purpose of the show, to have a conversation.
Typically, when I interview somebody, I'll ask, "What do you hope people get out of this TV series?" But I think when you're watching, it's kind of self-evident that they want to start a conversation and challenge some mindsets. Would you agree?
I think there are some conversations that are specifically highlighted in the show, but there are also a lot of conversations which are more muted, and you really have to pay attention in order to understand. It's not exactly what you expect when you first come into it. And in all reality, the show isn't about why Colin knelt, or how Colin knelt. It's about what it means to be a biracial teen and what creates a legend, the legend that we know today.
What parts of the character do you identify with, in your own experience?
I feel like we're both biracial teens in America and to that extent, we have had similar experiences. And furthermore, as people who are pursuing a career in high school, we also have similar experiences, trying to be dedicated and trying to stay focused on your dream and on your goals. That same level of dedication, I feel like we share, but he's definitely way more confident than I am (laughs) in a lot more things. To those extents, I feel like we have had similar childhoods.
I feel like I can see your characters' anxieties and frustration. He's still kind of feeling his way a little bit. I think people can relate to it.
Thank you. I mean, that was my goal. I didn't want it to feel threatening. Ultimately, that isn't the goal. We're not trying to make people feel like they're at fault, but rather feel like there's something to be learned and have it be a safe place for people to learn and to and to grow from.
Are you a sports guy in your personal life or is that something you have to kind of learn for the role?
Now I am (laughs). I never really watched sports or anything, but I'm like a huge Lamar Jackson fan. I'm sort of into sports now.
Well, you're going kind of be front and center of this new role, so it'd be good for you to be very well versed. I'm sure people will ask you questions and assume that you are.
Not at all. I wouldn't call myself well-versed. But I'm interested in sports now.
I'm the same way. I get in a group of guys and they start talking sports, and I'm like, "Let's talk about movies." I can talk about that.
Yeah! "Do you like Akira Kurowsawa?" (laughs)
(laughs) Right! What's next for you?
I'm currently working on a pilot for Amazon called "Shelter." It's a Latinx driven show with a female director and female producer and female cinematographers. So, I'm very excited to be a part of it. And it's another sort of coming-of-age story with a very dark undertone.
I'm going to check out your role in "Vampires Vs. the Bronx." I wanted to watch it, but there's just so much stuff that comes out.
Yeah, I still haven't even watched "Squid Game." No time (laughs).
"Colin in Black and White," produced by Ava DuVernay and Colin Kaepernick and starring Jaden Michael, Mary-Louise Parker, Nick Offerman, Colin Kaepernick, Amarr M. Wooten, Mace Coronel, Klarke Pipkin, releases this weekend on Netflix. For more information, click here.