During a Livestream announcement on social media tonight, "The Chosen" creator, director, and co-writer Dallas Jenkins revealed plans for this year's Christmas special which will debut in theaters on Dec. 1 and 2 for the first time, as a Fathom Events presentation. The highly popular series, centering on the life of Christ and His disciples, stars Jonathan Roumie as Jesus, Shahar Isaac as Simon, and Elizabeth Tabish as Mary Magdalene.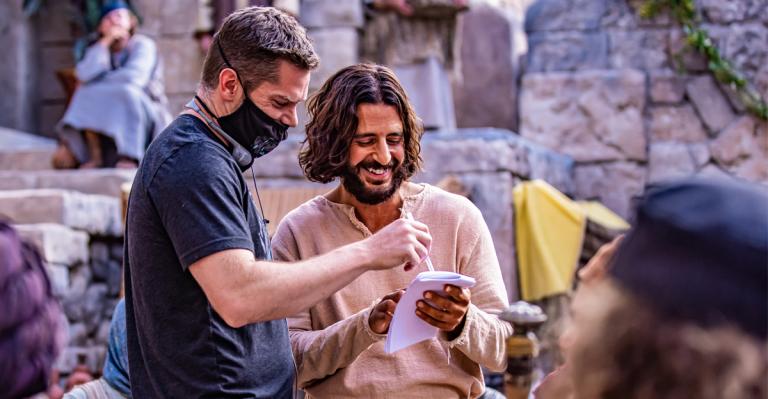 Raising $10 million, season one is the highest crowd-funded TV or film project of all time. The series also earned a 100 score on the "Rotten Tomatoes" entertainment review site and the highest-rated faith film project on the Internet Movie Database (IMDB).
Jenkins teased tonight's "big announcement" for days leading up to the broadcast. He also gave the musical lineup for the episode, including Maverick City Music, for KING & COUNTRY, Cain, Phil Wickham, The Bonner Family, Bryan and Katie Torwalt, Jordan Feliz, Lenna Crawford, and Matt Maher. The Christmas special will include a full episode of the popular series," part of 'The Chosen' canon," including Joseph (Raj Bond) and Mary (Sara Anne) from his "The Shepherd" short that inspired the series.
"This is the first time we've done anything like this," Jenkins explained, adding that it's an opportunity for fans to meet each other in theaters and also demonstrate the show's popularity to the culture. "We want to make an impact in theaters." He also indicated that if this Fathom event special is a success, which they are confident it will be, more special events will follow.
Last year, I spoke to Jenkins for a Charisma cover story. During our conversation, he expressed gratitude for the warm reception to the series, but also explained how he tried to ignore accolades and criticism when plotting the future:
"The success is extraordinarily gratifying and beautiful, but I can't think about it when I'm writing in the blank page for season two, or for season three," he said. "I still have to come up with new stuff. But I think it's an affirmation that when we're focused on Jesus, He removes the scales from the eyes of those who are watching and is able to make an eight-year-old understand it in the same way that a sixty-year-old does."
In tonight's Livestream video, Jenkins also gave an update on season three, which is currently in pre-production with plans to begin filming in early 2022. "The Chosen" is planned to extend to seven seasons.
Watch Jenkins' announcement below. For more on the series, click here. For tickets to the Christmas special, click here.
DEWAYNE HAMBY is a communications specialist and longtime journalist covering faith-based music, entertainment, books, and the retail industry. He is the author of the book "Gratitude Adjustment." Connect with him on Facebook, Twitter, YouTube or InstaGram.