During the 52nd Annual GMA Dove Awards, GRAMMY Award-winning artist Jonathan McReynolds, known for No. 1 hits "Grace," I'm Not Lucky" and "Make Room," will step up to co-host with Natalie Grant. Recorded live at Lipscomb Allen Arena in Nashville, Tennessee, the evening features performances by McReynolds, Grant, Dante Bowe, CAIN, Lauren Daigle, Hope Darst, Elevation Worship, KB ft. Matt Redman, Koryn Hawthorne ft. Donnie McClurkin, The Isaacs, Brandon Lake, Maverick City Music, We The Kingdom, CeCe Winans, and Zach Williams.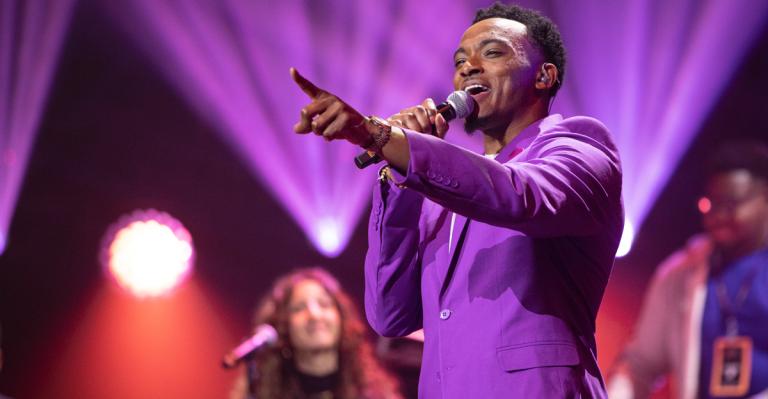 The annual awards are a celebration of gospel music, which includes a rich variety of musical sounds and genres, a unique trait that McReynolds, who's been dubbed "the leading solo male gospel vocalist of the last decade," is especially happy to be a part of it.
"We have a very unique genre that's tied together by the subject matter, not necessarily even the style and the culture and the race," he said. "What ties us all together is the fact that we're all singing about God and this life of faith. I've always respected the does and how they bring a lot of different expressions of gospel and Christian music together. And so I'm really just excited to even be in the middle of that."
What also excites the Los Angeles-based artist is a return to a live audience after the 2020 awards went virtual because of the Covid-19 pandemic.
"2020 was a great show and it was beautiful," he said. "It was incredibly done. But to come back together in front of people, in front of the crowd, and to really rock it out like we did in 2019, I'm really excited about getting back to that."
Partnering with a "good friend," Natalie Grant, McReynolds will serve as co-host, having "fun and probably some clowning a bit." Asked whether or not speaking and hosting might carry any anxiety, he added, "It will be familiar territory but there may be some elements that will spook me for a few minutes."
In the past few years, the singer-songwriter has many great memories of attending and performing at the annual event, but there's one moment that stands out to him the most, a moment that also underscores the diverse community that takes place. During a commercial break at one year's taping, when he "wasn't having the best day," McReynolds noticed one of his musical heroes walking by.
"When I saw him, my whole life lit up, and he lit up because apparently, he knew me as well," he said. "It was Gary LeVox of Rascal Flatts. I'm a big country music fan, always been a big country fan. So I actually got to meet one of my vocal heroes. He does country music, but he is a Christian and they rep Jesus pretty hard."
The 52nd Annual GMA Dove Awards, hosted by Grant and Jonathan McReynolds, will air on Friday, October 22 on TBN at 8 pm and 10 pm EST.