Two-time Tony Award nominee Laura Osnes plays a talent coordinator for a Christmas show in the new Hallmark Channel film "Christmas in Tahoe," premiering this weekend. The singer-actress-dancer, last seen on Broadway in the musical "Bandstand," has previously appeared in the Hallmark films "One Royal Holiday," "In the Key of Love," "Raise a Glass to Love," and "A Homecoming for the Holidays."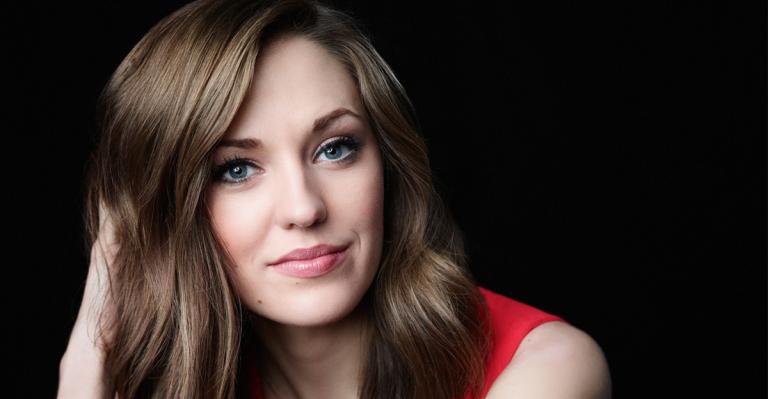 Osnes recently spoke with Reel Faith's DeWayne Hamby about the new film as well as her background on Broadway and working with Pat Monahan, lead singer of Train.
What can you tell us about "Christmas in Tahoe?"
I play an event coordinator at my dad's, in a casino, and I'm up for a big job in Las Vegas. I'm putting together the Christmas Eve show, and through a series of events, all of my acts get canceled. I'm forced to have to scramble at the last minute to try to find talent for this scout to fulfill the holiday variety show. My ex-boyfriend comes back into town, and he offers to help out. But obviously, there's a lot at play. There's trauma from their past that they both have to get over. Through all of it, they realize how special their relationship was and how they are actually better when they're together than when they're apart. I'll have to leave it up to you to see how it turns out. But then the lead singer of Train, Pat Monahan, is in the movie. He works at the hotel and essentially kind of plays my best friend and mentor, and kind of guides me through the entire process. We also kind of help each other. Pat is awesome. And all of Train's songs are featured in the movie. He also gets to sing in the film, which is great. It's a really, it's a good time, really fun and funny and entertaining.
The Hallmark Christmas movies are kind of like their own power genre. Being involved in these Christmas movies, what's special about them versus what you normally do?
These movies really are such a joy to make. I love that. So many people across the country get very invested in these Hallmark movies. And it's just a season to be grateful to just remember great times with families' traditions coming together, through love through loss. I just feel like it's something that can bring a smile to people's faces, especially in seasons of hardship, or where the world is right now. It's the thing that families can sit around and watch together. I love being a part of something like that. Hallmark puts out a lot of Christmas movies every year. Clearly, they have found an audience that people love. And for this movie ticket to air on Thanksgiving weekend, is I think is very special.
Tell me about your background on Broadway.
I was fortunate enough to live in New York for 14 years, and I've done six Broadway shows. Theater and Broadway have always been my first love. I love getting to sing and dance and act. But it's been really great the last couple of years to begin to dip my toe into the TV film world with Hallmark and some other guest spots on TV shows. I'm excited to kind of get to do both, The cool thing about theater is that your audience is right there with you. It's palpable. There's nothing like being in the room where it happens, right? And it's a little different every night. You never know what's going to happen and film it is actually quite a different process. You don't get a rehearsal, and you don't get the overarching story that you're telling every night. You're picking various scenes and doing everything out of order. It's a very different kind of thing. There's so much more preparation work as an actor that goes into it collaboratively as a team with your cast when you're doing a stage show, as opposed to sometimes a TV film.
Is there anything else about the movie that you'd like to mention?
I think what's cool is that my co-star Kyle Selig also comes from the Broadway world. He was the star of "Mean Girls" on Broadway. He's done a couple of tours. So that was cool to kind of unite with a fellow Broadway alum for this film. I also love that my character gets to play the events coordinator. I'm the one putting together the talent show. And everyone always asked me "Do you get to sing in the movie?" No, I don't get to sing. But the boys get to sing to me. And I'm the one actually that gets to stand backstage and watch the show happen. Which was kind of fun, a fun change for me to get to be the one putting on the show instead of the one in the show.
I know you're in some cast recordings that have been released. Tell me about your recorded music career.
Great question. I've been lucky enough to be on like, I think, five original cast albums for Broadway. And then I have two solo albums. One is a live album of a cabaret concert that I did in New York at the Cafe Carlyle. And then another is an album I did in a recording studio of music of Maury Yeston, who is a musical theater composer. I'm just starting to dip my toe into songwriting. I'm actually really excited to start to do that and see if that's something that I gravitate towards and love. I'm hoping to definitely continue to put music out into the world, maybe even some of my own. I just feel like as creatives, we're always looking for ways to get creative. And it's important to have a lot of irons in the fire because you never know which one's gonna strike when. It's like we're just constantly creating and seeing which doors open and what yeah, what opportunity seems to kind of be taking off at the moment.
"Christmas in Tahoe," starring Laura Osnes, Kyle Selig, and Pat Monahan, premieres Sunday, Nov. 28 on Hallmark Channel.