On Christmas Day 2021, audiences around the country will experience the inspirational true story of football hero and Super Bowl champion Kurt Warner in "American Underdog," directed by Jon and Andy Erwin ("I Can Only Imagine," "I Still Believe"). The biopic, starring Zachary Levi, Anna Paquin, and Dennis Quaid and distributed by Lionsgate, is part of an ambitious slate of faith-based releases from the Kingdom Story Company that will include "The Jesus Revolution" starring Jim Gaffigan and Joel Courtney.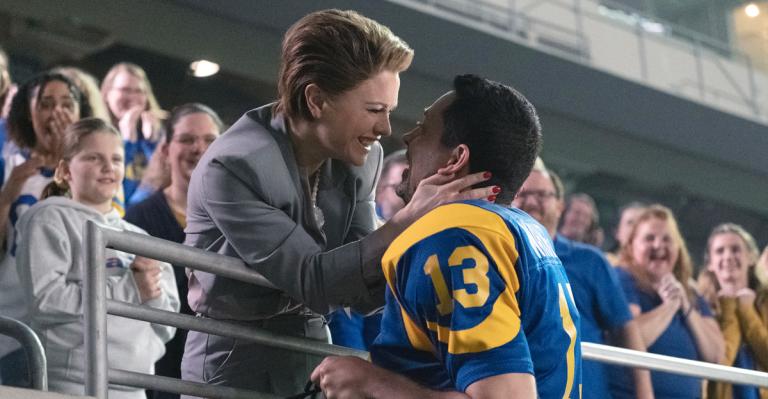 The highly-coveted holiday release marks a new milestone for the Erwins, and more importantly, a giant step for Christian releases, according to the directors. In this exclusive interview, Jon explains how the duo settled on Warner's amazing story as their newest release, what's coming next, and how God is opening new and exciting doors for faith-based outreach.
I'm curious how you decided on a Kurt Warner biopic as your newest project.
What we do is make movies and eventually TV series, things like that. But why we do what we do is to really get Christianity back into the entertainment industry, and to infuse the entertainment industry with hope and with optimism, and inspirational content. Frankly, the world needs Christ now more than ever, and I think stories are the best way to get it to people. We want to seize this medium of communication and infuse it with stories that that can draw people to what's true and to things that uplift and inspire. That can be done in a variety of ways. We've really fallen in love with true stories. I do think that God's on the move in Hollywood. God's at work in Hollywood. There are doors that are flying open that have never been opened before, and it's just because the audience clearly speaks and people realize just how large the heartland is, and how underserved it is. Each story is different, and a film like "I Can Only Imagine" is different than the next film I'm doing, "Jesus Revolution," which tells the story of the revival in the 1970s, which I love. Then there's this Kurt Warner movie, very much like a mainstream "The Blindside"-type movie.
I've always dreamed of the biggest possible stage for our worldview and our and the themes that we care so deeply about, which are universally appealing. To have a Christmas Day-wide release is such an amazing statement of legitimacy. Typically, at Christmas, there are heroes, such as superheroes or Star Wars or whatever. To have a Christian hero in cinemas all over America, living out his faith on a football field, that's, that's a pretty cool thing. I'm just so honored that Lionsgate would give us that kind of a platform for this story. Kurt and Brenda are just wonderful people. We all had a common vision for the film. It's just an inspirational love story. I think we all remember him thanking his Lord and Savior at the end of the Superbowl. We all remember him running that football, with Brenda Warner in the stands. You could just tell there was something magical and special about their relationship. It was so cool to explore that in a movie. I think a lot of people know that he worked at a supermarket was bagging groceries, and then was the MVP of the Super Bowl. A lot of people know that he ran the football to Brenda in the stands, but they don't know anything else. So, to really go into that story, just how unbelievable their relationship was, and their love story and how much inspiration he found in her disabled son. To this day, he really found the heart of a champion, and he found his faith in his relationship with Brenda and becoming a father to those kids. The character that he discovered off the field allowed him to be a champion on the field, and we just follow up with that story.
We don't really overthink it. If it inspires us, and it motivates us. And then we just have to trust that it's gonna inspire and motivate the audience as well. When I first experienced the story and sat down and interviewed them, I believed in my own dreams again. I believed in my own calling, and destiny, and purpose. I think we've just all had such a difficult year that we need that sense of purpose and belief again, that God can call us to do incredible things, that other people would say is totally impossible. Those things can be achieved and it's a movie about reinvigorating and rekindling the dreams of the audience. It's just a really inspirational movie, whether you're a football fan or a fan of the story or not. I can't wait for people to see it everywhere, Christmas Day, and the idea of a PG movie that the whole family can see together. So much entertainment separates us as family and pulls us apart. We want to create experiences that bring the family together.
Zachary Levi seems to really shine in the film. And is a good marquee name for a release like that.
Well, what Brenda, Academy Award winner Anna Paquin, says in the trailer, "You were born for this," and I believe that applies to Zach Levi. I just think he was born to play this role. That was one of the greatest questions we had of who can play Kurt Warner, who can have the charisma, and the athletic ability, and the charm and the star power. You can't on one hand name the actors that can do that. Zack is at the top of that list. When you can anchor a franchise like "Shazam!" and also be Flynn Rider in "Tangled", as well as the lead of a TV series. It's an incredible amount of talent, and he just completely bought in. He loved the movie. He loved the script, and he was born to play this role, and he's fantastic in the movie. It's a different side, it's a grounded side of him and he really crushes it. Then to add Academy Award winner Anna Paquin. When I remember the first call we had with her, I was like, "I feel like I just spent 30 minutes on the phone with Brenda Warner." They're the same spirit, just passionate and authentic. Then to have Dennis Quaid back was a treat. We had such success with him with "I Can Only Imagine." But also, Mark Ciarti, one of our producers, his first film, his breakout, was "The Rookie" that Quaid was also in. So it was sort of a homecoming on all fronts. I'm so proud of the cast that movie and you know, the football is cinematic and expansive and immersive and visceral and fun and meant to be seen on the big screen. But my favorite part of the movie is just the love story, those relationships, those moments, and those scenes in the family story. It's just a movie that will make you laugh and cry and cheer multiple times. Working on this thing for so long, it's been our project over the whole pandemic. I just can't wait for the audience to see it.
Well, I always look forward to everything you all release. It's high quality.
There are many people that are being used right now. I think God is really working in Hollywood. And I think we're all just getting started. I think people need hope now more than ever, and we have it to give them. I think we should be bold about that and unify our voice. There's nothing as powerful as the faith audience, unifying their voice together.
"American Underdog," directed by Jon and Andy Erwin and starring Zachary Levi, Anna Paquin, and Dennis Quaid, releases Dec. 25 in theaters from Lionsgate.
Watch an exclusive interview with Reel Faith's DeWayne Hamby below.
DEWAYNE HAMBY is a communications specialist and longtime journalist covering faith-based music, entertainment, books, and the retail industry. He is the author of the book Gratitude Adjustment. Connect with him at www.dewaynehamby.com or on twitter – @dewaynehamby.