This week, Universal Pictures will release "Sing 2," the sequel to the animated musical comedy that once again features Matthew McConaughey, Reese Witherspoon, Scarlett Johansson, Taron Egerton, Nick Kroll, and Tori Kelly. Also returning is writer-director Garth Jennings, who introduces a notable new character, the reclusive rock star Clay Calloway, played by Bono in his animated movie debut. Lured out of his self-imposed solitude by the cartoon crooners, Calloway is the lion who has lost his roar. The film features several U2 tracks, including the original tune, "Your Song Saved My Life."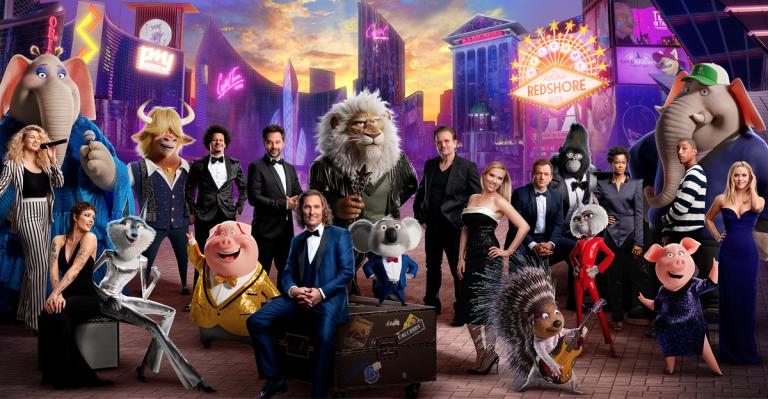 Jennings, a father of four boys, recently spoke with Reel Faith's DeWayne Hamby about perseverance, the importance of friendship, getting Bono on board, and how the story inspired the first new U2 song since 2019.
I feel like "Sing 2" is a very uplifting movie that kind of speaks to issues that everybody would have, but you break them down palatable for children. At what point did you know you wanted to make a sequel?
I think we started talking about a sequel about a year before we even finished the first one. And it wasn't because we were certain it would work. That would be terrible bad luck. It was simply because we'd sort of the thing that you find when you make these movies is you start to fall in love with the thing, you're making these characters, you really do you start to get into their minds and enjoy the world that you're in, and immediately start to realize, "Oh, wouldn't it be great if this went further?" Because really, by the end of the first movie, they've only just got out of their shell and realize their potential. They barely even have a stage; just managed to get there. So what becomes of them after this moment? It was also really important that it was born out of a passion for the characters. It was great that the first film was so well received that it enabled us to then fulfill those ambitions. But you'd be you'd be crazy to start making a sequel before you finish the first one. I think that maybe the worst luck you could ever give yourself. "Oh, it's gonna work." Guess what happens when that when you try that route? (laughs)
Oh, yeah. "The first of a planned trilogy!" (laughs)
(laughs) Yeah, yeah. Yeah. This Yeah. We didn't have a "Lord of the Rings" in mind when we did this, that's for sure.
You're exploring what happens after the big break. Because it's not just necessarily happily ever after. When you were writing the plot for it, was that something that you wanted to instill, a lesson that you've kind of instilled, that have to keep working at it?
The first movie is proving that you've got this thing. But now that idea of trying to go to realize your potential, that feeling we all have at some point where it's like, "I'm here, but I know I could be there." And it's less about ambition. You hear singers talking about doesn't matter what kind of musician they are. But, you know, the idea of playing Madison Square Garden one day, or like, as an actor playing Broadway, like some kind of place that if I made it there, that would be the, the top of my professional, the top of my passions. I'm just talking about the arts, but this applies to any walk of life. It's very easy to say to people to follow your dream. But you really also need to remind people, "By the way, that is a tricky thing to do. That is going to be tough." And so that's why at the beginning, he's being advised that you need guts, and you need stamina, and you need faith. Because talent is great. Without it, we can't even have this conversation. But we need more than that. And I think what goes unsaid, but hopefully is felt is how important those friends are along the way. It's family. When they all hold hands at the end, and that curtain comes up, that for me is the end of the story. That that that connection that you don't do it on your own, or very rarely in life. Do we do anything of any significance on our own? That camaraderie is something I find deeply appealing. That's got me where I am, lots of people that I love dearly, and they can challenge you, people that support you.
That family's grown in this one, and you've added Bono to the mix. He's perfect for the role as the reclusive rock star. How did that come to be? Because I think it all just flows.
It was again, all rooted in passion. We reached out to Bono because he was our dream for the job. We didn't have a list. It was like it was "Bono or bust" kind of thing. We'd have to start again if he said no. But it turned out, he'd seen the first film and loved it. He loved he could recognize how much we loved music because we had such a broad palette. And having liked the first film and then seen our proposal for his character, he was really intrigued. So I got on the phone with him. And we spoke for about 45 minutes, which was incredible. And we spoke for about 45 minutes. He talked so much about the importance of music to him. It's carried him, you know, it's sort of been his salvation. We talked a lot about grief. And I know this may sound a little heavy, given the lightness of the film, but you've always got to attach or be rooted in some emotional reason for the music. And in his character's case, it's grief. And he talked a lot about that and how he lost a parent and how actually grief gave him his voice. But it could just as easily take your voice and his music. And U2's has always been very all-encompassing, all-embracing. There's great affection for that at the end, he was really a fan, the idea that the song would literally bring him back that the love of the audience would sing him back to life. Literally by the end of that conversation, he was saying, "You know, there's a song in this. This could have an original song." There was no agenda for him to write a new song. I didn't even ask for that. It literally came out of just this conversation is both loving what we were talking about. And he was inspired to go away and write a song. I didn't know he was going to do it. I thought he was just being nice on the call. Then a few months later, he came back to record his lines and it was fantastic. At the end, he said "Oh by the way, I wrote that song." And he was fishing in his pocket, pulled out his phone, and played it off his phone. And I found that very moving. First of all, A), You did it, B), It's beautiful, and C), that's the whole end of my movie right there! That does not happen. Rock stars don't turn up with ends of movies for you. But this was shared enthusiasm for what we could do with this movie.
Music as a healer, that's a great lesson to leave audiences with.
It's something so lovely to share with people and I really felt it in all the screenings I've attended, which have been numerous now. It's a really lovely kind of cathartic feeling. You're seeing children and families copying along, singing along, that's a highlight of my career. Like that's it. That's what we're trying to do is you're trying to connect and those feelings are important.
So that was like you were saying of the characters. You followed your dream of securing Bono.
Yeah. It wasn't easy. Luckily, I didn't have to deal with a Mr. Crystal. I never met any mean people along the way. But you certainly deal with higher stakes. And that can be scary. You know, even an audience is scary. They liked the first film, but they may not like the second one. It could be really daunting, a daunting prospect. But I'm glad we pushed through and I'm really proud of everything we've done. You know, it's not been easy, but I'm really, really thrilled with the final movie.
"Sing 2" releases Wednesday, Dec. 22 exclusively in theaters.
DEWAYNE HAMBY is a communications specialist and longtime journalist covering faith-based music, entertainment, books, and the retail industry. He is the author of the book "Gratitude Adjustment." Connect with him on Facebook, Twitter, YouTube or InstaGram.