A fox, a shark, a piranha, a tarantula, and a snake walk into a bank in the big-screen adaptation of Aaron Blabey's bestselling kids series "The Bad Guys," releasing Friday from Dreamworks Animation. The colorful, creative epic, directed by Pierre Perifel, features the voices of Sam Rockwell, Craig Robinson, Marc Maron, Anthony Ramos, and Awkwafina as five dastardly criminals who may or may not be hanging up their illegal ways.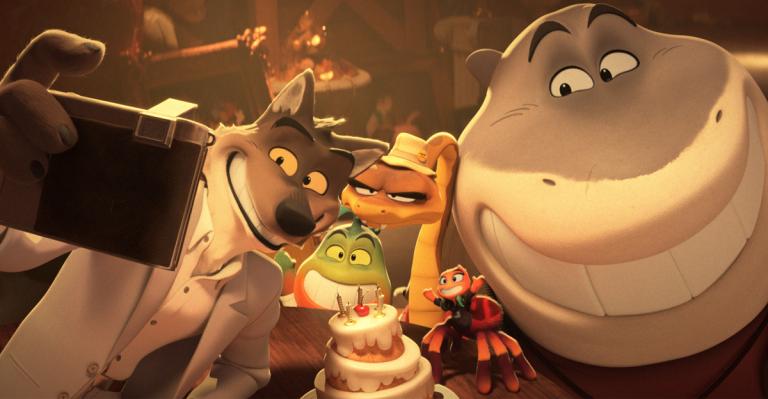 While the animated comedy features non-stop action and plot twists presented in a sleek visual style, for New York Times bestselling author Blabey, "The Bad Guys" were conceived as a way of teaching children about prejudice and rising above preconceived notions.
"I wanted to talk about prejudice," he said. "I wanted to talk about characters that had been judged because of the way they looked. And then they've made poor choices, and then they find a new road to travel on. I was also looking for a way to convey that to kids."
At the time Blabey was dealing with his six-year-old son who didn't like to read. Putting together a band of the world's scariest animals was enough to interest him and countless others.
"It suddenly seemed a really simple and elegant way to talk about those big themes, which are really important," he said. "I think it's great, because the sooner you start talking about it, the better with kids to sort of start putting those ideas in place. So I kind of hid that messaging inside of an action adventure."
The style of "The Bad Guys" follows a more modern, comic book come-to-life feel such as the recent hit "Spider-Man: Into the Spider-Verse," which was not an accident. Director Perifel, who grew up in France surrounded by the "big, big industry" of animation, said the superhero film opened the doors for more unconventional rendering.
"People always see the same kind of perfect rendering from the computers, the same type of character design, same type of lighting, renders, and, and then and then 'Spider-Verse' happened, and it kind of opened (the door)," he said. "For me was something that seemed obvious. I wanted to do that for a while, a lot of us did, but then they really opened that door for the students to understand that there is more to do than hyper realism with animation. It was the perfect moment to actually just try and implement this in a movie like this one, where I could really put all my influences and ideas in there."
"The Bad Guys," directed by Pierre Perifel based on the book series by Aaron Blabey, releases Friday from Dreamworks Animation. Watch an exclusive interview with Perfiel and Blabey below.