Whether navigating the ever-changing real estate market or helping home flippers recover their losses, Page Turner is a savvy businesswoman and media presence who gets her strength from her faith in God. Recently relocating from Nashville back to her Los Angeles hometown, she has most recently hosted a new HGTV show, "Fix My Flip," which airs its finale tonight.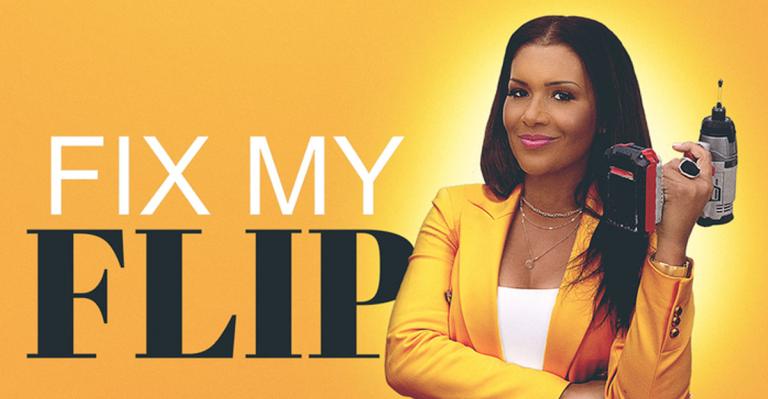 In this exclusive interview with Reel Faith's DeWayne Hamby, Turner speaks candidly about her outlook on the current real estate market, her recent and upcoming projects, and her Christian faith and it's woven into everything she does.
What's different about the new show "Fix My Flip" than your previous show "Flip or Flop Nashville"?
Well, there's a lot. For one, it's just me. I am co-creator and executive producer and I host it so there's a little bit of triple threat going on. But the biggest difference is that I'm coming in to help failing flippers with my own money and my own team to help them get out of a hole that they've dug. I tell them all the time, "If you're in a hole, stop digging. Put the pride aside, and just ask for help." I've been in real estate for 20 years, and I was a foreclosed listing agent. So I've seen where pride and ego can come in. So it's a really cool show. And it shows just humans and how we respond to help, and how we respond to action.
I'm sure people are emotional. How does that element work? For you to be somebody who's kind of there, maybe to guide them through that process?
You know, that's a great question. Because a lot of times you hear people say, you know, you can't mix personal and business, but money is emotional, you know that. The Bible says that the love of money is the root of all evil. So, it's very interesting to see the mix of the personal and the emotional, either come together with the business side, or completely combust, you know, and it's been interesting, really, the journey of watching humanity on this show and seeing how they react to help and seeing if they react to help that they call me in. It's very interesting.
Well, I know you're a woman of faith. How does it affect that?
It's my daily discipline. Even on the show, I carry myself as such. I'm not afraid of the gospel. I'm not afraid to share my faith. I don't care what interview I'm doing. If the response is "But God…" then that's what it's going to be, and that's just it. So even walking out on the show, my hope is that because I'm not a newbie in real estate or business, and I've always carried myself as such. I've always walked in the discipline of faith in because faith is a discipline and the discipline of professionalism. And it always goes back to that root in my foundation of I've only made it thus far because of my faith.
What do you forecast is happening right now with all these areas, like the boom in Nashville? The prices going up here in Orlando, they're building new houses, and people are drawing lotteries, even for a chance to buy it. What does the future look like?
That's another great question. Here across the country, we are about five years behind in inventory, which means that's still a strong seller's market. But then you have a mix of wars, you have a mix of interest rates going up, but then, you know, people are freaking out, interest rates are going up. Well, 10 years ago, interest rates were as high as 17% for the predatory loans. So real estate will continue this hot pocket bubble. I hear people say it's gonna' burst. I was saying it was going to burst. What I say now is I don't know the future. All I know is market trends. I've been in what I would call a normal market, I've been in a recession that I've made it through by faith. And now we're at the peak of real estate. So, I tell people just prepare, keep selling, keep flipping, save your money. Don't go out and buy all the hot cars and everything else. Just save your money so that when the downturn comes—not if, but when—it comes, it might not bottom out, like 2007. But if we have a little downward spiral, you'll be prepared. So just prepare, that's what I'm telling people now.
Is there anything that nobody's asked you that you'd like to mention?
After "Fix My Flip," I am on another super cool show on HGTV called "Hometown Kickstart" and that will probably air in May. HGTV is allowing the HGTV talents such as myself, we're teamed up with another talent and we're going into the studio smallest towns in America. And we are partnering with them to renovate a commercial space and a residential space of local hometown heroes. And they don't know, it's all a surprise, and also a community space. So, the team I have been connected with, we went into Minden, Louisiana, which is 40 minutes outside of Shreveport. Those 12,000 people in Minden completely touched my heart and changed my life. And it's like that verse, they bless me beyond measure. So that show is called "Hometown Kickstart." It's a giveback show, and it is it's a beautiful show. So that'll be coming in May.
You're in a position where you're helping people. And we know the biblical principle of "the greatest among you is the servant." The servant is the one who gets blessed. So that's a really good point. 
I'm a big, big proponent of you got to sow the seed. And that doesn't always mean money. That means time, that means prayer. That means just showing up, you know, to get your hands dirty, and roll up your sleeves. So, serving is number one.
"Fix My Flip" airs on HGTV. For more information about Page Turner, click here. Watch the exclusive interview with Page Turner below.
DEWAYNE HAMBY is a communications specialist and longtime journalist covering faith-based music, entertainment, books, and the retail industry. He is the author of the book "Gratitude Adjustment." Connect with him here.