In the new family sports drama "High Expectations," premiering April 6 through Fathom Events, Taylor Gray stars as Jack, a soccer player dealing with disappointment and estrangement from his father, legendary Coach Davis (Kelsey Grammer) who cuts him from his club. He finds inspiration and companionship with his ex-girlfriend Sophia (Ally Brooke) while trying to prove his worth to himself and his father.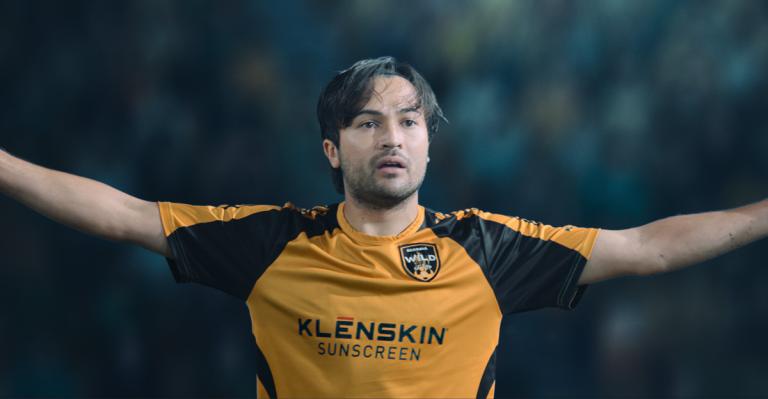 Gray, who grew up as a competitive soccer player, easily stepped into Jack's shoes both on the field and off. For two months prior, he spent time with friends and trainers getting "back into the pitch." At the same time, his theater training and experience prepared him to play opposite the Emmy-Award-winning Grammer.
"Once you get into the scene, it kind of comes to life on its own when you're saying some of these lines," he said. "They're, they're real situations that people go through. And so when you're vulnerable and kind of squared off with another great actor who's emotionally available as well. I think it makes it a lot easier to sort of drop into those emotions and access them."
Working with Grammer was "fun," because of his kindness and professionalism, Gray said.
"He's just so comfortable on a set, he's spent so much time doing it," he said. "And luckily, our relationship in the film, adding depth to it, and the emotions that we have to reach in our relationship, it was really fun to explore that with him."
Gray hopes that the film will bring families closer together in a way where they can understand where each member is coming from.
"I think there's a lot of universal themes in this film, from the David and Goliath aspect to the overcoming all odds also to the redemptive side of families and family bonding and healing," he said. "I hope everyone connects to at least some aspect of the film and Jack's journey. It's a great example of how you can heal old wounds and sort of overcome that through love."
Covid protocols while filming gave the production its own unique feel, but the hard work and determination paid off for the sake of the cast and crew's safety.
"It's a very collaborative feeling on a set and when there's zoning (because of Covid), you can't go up to like the wardrobe person or, or the gaffer or lighting guy," he said. "Everyone has to stay in their separate little pods. And so doing a movie of this scale with that many people on set, made it more difficult, but it was amazing because we actually never had a single case, a positive test. So everyone really stuck to their guns and we got through it, which was awesome."
"High Expectations," directed by Jonathan Southard and Christopher D. Wright, releases Thursday, April 7 through Fathom Events. More information, including links to buy tickets, can be found here.