Christian author and speaker Lee Strobel ("The Case for Christ") investigates questions about the afterlife in the new documentary film "The Case for Heaven," releasing April 4-6 in theaters nationwide. Inspired by Strobel's bestselling book of the same name and helmed by Mani Sandoval ("MeXXico Es Todo" and "Nine: The Enneagram"), the film features interviews with Clay Jones, John Burke, Francis Chan, Sharon Dirckx, and Jon Steingard.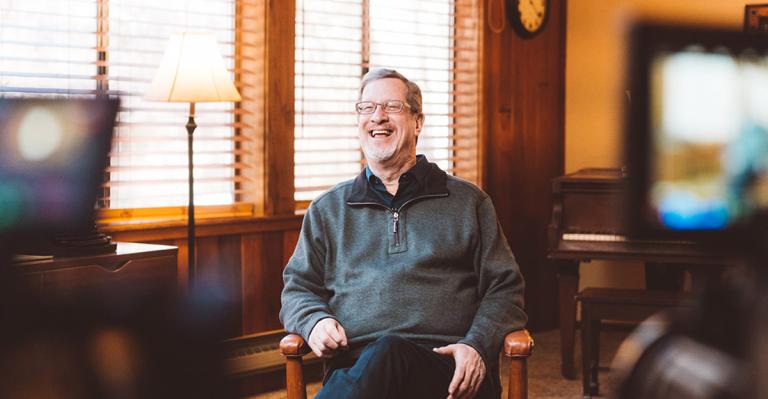 "I think people are especially tuned these days to questions of life and death," Strobel said. "They want to know what happens, even young people."
The book was prompted by a near-death experience the author had, which stirred his journalistic curiosities, the same spirit in which he approached the life of Christ in his breakthrough release, "The Case for Christ," turned into a hit movie by Pure Flix. That connection with Sandoval paved the way for the new documentary.
In this interview, Strobel details his health scare, how the film provides a basis for evangelism, and the decision to include Steingard, former lead singer of Christian band Hawk Nelson who made news when he renounced his belief in God.
What inspired you to write the book "The Case for Heaven"? 
The genesis of this project was an incident that happened to me 10 years ago, when I almost died. My wife found me unconscious on the bedroom floor. She called an ambulance. I woke up in the emergency room, and the doctor looked down at me and said, "You're one step away from a coma, two steps away from dying." Then I went unconscious, again. I had an unusual medical condition called hyponatremia, which is a severe drop in blood sodium level. So I hovered there between life and death until they were able to save my life. I was hospitalized for several days, and it was a very clarifying experience for me. When you're in that position, you need to know for sure what happens if you close your eyes for the last time in this world. Now, I'm a Christian. I believe what the Bible teaches about this, but I've also got a skeptical streak, you know, my background is in journalism law, I kind of have a bias toward evidence and facts and logic and so forth. So, I decided to take those journalism and legal skills and investigate the question of whether we can trust what the Bible tells us about life after death. And that was the beginning of the research for my book, "The Case for Heaven." And then the movie grew out of that.
And then at some point, you spoke with Mani about doing this documentary.
I've known Mani because he produced some of the video curricula that I've done with some of my books. Okay. Mani used to work at Pure Flix, which made the film my life story "The Case for Christ." And I admired Mani so much because he came from a Guatemalan immigrant family. They immigrated to the United States. They had nothing. They lived in the housing projects of South-Central Los Angeles. Their dad became a pastor of a tiny little church of like 20 people, and yet Manny and his brother Gil were entrepreneurs. They started their own company in Phoenix, Arizona. They employ well over 30 people now. And they do marketing, and they do films and they do internet stuff. I'm just proud of him as a person who really was able to achieve success, starting with virtually nothing. I mean, in a middle-class family, I had a big leg up in this life, and he didn't. When we talked about the idea of a movie, I brought this new book up, and he wasn't interested at first, until I kind of gave them the elevator pitch and told him about some of the evidence, I uncovered my investigation that got him excited. And he said, "Would you trust me with it?" And I said, "Yeah, I would." So that's how it came about.
One of the things that struck me, especially there toward the end, I feel that it's a very evangelistic movie. It's not just about heaven, but it's about eternal life. It's about accepting Jesus. And I know that was probably intentional on your part because I know you're an evangelist really at heart.
Yeah, somebody asked me once, "What would you like on your tombstone?" And I thought about it. I said, "I think I'd like to say it like it to say 'He dragged as many people to heaven with him as he could." So that's my passion. God changed my life and my eternity, and I just want to see other people experience that same joy and wonder and adventure and relationship with God. The topic of this film lends itself to that. You know, 29% of Americans know someone who's died in a pandemic. I lost my own brother during the beginning of the pandemic. I think people are especially tuned these days to questions of life and death. They want to know what happens, even young people. My wife and I were having lunch at a restaurant and the server was like this 18-year-old young woman, and all of a sudden, she started to cry, and we said, "What's wrong?" And she said, "Well, I'm so sorry. I almost didn't come into work today. We just lost a family member to COVID." And I thought, here's a young woman, 18-years-old who never thought about that before. But now to see the apprehension in her eyes and the anxiety in her eyes over it. And I thought even young people these days, given what we've gone through, and the fragility of life, and how that's been illustrated to us by the pandemic, it's just in God's timing, I think that film and the book are especially appropriate.
So when you release your book, I'm sure that it had quite a reaction. So what was the reaction to your book?
It's been very strong, it's surprisingly strong, I think because of the things we just talked about. And this is at the forefront of so many people's minds, and people have a fear. I have a chapter in my book about the fear of death and how it drives much of culture in ways that we don't even realize. And I think Clay Jones, who wrote a book called "Immortal" and I interviewed for my book really brings that out. So we have a fear of death. And the Bible talks about the fear of death that people have, but it also says the antidote to that is Jesus. I think this struck a chord because of that fear of death that we have, and it offers more than just commiserating with people who have that fear but is saying there is an answer.
Churches are getting behind this film. Do you have any other resources that go along with it?
Yes, as a matter of fact, Colorado Christian University, where I have a center of evangelism and apologetics, is running a theater for the students and showing the film and so I'm excited about that. But the other resources, the book, of course, is a great follow up, because it's two different experiences, you know, to read the book and see the movie, so I hope the movie, what's people's appetite, but I hope they go to the book for deeper evidence and research and so forth. Also, have a small group study that I did called "The Case for Heaven and Hell," and it's a five-week video-driven small group curriculum that's available for small groups that might want to go through a study of these issues.
I thought it was very interesting and actually enjoyed including John Steingard in there. I think it's very neat to hear His perspective. What was the reasoning behind it?
We want to have a diversity of views. And here's a guy who says, "I've walked away from my Christian faith and I no longer know, I have no idea what happens to me when I die." I thought it was important to have that representative, someone like me who had been an atheist myself, I understand that line of thinking. I understand those emotions and so forth. And that's the kind of people we hope this film will reach by saying, "You know, what, there is good evidence that we have a soul that survives our physical demise. There is good evidence from near-death experiences that our soul does continue to live on after our death. And third, the evidence for the resurrection of Jesus is so strong and persuasive, that we can trust what he tells us about the afterlife because he's been there. In fact, he created it." So those three lines of evidence, they're sufficient to give me confidence in what the Bible teaches about heaven and hell.
"The Case for Heaven," directed by Mani Sandoval and starring Lee Strobel, releases through Fathom Events April 4, 5, and 6. For more information and to order tickets, click here. Watch Strobel and DeWayne Hamby discuss the film and a powerful evangelism story from Strobel's history below.
DEWAYNE HAMBY is a communications specialist and longtime journalist covering faith-based music, entertainment, books, and the retail industry. He is the author of the book "Gratitude Adjustment." Connect with him here.