With his new passion project "Father Stu," Academy Award nominee Mark Wahlberg ("The Departed," "The Fighter") is putting his faith on full display. The accomplished actor and producer, who has been open about his Catholicism, says the new film marks the "start of my journey to doing more positive, fulfilling, faith-based work."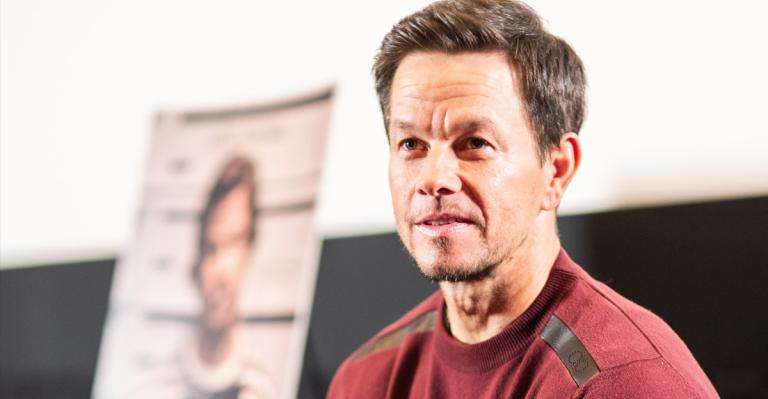 "Father Stu," written and directed by Rosalind Ross, also stars Mel Gibson, Jacki Weaver, and Teresa Ruiz centers on Stuart Long (Wahlberg), an amateur boxer who moves to Hollywood to become an actor. Long soon falls for Carmen (Ruiz) a Sunday School teacher and begins attending church to impress her. Soon, through a spiritual epiphany, he becomes a priest and begins a new journey that would transform his life and inspire many more.
In an exclusive interview with Reel Faith's DeWayne Hamby, Wahlberg explained what drew him to the true story, how God speaks to us through suffering, and the importance of faith in his life and career.
I followed "Father Stu" when it was first announced and was really excited about it. Why did the story resonate so strongly with you when it was told to you?
I could relate to it in so many different ways. I was definitely looking for ways to do more, even with my career, my primary business, to dedicate more time, energy, and effort to doing things that would affect people and my relationship reflect my relationship with God, kind of like the work that I knew He wanted me to start to gravitate towards. But the movie as a whole, I couldn't find a single reason not to want to do it. Selfishly, as an actor, you couldn't find a better role, certainly, to echo Stu's message, and then start my journey to doing more positive, fulfilling, faith-based work. It just was one of those things that just took a long time to get going, to pray for a lot of intercessions along the way. But here we are, the movie kind of magically came together in a very perfect, good, organic way. And, you know, everything about Stu just rang so true to me. The kind of guy that God is looking for. The guys who have a lot of trouble have a lot of potential, I can certainly relate to that. And I just wanted to be a part of telling his story, then starting to do my work, and continuing to spread Stu's message.
As I've followed your career, I noticed when you became more outspoken about your faith. As you lean more into this, was there any hesitation in doing that?
No, not at all. I'm in Hollywood, and a lot of people ask if it's difficult being Catholic in Hollywood. For me, it's not. I don't throw it in anybody's face. I certainly don't deny it. I just want to continue to make sure that doing my bit. I kind of feel like all of my success is deeply rooted in my faith, both personally and professionally. But that being said, I work really hard and I try to over-deliver for anybody willing to take a chance and give me a job. This job was just happened to come to me about a priest, which was touching on multiple things in one fell swoop, which is to make sure that I made a great movie that was really wildly entertaining, thought-provoking stuff. And also continuing to spread the message of love and acceptance, inclusion, and doing God's work. So, for me, it was just the best of both worlds.
One of the messages that I took away from it is the story of going through suffering. So many stories actually talk about avoiding suffering or are trying to get around it. But this one, even in the final moments, where Father Stu is actually talking about the profound experience of suffering. There's something to be learned going through it and even scripture says to "Count it all joy" when you go through it. Why do you think that's important for people to learn right now?
Well, because we're all going through it. it's inevitable. So, it's about how you handle it, how you approach it, and to see Stu handle it not only with grace and dignity, but also embrace it in a way, that he felt was a blessing in itself because it brought him closer to Christ. There's so much in Christ's suffering that He did for us, for our sins, which was so beautiful and so poetic. With COVID, and all the uncertainty in the world and the inevitable mortality that we all face, to be able to embrace that knowing that we're all going to deal with loss and potential sickness, but, but just still have joy, taking comfort in knowing that there is a better place after this life in this world. That gives me a lot of comfort. To know, you know, my mom went through so much, she did so much for so many people, that she will be rewarded. And the way she handled her suffering, you couldn't help but be inspired by that and just want to celebrate all I can just be reminded about all the good things. It was heartbreaking to see seeing that happen to my dad, and my mom, and recently see that happen to a very close friend. But I also know what those people meant to so many others. So I think that they definitely are rewarded for that. And you know, gives me great comfort to know that there's something better after this and that I hold out hope that I will be reunited with my loved ones. Heaven is real.
Yes, and I loved to see your mom on ("Wahlbergers"), too. She had a spunky personality. I'm sorry for your loss.
She was amazing. She was amazing. That show was such a blessing for her. Because, you know, she was such an amazing, wonderful person that did so much for so many people that she really got to kind of have her own identity with the show. Because she was always like, you know, me and Danny's mom, and for people to really get to know her and who she was that meant a lot to her.
Even though this movie has a very serious backbone to it, there are some lighthearted moments. Was that some of your input, because you're the kind of actor that can kind of navigate both?
We always wanted to be funny and invite people into going on the ride and enjoying Stu's journey. Very much like you would hope that life would be, right? To have lots of fun, joy, you'll get wisdom when you're older that you wish you could have applied to your life when you were younger. But then you want to be able to share that with other people and help them get a little bit earlier on to make their life a little bit easier. But you know that the difficult times will come but hopefully, you will live impacting the people who'll come back and take care of you. And you'll be in good hands. But what I realized early on as a people weren't getting it. Most people weren't getting it when they read the script like that there was a lot of humor, and then ultimately, the movie was uplifting. And they were like "Oh, he's such a tough guy, and so rough, and then they get sick any time, it was so depressing." I was like, "You're not reading the same script, or you're not interpreting it the same way." So I said, "Let me just make it on my own," come back, hopefully, I'll get it right totally. And it will, it will check all the boxes and people realize, "Oh my God, this is a movie that is for the masses. It's a must-see for everybody because we're all going through". It will make you laugh, but also leave you on an emotional high. And it's going to make it's going to renew a little sparkle in you with your faith and hope and, and also challenge people to do a little more and be a little bit better in any way that they can, even in the smallest ways, doesn't matter. Every little act of kindness gesture, of care, and kindness matters.
Thank you, Mark.  I'm going to pray for this movie, that it will speak to people and that it will speak to the needs they have in their life. and open them up to know that redemption is possible for them. God can really use this story.  
Hey, you know what? It's been blessed and prayed for. Everything has come together in such a perfect way that only God and Stu and Mary could make happen. So, yes, thank you for continuing to spread the word. I really appreciate it.
"Father Stu," written and directed by Rosalind Ross and starring Mark Wahlberg, Mel Gibson, Jacki Weaver, and Teresa Ruiz releases April 13. The film is rated R for language throughout.
DEWAYNE HAMBY is a communications specialist and longtime journalist covering faith-based music, entertainment, books, and the retail industry. He is the author of the book "Gratitude Adjustment." Connect with him here.