Film producer and author DeVon Franklin ("Breakthrough," "The Star," "Miracles from Heaven") pulls back the curtain on his home life in the new memoir, "It Takes a Woman," streaming exclusively on Audible.com. The audio book contains conversations with his mother Paulette and other mother figures in his life, including his great aunts Nuna, Ida, Enis, Donna, and Sondra. The women comprised a "village of love" for Franklin and his two brothers, stepping in to provide guidance and support after his father left.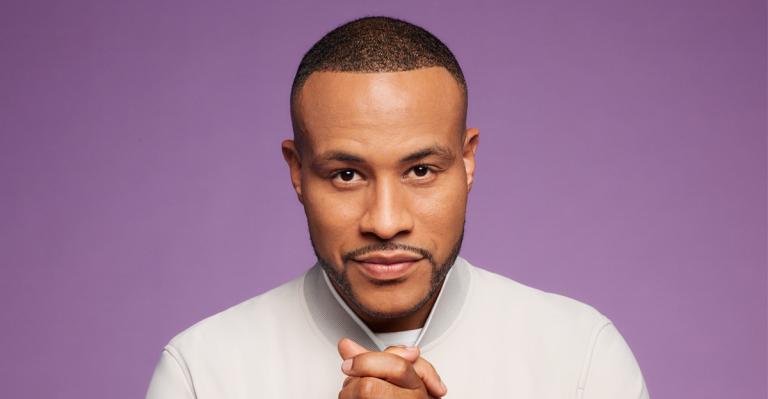 In this exclusive interview, Franklin explains the importance of these women, how they helped shape him, details of his new BET+ show "Kingdom Business," and the progress of the upcoming Kirk Franklin biopic.
This is such a deeply personal book. At what point did you think, "I feel okay with opening myself up to the world and, and sharing all this with everyone?" How did that process come about?
It was an organic one. Audible had reached out a couple of years ago, and they had seen an article that I had written for Maria Shriver in her Sunday paper about the women in my life, my mother and my grandmother and seven sisters who helped raised me and my brothers. Then I started writing the book, because even though it's an audio only book there, it still has to be based on a manuscript. As I was writing, there was one version, and then I went in the studio and interviewed each one of them individually. As we went through those interviews, there was just so much truth and life and transparency that came out that I took all of that and rewrote the entire book to capture the depth of what they were giving. I do believe that transparency leads to transformation. Through our transparency, if that can transform lives, that was the intent, and certainly worth the discomfort of being vulnerable, in order to potentially do that for other people.
I think there are so many points of inspiration in it. I think it would give some comfort to single mothers and some inspiration and hope. Especially the part where your mom is vulnerable and feeling like maybe there were times where she felt like she dropped the ball, but other people filled in the gaps, God filled in the gaps.
It's amazing how God is just incredible. He takes a tragedy that we experienced and used it to produce great triumph in our lives. Only God could do that. My mother was worried—was she going to be able to take care of us? Are we going to be okay when we got older? The answer is yes, we're going to be okay. It's just a testament to God's goodness.
I'm curious about "Kingdom Business," a drama based in the gospel music industry with Yolanda Adams. What can you tell me about that?
The TV series deals with so many elements. It deals with virtue, advice, brokenness, jealousy, envy. It deals with ageism, it deals with ego. It deals with truth. There are so many themes that are explored through this series "Kingdom Business" that I can't wait for people to see it. I think the storytelling is great. The acting is great. Yolanda Adams, even though she's a gospel music star, she is starring in this series as an actress and she does a beautiful, powerful job. Kirk Franklin has a role. He's also an exec producer. It comes out on BET+, on May 19, with eight episodes. I think this is going to be people's new favorite show because of all the things that we explore. And there's great music. It's a really good, entertaining show.
Was it your idea? Or was it something that somebody else was doing and they wanted to get your touch on it?
It was something someone else was doing. And then they said, "Hey, we want to get you involved and you put your touch to it." At the time Kirk was already attached and then I brought on Dr. Holly and we started working on it and I renamed it. We gave a lot of notes on the rebel character who's kind of the character that is trying to threaten the reign of Yolanda Adams' character in the story. So yes, it was one of those that they put they were working on it, and they brought it to me and I kind of helped build the team. Thankfully, BET said yes. We produced it last fall.
Speaking of Kirk Franklin, a few years ago, he mentioned that there were some preliminary discussions about a movie of his life. Later, I saw your name attached to it. Is it still percolating somewhere?
Yeah, I'm working on it as we speak. The thing about all movies, every movie, every story takes on a life of its own. No matter how much I want to rush some movies, I can move fast, I just have to let the process dictate the promise. I've been working on it for years, and we're doing another pass on the script. I think we're this close to actually getting it done. I'm feeling really good about it. It's really the next movie I want to make. And I'm putting all my resources and effort and energy into seeing it become reality.
When you look back over what you've done, what kind of impact do you feel like your projects had on the culture or population?
Hope. You know, I think that's, that's been the biggest line—hope, inspiration, information. I think that when you look at all the movies I've done, and been involved in, and all the books and now moving into television, I'm really wanting to put quality stories into the culture into our community that have some element of hope or inspiration. I mean, that's really the through-line. And I think that I've made good on my intention, and I feel like I'm just getting started. I think I have such a long way to go. That impact will continue to be, only time will tell and only history will record. But my intention is to put things in the world that have an uplifting quality, and uplifting doesn't mean soft, and it doesn't mean things that play, speak, preach to the choir. No, stories that are challenging, with great conflict, great characters, but also great victory. And that's what I love to put in the world.
"It Takes a Woman" by DeVon Franklin is now available on Audible.com. "Kingdom Business" is currently streaming on BET+. Watch an exclusive interview with DeVon Franklin and DeWayne Hamby below.