In the new big-screen comedy "Family Camp," Leigh-Allyn Baker ("Christmas in the Pines," "Take Two for Faith") stars as Grace Ackerman, a frazzled mom who seeks help for her family at a church-sponsored camp. Best known for her starring role in Disney Channel's "Good Luck Charlie"), the actress found the more intimate faith-based production a refreshing change from her years working on various Hollywood sets.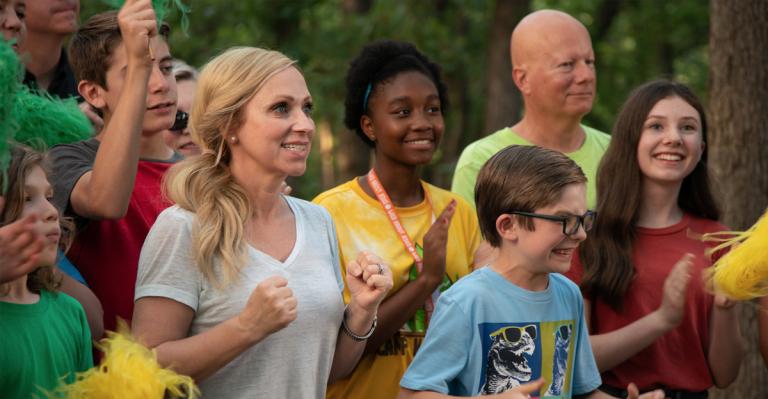 In this exclusive interview, Baker explains what drew her to the role, working in the faith and family entertainment space, and what the ministry of The Skit Guys meant to her and her family while filming.
How did you get involved with "Family Camp"?
I got a call from my agent and had an audition. I really identified with the character of Grace, not because she shows so much grace, but because she is actually given so much grace. And I also was excited by the challenge of walking that line with her of just learning and getting a new stronghold in her faith and wanting her family to come on, and also found it a bit weird and awkward and funny at the same time.
It seems like there's a little bit of control she's letting go of that in the movie.
Yeah, I guess she can't control or influence how her family is, interacts and their lives. What she realizes at the end is that there's just she's not strong enough and that God has a bigger, better plan. So, she just learned to surrender.
You have a history and family entertainment. How much have you done in the faith-based market?
I started out in really family programming, obviously, with Disney Channel. That's where I had a lot of my success. And I really learned to love it. I was not happy when I was first cast in "Good Luck, Charlie," because I kind of thought that Disney is where adults' careers go to die. Then I got involved and I really loved working with kids. And we just had a really great cast and a really great group of people to work with. When that ended, it was a pretty simple transition to go to faith-based because there weren't a lot of family films out there. I've done a few Christmas faith-based movies, I did one called "Wish for Christmas." And I really enjoyed all my experiences on the faith-based films, but particularly this one really got me.
Disney shows seem to go on forever because I have nine-year-old girls now who are discovering a lot of them.
Yeah. This is why they don't make any more episodes than four years because there's a generation that has grown but there's a new generation that will come up and they will watch the reruns. So, there's really not a financial need to make new episodes after they have four years or 100 episodes in the can
How was the experience of filming it with The Skit Guys and the other actors? The environment on set, was it different than what you're used to?
I really loved working on "Good Luck, Charlie," because I love those people. But I will go ahead and say—this is a tough one to say, but it's true because I still love all those people so much—working on "Family Camp" is the best film experience that I've ever had. It was really such a tumultuous time in life, where I had just literally fled overnight with my children to Tennessee because they put up quarantine camps up the street for kids. And I left overnight. We finally moved to Oklahoma, thank goodness was one of the first states to come to their senses and open up. So, when I went, I drove with my children and my dogs, and my husband met us there. And we just had the best experience, and everybody was so starved to see human faces and form friendships and have human contact. And to be able to go to a job that is so full of love and laughter and faith and worship on a daily basis was just directly heaven sent.
Wonderful. That's awesome.
I want to add something about working with The Skit Guys. These guys are the real deal. They are so talented, and so funny and good actors. I was really shocked. They're good actors. And they're great people. I felt so loved on set. As actors, we have something called "Craft Services" where you go to get snacks, gum or mints or water, or whatever you have. They would have a prayer box at Craft Services. Well, I just fled California and was trying to sell my home there and buy a new one and start a new life in Tennessee. It was just so refreshing to be in making a film in a community of people that want to pray for you, that want to take the time to wish you well and pray that the Lord keep you safe and do what is best for your family. I never ever heard of such a thing. It was crazy to me, and I loved it.
"Family Camp," from Roadside Attractions, K-LOVE Films & Provident Films, is now in theaters. Click here for more information and showtimes. Watch an exclusive interview with Leigh-Allyn Baker and DeWayne Hamby below.