Comedy duo The Skit Guys (Tommy Woodard and Eddie James) star with Leigh Allen Baker in the new film "Family Camp," premiering in theaters this weekend. Set at fictional Camp Katokwah and directed by Brian Cates, the comical story centers on Grace (Baker), who pushes her imperfect family out of its comfort zone and into unusual situations.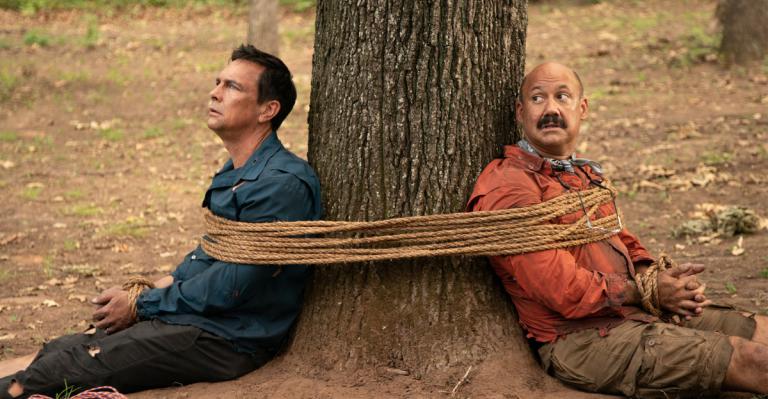 Woodard and James, who have been performing together since the 1980's, make their feature length debut with the film, a longtime dream finally realized.
"It's always been deep inside of us as a dream," Woodard said. "It seemed like an unreachable dream, until we started seeing some other movies coming out, such as 'Fireproof' and 'Facing the Giants.' Those were the trailblazers for us and the ones that made us think 'Oh wait, maybe we can do that.' More than that, however, it was a lot of prayer. God finally opened doors."
The campground setting was conceived as a way for the duo to play off each other for hilarious results. Originally, the duo considered a road trip type film debut, but logistically speaking, it made more sense to film at one setting. James, a former youth pastor, brought his own camp experience to play while working with writers Renee Gutteridge and Cates. If "Family Camp" is a success, James hopes to return to the "Ride Share" concept.
"We want to create more comedies that family can go to and don't have to worry about a bait and switch," he said. "We want to help moms and dads feel like kings and queens, just to feel like they're watching their kids laugh."
Woodard said filming the comedy was a "dream come true" and he's reminded of the wonderful experience as stills from the filming play on his home computer.
"(I just look and say) 'Oh, that was a great day,' 'That was a great day'," he said. "Even the worst day was a great day."
Beyond all the fun, however, James said there is a more important reason for the comedy and that is to break down walls and allow "healing."
"We believe humor breaks down walls was for truth to enter," he said. "If you can get people to laugh, they'll listen to you. You just have to have something good to say. And we know the Creator of the universe gave us so many great things to say. So we tried to just really rely on that."
"Family Camp," from Roadside Attractions, K-LOVE Films & Provident Films, releases this weekend in theaters. Click here for more information. Watch an exclusive interview with The Skit Guys and DeWayne Hamby below.