In the new family animated comedy "Paws of Fury: The Legend of Hank," a dog is sent to save a town of cats from being decimated by an evil warlord. Michael Cera stars as Hank, a self-doubting canine trying to find his way as a hero, encountering resistance from dog-hating felines. Ricky Gervais, Mel Brooks, George Takei, Aasif Mandvi, and Samuel L. Jackson also star.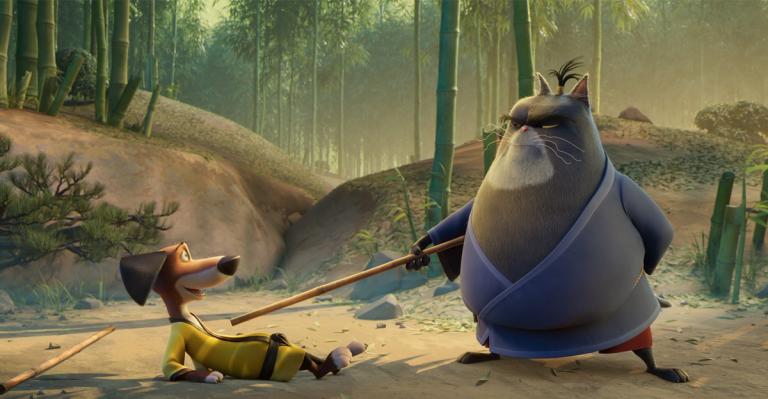 Director Rob Minkoff says the film centers on a universal theme of acceptance, love, and unity.
"I think the message that I most hope audiences take away from the film is it doesn't matter what you look like," he said. "You can overcome those differences and find a way to fit in. And the characters that are rejecting you, because of what you look like on the outside, can learn a lesson that what's important is what's on the inside and on what's on the outside."
Cera also believes looking past differences is something audiences can get behind.
"You shouldn't judge a book by its cover," he said. "You shouldn't prejudge someone or think that you know who somebody is just because of how they look. Because people are much more than that and are full of surprises. I think that's kind of and that we can all live in harmony, and in spite of our differences, I think those are the big takeaways for me."
If the story sounds like the classic comedy, "Blazing Saddles," it's not a coincidence. The film is loosely inspired by the Mel Brooks film and, in a nod to that connection, Brooks lends his voice to the central role of the leader Shogun.
The movie will premiere exclusively in theaters on Friday, and Cera envisions a warm reception for kids "laughing their heads off. I think that'll really be fun."
Minkoff says he is "the most excited" for audiences to see the new characters which he hopes will become beloved by children.
"These are characters that have never been seen before. Hank, the dog played by Michael Cera Jimbo, played by Samuel L. Jackson, Ika Chu played by Ricky Gervais, and so many other incredible actors playing wonderful new characters for audiences to meet and to fall in love with."
"Paws of Fury: The Legend of Hank," directed by Rob Minkoff, Mark Koetsier, Chris Bailey and also starring Gabriel Iglesias, Djimon Hounsou, Michelle Yeoh, Kylie Kuioka, and Cathy Shim, arrives in theaters on Friday.