In the new AppleTV+ film "Luck," the unlucky-in-life Sam enters a mythical world of leprechauns, black cats, rabbits and even a dragon on a quest to secure some good luck for her best friend. The animated story, starring Jane Fonda, Whoopi Goldberg, Eva Noblezada, Simon Pegg, Flula Borg, Lil Rel Howery, and John Ratzenberger, is a fun story for children of all ages, combined with very important themes of contentment, joy, foster care, and adoption.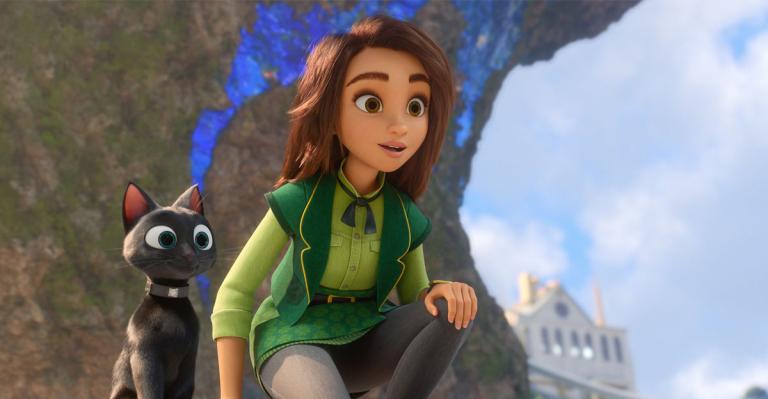 Director Peggy Holmes, who also helmed "The Little Mermaid II: Ariel's Beginning" and "Secret of the Wings," recently spoke with Reel Faith's DeWayne Hamby on the lessons audiences can learn from the film and what the A-list cast offered in the production process.
One of the things we learn in the film is that bad luck, or suffering, is part of life and not something to be avoided but something that can lead to happiness. Can you talk about that?
Thank you so much for asking that. It's at the heart of the story, which is super important to us. It's this idea, like you mentioned that sometimes when you look back in life, what seemed to be the worst bad luck ever actually led you to the best good luck ever. It led you to a new opportunity. In our case, you know, for Sam, it led her to love, which for me is the luckiest thing in the world; love. So we had this idea. We knew Sam was a character that grew up in foster care and grew up alone, has no family. She's aging out of the system now and going to be alone in the world. And so myself, and Kiel Murray, our writer, met with these amazing young people who have been through the same situation. We met them where they had transitioned out, they were alone in the world. We were so taken by their positivity, their hopefulness, their desire to not give up, and their generosity. They were so generous of heart. They understand the meaning of love in a massive way. It's the thing they were missing in their lives. So when we spoke with them, we were just so honored and so inspired by their stories. One of the things they shared with us is they said, "Look, I wouldn't want someone else to live this kind of bad luck that I've had in my life, I wouldn't want to go through it again. But I also wouldn't change it, because it brought me to where I am now." That is so honest, and true, and relatable, and relatable. Kiel and I just said that's at the heart of the story. We don't want to minimize bad luck either. But it's part of life.
Yes, and you can learn from it and grow from it, or you can just carry it with you and it grows bitterness. I'm really impressed with the voices that you've put together for this.
We feel super lucky to have these actors. They're so amazing. I think that in sharing the story with the actors, as we were sort of approaching them to do the movie, they were taken by the idea of the movie. They loved this idea of looking back at bad luck and seeing, "Oh my gosh, maybe that was the best thing to happen to me." And they also all loved the idea of telling a story about someone getting their forever family. This idea that your forever family could look many different ways. In our case, it's, it's a very unconventional forever family for Sam. They were all 100% on board to put out like a positive story, you know, like, put out something that could be inspirational. Once they said yes, we were so excited. Jane is super curious. We brought her in as story artists pitch the story sequences, while we were still in a pencil sketch, for her so she could really understand how the process works. She took to it just like fish to water. She was so incredible. As she was watching the story artists show her these pictures, these sequences, and you could see her taking on this 40-foot Dragon, and putting it in her body. Then she also had ideas for the movie that we ended up putting in the movie. She thought when she meets Sam for the first time, Sam is in awe of her right. Sam is an unlucky character and she's seeing this character that's nothing but good luck and powerful. As Jane exits that scene, she was supposed to go down an elevator and Jane goes, "What if we do this? I go down the elevator, Sam staring at me, but then I come back up, give her a wink and go back down?" That was Jane's idea. That was a genius idea. So that was super, super great. Simon Pegg is such an amazing actor and also such an amazing writer. So, we would always record the scenes that Kiel Murray wrote and they were great. They're fantastic scenes. Simon would always say, "Okay, Kiel, what else can we try? Let's try a little something else. Is there another joke?" So he is just an amazing collaborator. And then with Whoopi, it's like watching a masterclass in comedy. She reads the scene, she adds all these things in that are happening that she can see in our head. She adds all these fun little improvisational moments. And then she goes, "Okay, let me do it like an adult." And then she picks two or three of those funny, funny improv she did. And she ties them into the scene seamlessly. She is a master at comedy.
Was there a plan originally for this movie to do theatrical or streaming on Apple?
This was always the plan. For us, we're so excited to be working and partnering with Apple TV+, and we are over the moon about that relationship. For us, the most important thing is the story reaches as many people as possible, so I feel great about it.
"Luck," directed by Peggy Holmes, is now streaming on AppleTV+.