In the dramatic new survival adventure "Thirteen Lives," directed by Academy Award-winning director Ron Howard, a community unites for the sake of young boys trapped in a cave in Thailand. The film, framed in a docu-drama type format, brings a detailed look at what happened during the incident that captured the attention of the world. Volunteer divers spring into action, farmers sacrifice their crops, and governmental agencies cooperate.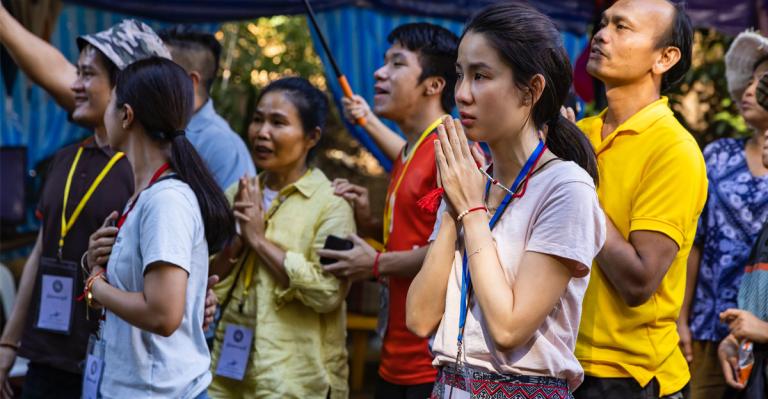 Set in Thailand, "Thirteen Lives" features strong elements of faith, primarily of the Buddhist monks, although Adun, the team's only English-speaking player, was a Christian. Regardless, in the bigger picture, the true story offers an inspirational blueprint of unity for all faiths encountering the harshest of conditions.
Rick Stanton, one of the film's spotlighted heroes (portrayed by Viggo Mortenson), heard the news and leapt into action. No one begged him. He just knew with his expertise in diving; he had no choice. In a recent press conference with the cast and crew, he elaborated on that decision.
"We don't have to do it, it's not our job," he said. "But why wouldn't you?  Because we have amassed those skills.  So, when I heard about the rescue in Thailand, it was entirely appropriate that we would go.  We were amongst the best-placed people on the planet to be able to go there and make a difference."
Beyond the divers, thousands joined together, doing what they could for the rescue. To divert water from the cave, a plan had to be implemented that flooded the crops of local farmers. Even though there was no guarantee of the boys being recovered alive, they sacrificed on the promise of the plan working. Thanet Natisiri, who served to engineer the effort, was touched by the selflessness of the community.
"That's the really touching part of the story for me personally because it's not just two of us that actually did the rescue, but it was thousands of Thai people and people around the world who supported us to make this rescue mission success," he said.
What happens when the mission becomes more important than ego, red tape, convenience, or even self-preservation? That's the hook that drew in the esteemed director of "Apollo 13" and "A Beautiful Mind."
"With the scripted dramatized version of an event like this, which you have great actors, and you have scenes that you can construct to make these points," he said. "So yes, there's that larger theme . . .  But it's also the price that people pay, the investment that they make that you don't see in a headline.  If you're an audience member, it can make the film very relatable, creates empathy, creates suspense.  And it reminds us, 'Look, this is what the real heroes did for us'. It creates a kind of a kind of an object lesson in what is possible."
Observing a pure spectacle of unity is inspiring, but it also provokes reflection on how a deeply divided world and the church can rescue those in spiritual danger. Jesus prayed "that they will become one," but can His followers be united in the most important mission of all? What could happen when Christians realize that every moment, the oxygen is running out and time is slipping away? Could petty differences be set aside for the higher purpose that Jesus said to "to seek and to save the lost"? God, give us that passion, clarity in mission, and courage to fulfill the call you gave to us.
"Thirteen Lives," directed by Ron Howard and starring Viggo Mortenson, Colin Farrell, Joel Edgerton, Tom Bateman, Paul Gleeson, Pattrakorn Tungsupakul, is now streaming on Amazon Prime. To read DeWayne Hamby's Dove review of "Thirteen Lives," click here.
DEWAYNE HAMBY is a communications specialist and longtime journalist covering faith-based music, entertainment, books, and the retail industry. He is the author of the book "Gratitude Adjustment." Connect with him at on Facebook, Twitter, YouTube or InstaGram.