Christian streaming service Pure Flix is launching more original content as well as premiering big-budget faith-based titles in August, including a new comedy series with Dave Coulier ("Full House," "Fuller House"). Pure Flix streaming service has a variety of high-quality, curated, positive, encouraging, wholesome movies, series, and kids' content in one service. It is a wholly-owned subsidiary of Sony Pictures Entertainment, drawing on Sony's world-class technology and partnering with the storytelling strength of AFFIRM Films.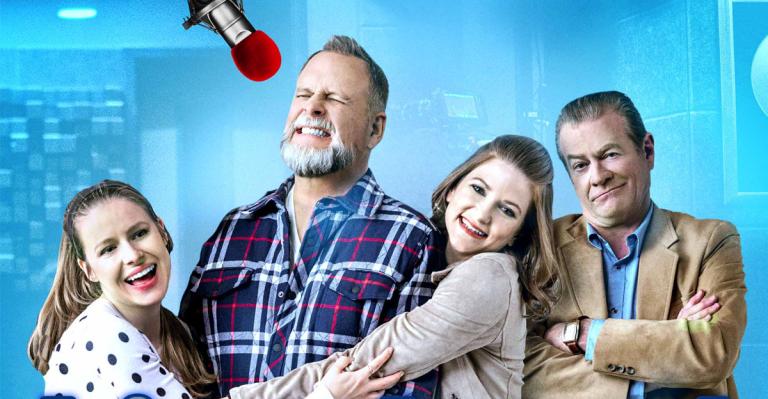 Following are Pure Flix Originals & Exclusive Titles:
Strong Fathers, Strong Daughters – available August 1 through 2022
Cast: Bart Johnson, Robyn Lively, David Barrera, Maria Canals-Barrera, Brandon Prado, Carrie Wampler
Synopsis: Steve loves all three of his daughters – but does he really know who they are? Discover the heartfelt journey of a dad who is desperately trying to hold onto his little girls but learns he must give up control and trust God with their future. Watch the movie inspired by Dr. Meg Meeker's best-selling book, "Strong Fathers, Strong Daughters."
Live+Local – series (6 episodes) Available now through July 2023
Cast: Dave Coulier, Emily Pendergast, Pat Cashman, and Kendra Ann Sherrill

Synopsis: TnT In The Morning is the highest-rated local radio program – but Tommy and Tina have to navigate the ups and downs of the radio industry while trying to trust their new program director, Jerry. Watch what happens when a veteran radio talk show host and his co host have to navigate the ups and downs of the radio world when their new program director takes over.
Unlikely Angel – available on August 26 through 2022
Trailer Link: expected on 7/26
Key Art: expected on 7/26
Cast: Robert Amaya, Jillian Murray, Aaron Mees, Sam J. Jones, Brittany Goodwin, Delyla de Castro
Synopsis: Janie rules the boardroom but is falling apart at the thought of becoming a mom. When she leaves her newborn and husband to get to a business meeting, the angel Gabe intervenes and shows her what it would be like to miss the milestones. Can Janie learn how to trust God and move forward?
SONY & AFFIRM Titles
Miracles from Heaven – Available August 15
Available: August – October 2022
Cast List: Jennifer Garner, Kylie Rogers, Martin Henderson, Queen Latifah, Eugenio Derbez
Based on the true story of the Beam family.
Synopsis: When Christy discovers her 10-year-old daughter Anna has a rare, incurable disease, she becomes a ferocious advocate for her daughter's healing as she searches for a solution. After Anna has a freak accident, an extraordinary miracle unfolds in the wake of her dramatic rescue that leaves medical specialists mystified, her family restored and their community inspired.
All Saints
Available: August and September 2022
Cast List: John Corbett, Cara Buono, Myles Moore, Barry Corbin, Nelson Lee
Inspired by the real-life story of salesman-turned-pastor Michael Spurlock.
Synopsis: All Saints is the tiny church he is ordered to shut down and a group of refugees from Southeast Asia inspire him to build a farm around it instead. While developers eagerly eye the property and the congregation mourns the inevitable, Michael and his family look forward to moving on to an established church where they can put down roots. But when the church hesitantly begins welcoming Karen (kuh-REN) refugees from Burma—former farmers striving for a fresh start in America—Michael feels called to an improbable new mission.Toiling alongside the Karen people, the congregation attempts to turn their fertile land into a working farm to pay the church's bills and feed its newest people. Jeopardizing his family's future by ignoring his superiors, Michael must choose between completing what he was assigned to do—close the church and sell the property—or listening to a still, small voice challenging the people of All Saints to risk it all and provide much-needed hope to their new community.
Stuart Little – the entire trilogy
Available: July – August ONLY 2022
Cast List: Michael J. Fox, Nathan Lane, Geena Davis, Hugh Laurie, Jonathan Lipnicki
Synopsis / Background
Stuart Little: A little guy with a big heart (not to mention whiskers and a really dapper wardrobe), Stuart searches for a place to call home in a decidedly supersized world. When he's adopted by the Littles, a human family, he embarks on adventures with a variety of characters, including his nemesis, family cat Snowbell, and learns the true meaning of family, loyalty and friendship. The Littles, in the meantime, discover there is a little "Stuart" in all of us: the spunk, spirit and courage to be true to ourselves and follow our dreams despite the odds.

Stuart Little 2: Two years have passed since last we visited the Little family, and plucky, pint-sized hero Stuart Little has settled nicely into his new life. Then a mysterious bird literally drops out of the sky, introduces herself as Margalo, and relates that she is being terrorized by Falcon. She moves in with the Littles, much to the chagrin of Snowbell, the family's feline curmudgeon. But Margalo is hiding a dark secret, and when she mysteriously vanishes, the unlikely duo of Stuart and Snowbell set out on a heart-pounding, hair-raising journey to find her and unlock the mystery.

Stuart Little 3: Call of the Wild: Stuart Little's back in an all-new, all-animated movie! School's out for the summer and the Little Family is spending their vacation at a beautiful lakeside cabin. Leading the way is Stuart, who can't wait to spend his entire vacation canoeing, hiking and finding his inner scout. But, there is something lurking in the forest who could spoil all the fun: THE BEAST; a mean and isolated forest terror who rules the local animals with an iron paw. When Snowbell is taken prisoner, a Little bravery goes a long way as Stuart, along with his new friend, Reeko, a skunk, heroically rescues him, frees the other woodland creatures and outwits the wily Beast.
Click here to explore the Pure Flix streaming site.