On Friday, Alex and Stephen Kendrick ("Courageous," "War Room," "Overcomer") released their latest film, "Lifemark" starring Kirk Cameron through Fathom Events. Weekend estimates report the film debuted at No. 7 for the weekend, earning 2.21 million. The pro-life drama, which champions adoption, centers on David, a young man who turns 18 and is contacted by his biological mother. Unlike the Kendrick Brothers' previous films, it was not picked up by a major studio but in a first, was rolled out by Fathom Events as a one-week release, with options for additional time in theaters.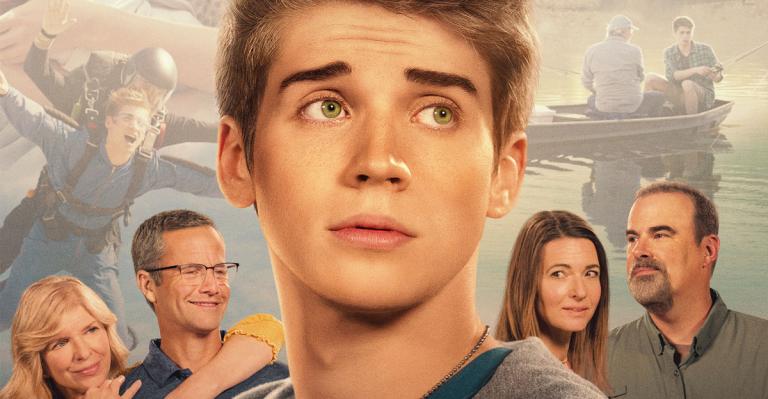 In a recent interview with Reel Faith's DeWayne Hamby, the Kendricks discuss the idea behind the new film, why they chose the new partnership with Fathom Events, and what it was like working with Kirk Cameron for the first time since "Fireproof."
Can you talk a little bit about how "Lifemark" came to be?
Alex Kendrick: We always ask the Lord, 'What direction do you want us to go? What stories do we tell? This time, we had finished 'Overcomer in 2019' and we're promoting it to come out in the fall of 2019. But during that time, in the summer, Kirk Cameron gives us a call. And he says, 'Guys, you got to watch this short documentary I just saw, it just grabbed my heart. It's about an 18-year-old girl who rolls off the abortion table at the last second, refuses to have the abortion, and ends up placing the baby for adoption, the baby is adopted by a Christian couple who could not have their own kids. They loved and raised this baby. They named David. And when David was 18 years old himself, he met his biological mother.' It just had heart-grabbing aspects to it. When he met her, she thought he might hate her. And he did not, he loved her embraced her, said thank you for choosing life, for letting me be adopted. So that alone grabbed us. But there were more twists and turns. We agreed with Kirk and said let's partner together and tell this story. Little did we know that it would come out the same year that Roe V Wade was being overturned, at least at the national level. So, we're excited about what may become of all this. We're excited about what God's doing. We're excited to promote adoption that we've embraced ourselves. And Kirk Cameron, who's adopted four of his six children, is especially involved in adoption. So, we're excited about what this movie that is a true story could say just by us presenting it as it happened.
I know a lot of your films have been about fatherhood and this one is a little more of a hot-button issue with adoption and abortion, something a little different for a Kendrick Brothers film.
Stephen Kendrick: We talked about how we basically adopted this movie. You know, it was not a story that we came up with. We interviewed the real people that were involved. We tried to mine the gold from what they had said, what they experienced, the whole journey, in order to present a very needed message, a very inspirational message, packaged in an entertaining movie. We encourage people to not only support the film, but spread the word about it, and to have conversations afterward about, about how this is a true story. What can they get out of it? What can they glean from it?
You guys have built a name for yourselves to where people will embrace it. But from what I've, from what I've heard from outlets, basically, Kirk is saying that you had to go an unconventional route with releasing this movie.
Alex Kendrick: There were a number of studios that have courted us, wanting our films when we released 'Courageous' or 'War Room' or 'Overcomer.' And they did do well. So, we've been courted by a number of them. But this time, with this particular movie, which is a true story, they said they did not want this particular film. They are nervous about taking a side on the abortion issue, and they turned this one down, multiple studios. So, we said, 'Okay, we feel like we're supposed to make this film.' We asked the Lord for an open door and Fathom came to us and said, 'We want this film, we'll release it, we'll put it in 1500 theaters.' And they did. We partnered with Fathom. They're giving it not their normal two- or three-day release, but they're starting with a full week. And if it's doing well, they'll expand it to a second week or longer. We are very grateful for Fathom's partnership on this and are excited about releasing it. We don't want to take any shots at any studios or anything. It was a little disheartening to us that they said, 'We want all your movies except this one because we're scared.' But you know what we're gonna' proceed and see what the Lord does with this film.
What can people do to support it? Obviously, come to theaters, and vote with their movie ticket, right?
Stephen Kendrick: Well, yes, we have done the hard work of spending the last two years interviewing the people, raising the millions of dollars going into production, editing this film. Now theaters are bringing it to you into your communities. And for a very low cost. People can experience it, and bring their family, their friends, their churches, and their businesses to come and see the movie. We would encourage them please help us to spread the word, share the trailer on your social media, and take your family and friends to see 'Lifemark' in the theaters. You can actually go to the website Lifemarkmovie.com, and type in your zip code. And it will show you all the theaters in your region that are playing the film. Please use this film to not only provide some family-friendly entertainment, where you will leave the theater better than when you walked in, but also as a way to inspire those that would consider adoption, to inspire those that are right now in an unwanted pregnancy and don't know what to do to encourage them to let love lead rather than fear.
Well, thanks for doing all the hard work. Speaking of hard work, you guys have been turning a few films out for the past few years.
Alex Kendrick: We finished 'Overcomer' in 2019, and jumped on 'Lifemark.' When COVID shut production down, we said 'What can we do?' So we made a small documentary called 'Show me the Father.' And that turned out to be more powerful than we expected. And was the number one DVD online for a few weeks when it came out on DVD. Then we also did a special edition of 'Courageous' on the 10th anniversary, which was in 2021. Then we started shooting when things calmed down, we started shooting 'Lifemark,' and now we're releasing it. So we did have a productive few years, even in spite of COVID. If the Lord opens the door, we're gonna' walk through it and we trust that this movie blesses today's audience.
What was it like working with Kirk again?
Stephen Kendrick: Awesome. Kirk's a great guy. He's a lot of fun, has a tender heart, and loves his family. loves the Lord, is always gracious to be around. I'm grateful that Kirk has a passion for the kingdom and for our country that emanates from him and his online presence, in your private conversations with him. I think the Lord strategically has not only saved Kirk out of Hollywood but is mightily using him to communicate very needed messages in our generation. So, Kirk has been a faithful and true brother. It's been great to stay in contact with him. We had a lot of fun working with him again on 'Lifemark.' And we're excited about the adoption ministry and pro-family messages that he is gearing up to be doing spring boarding off of 'Lifemark,' so we're cheering him on.
"Lifemark" is currently in theaters. Click here to find tickets at a theater near you.