After a record-setting two-episode premiere weekend of 25 million viewings, Amazon Prime's "The Lord of the Rings: The Rings of Power" continues to expand the universe in episode three. Picking up the cliffhanger endings of several key storylines in the previous episode, this week, the attention turns to placing key characters in unfamiliar, even hostile environments.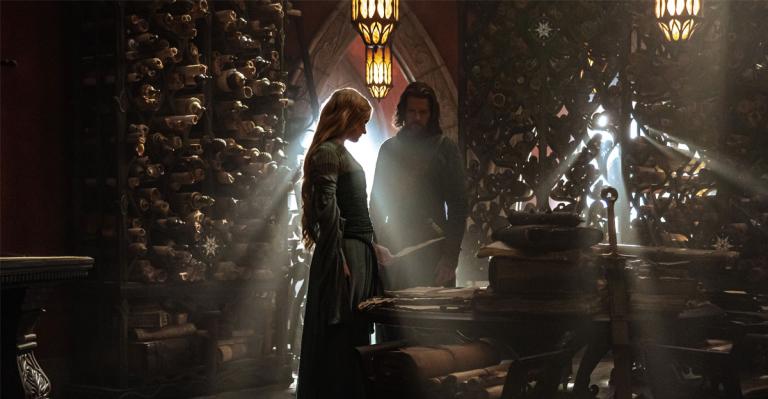 Galadriel (Morfydd Clark), desperate to return to the frontlines of fighting evil, finds herself a passenger on a ship headed for Númenor. On the extravagant island ruled by Queen Regent Míriel (Cynthia Addai-Robinson), she doesn't exactly get a hero's welcome by all, but finds help from a new ally. Along with Queen Regent Míriel, viewers are introduced to other characters who inhabit Númenor, including Isildur (Maxim Baldry), Pharazôn (Trystan Gravelle), Elendil (Lloyd Owen), and Eärien (Ema Horvath).  Meanwhile, Arondir (Ismael Cruz Córdova) is captured and enslaved by the orcs, whose existence is still unknown to most. Elanor 'Nori' Brandyfoot (Markella Kavenagh) continues to put herself in harm's way to hide and protect The Stranger (Daniel Weyman). Will her kindness be rewarded or punished?
There's some debate about whether or not harfoots are hobbits, but they do appear to be hobbit-like. And while the Middle Earth writings by Tolkien are not meant as a Christian allegory in the same vein as C. S. Lewis' "The Chronicles of Narnia," hobbits have been interpreted by some to represent Christ-followers in their innocence, compassion, and bravery. So maybe it is fitting that Nori's response is seeing the Stranger hungry and giving him food, seeing him thirsty and giving him drink, and inviting him in (Matthew 25:35).
Similar to the tension between Elrond (Robert Aramayo) and Prince Durin IV (Owain Arthur) in episode two, Galadriel's plight is complicated by broken relationships and mistrust. In an otherwise friendly environment, her ears giving her away as an elf provoke scornful eyes to most, perhaps because of some rift that happened along the way or maybe just old-fashioned prejudice. Coincidentally, this storyline happens to follow a week when the cast of "The Rings of Power" along with the stars of the original trilogy took aim at online commentators who derided the diversity of the new series.
While humans, elves, dwarfs, and harfoots size each other up and squabble among themselves, true evil, represented by hordes of violent orcs, continues to spread. As in "The Lord of the Rings" trilogy, petty differences at some point will have to put to the side to become united in spirit and fight the darkness. The familiar quote by Jesus and referenced by Abraham Lincoln comes to mind—"A house divided against itself cannot stand." Christ also encouraged believers to drop their suspicions about others who are "not one of us" by telling his disciples, "Whoever is not against us is for us" (Mark 9:40).
Visually, the series continues to impress, building out the scope of the world with new lands being introduced and visually appealing cinematography. Episode three also contains an impressive blend of drama, intrigue, and thrilling action sequences. Viewers may become bigger fans of certain characters and find new ones to embrace. Some lingering questions are resolved, with larger mysteries sure to unravel through the rest of the season.
"The Lord of the Rings: The Rings of Power" Episode Three is now showing on Amazon Prime. Episode Four is scheduled to premiere Thursday, September 15, 2022.