As the third season of "The Chosen" premieres this weekend in theaters, a pivotal scene in episode two addresses a frequently discussed question of Christian faith—why doesn't God heal everyone? It's an emotional punch years in the making, first entering the popular series' orbit with the hiring of Jordan Ross, portraying Little James, one of Jesus' disciples . . . who happens to physical disability.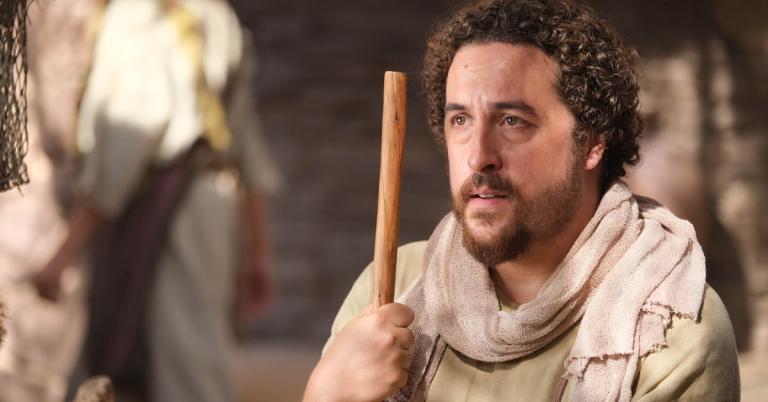 In the scene, Little James, anxious and perplexed by his directive to do miracles, asks Jesus why he hasn't been healed. Jesus responds carefully and lovingly in a moment designed to speak to those watching with their own weaknesses.
"I think it was a beautiful opportunity to give our perspective on what Jesus has answered," Roumie reflected during the show's recent premiere in Atlanta. "I think the scene was divinely inspired because it's such a biblically-inspired answer. I tried to come at it with the love and compassion and infinite mercy of Christ Himself."
When hired, Ross downplayed his own physical disability, Cerebral Palsy and Scoliosis, which manifests into a limp. Originally, he used lifts in his shoes to "take it down a couple of notches," but as the disciples went barefoot, it became noticeable to show creator and director Dallas Jenkins while filming season one.
"He asked what my condition was, and I explained it to him," Ross said. "On the inside, I was freaking out because I had been replaced from projects because the limp was too noticeable. I thought that would happen again."
Later, Jenkins asked Ross if they could write his disability into the show, to show that the followers of Jesus could have struggled with their own physical impairments.
"I said yes, but I was terrified to do that because it was forcing me to be more vulnerable about my insecurities than I ever had been," he said. "But it was the greatest thing. One of the greatest things that ever happened to me because in opening up and allowing myself to be vulnerable, that showed me that I'm not alone, because the response from fans that have disabilities as well has been amazing."
Jenkins said the key moment in the third season, the first one-on-one scene between Ross and Jonathan Roumie, who plays Jesus, was a "corner we painted ourselves into," especially when Jesus begins sending the disciples out two-by-two to perform miracles and share his message.
"I think it's vital, because today we ask questions, and I think some people have lost their faith because they haven't had a good answer to why does God heal some people and not others?" he said. "Why does following Jesus not make everything okay? I think we had to launch into those questions and address those answers."
Co-writer Tyler Thompson agreed, saying the show was headed toward addressing the issue; "I feel like we were an ostrich with one foot up, and it was time to just put our foot down and say, 'There are people who live with these limitations, and they have found ways to choose faith and to choose trust, and to choose gratitude."
Jenkins praised Roumie and Ross' performance, which carried the scene and provided a source of comfort and inspiration to the show's large audience.
"I'm proud of the scene," he said. "I'm very proud of Jordan and Jonathan's performances. It's very, very powerful. The music turned out beautifully. And I think this scene, as much as almost any scene we ever do, will speak to more people and meet them where they're at."
Regarding his portrayal, Ross said he has faced online criticism from those who don't believe a disciple would have a disability. With his personal connection, he insists he's not broken, but living a full life that isn't dependent on the condition of his body.
"I think that little James ultimately has to come to the conclusion that he doesn't need the type of healing that he thinks he does," he said. "Just because he's different doesn't mean he's broken."
"The Chosen" season three's first two episodes, directed by Jenkins and produced by Chad Gunderson and Chris Juen, are now showing in theaters across the nation. For more information on when the season will debut on streaming, visit the Angel Studios website or download its official mobile app.
Watch the beginning of the scene between Jesus and Little James below.