While the new film "Jesus Revolution" focuses on the growing Jesus Movement of the Seventies, it also features a heartwarming love story between two searchers turned believers, Greg and Cathe Laurie, portrayed by Joel Courtney ("The Kissing Booth") and Anna Grace Barlow ("Supernatural"). The two characters bring a youthful, firsthand view to the effect that the spiritual renewal had on the masses and on their own lives.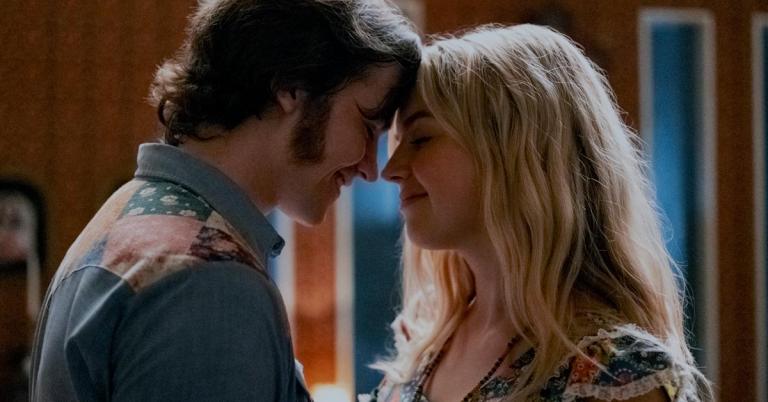 To find his way as the young Laurie, Courtney studied the pastor and evangelist's work and even drew from his own spiritual experience.
"I watched a lot of his sermons," says Joel Courtney. "I wanted to see him embody the pulpit, watch how he connects with people. I am a Christian as well, and so I feel like I had a very good understanding of where he came from in his lost days."
In this exclusive interview, Courtney and Barlow talk about how the film affected them, what drew them to be involved, and what they took away from the experience.
What was it like when you saw the finished film for the first time at the premiere?
Joel Courtney: I haven't seen a cut since like August, and that's pretty much raw film. There was no color, no sound, there was definitely no scoring to it. I don't think we'd even done ADR. So, (at the premiere), I really got to properly experience it. And it's kind of like a first-time screening for me personally, and just had a profound effect on me. It kind of rocked my world a little bit. I was just speechless.
What were your thoughts when the project was presented?
Anna Grace Barlow:  I just loved the script. It's like one of my favorite things I'd ever read before. And I really, really, really, really wanted to do it. I kept bugging everybody I knew about if they knew if I could do it yet. I'm really glad I got to do it.
Joel, you talked about what the movie how it impacted you. And I just watched a clip yesterday of Kelsey Grammer where he tears up talking about it. Did it have that same effect on you?
Joel Courtney: Absolutely. Also, part of it for me is like how much hard work goes into the film. I've heard from so many people who have seen the film, just as a viewer, they're blown away. They're so happy. And it really touches them, and it moves them. But I think from my perspective, our perspective, the long hours, really it almost like a greater return. We did long days, and just finally see the film turn out. (I'm) so happy with it. And I was in tears in the theater, and I was like fighting it and fighting it. I just was so thrilled by the film and I and I cannot wait for everyone to see it.
Anna, you've been on a lot of film sets. What's something that you take away from this film?
Anna Grace Barlowe: Well, I walked away with a shirt that I stole, but I did have permission. It's a really cute little tunic one, I just I walked away feeling very, very proud of the performance. I was proud of the work because of the amazing actors I got to work with. They pulled (the performance) out of me. Also, (I remember) wanting to be on your best behavior because Kelsey Grammer is in the movie. I'll never forget it.
"Jesus Revolution," starring Joel Courtney, Jonathan Roumie, Kimberly Williams-Paisley, Anna Grace Barlow, DeVon Franklin and Kelsey Grammer and directed by Jon Erwin and Brent McCorkle, releases February 22 through Lionsgate Studios. Click here for more information or to find a theater.